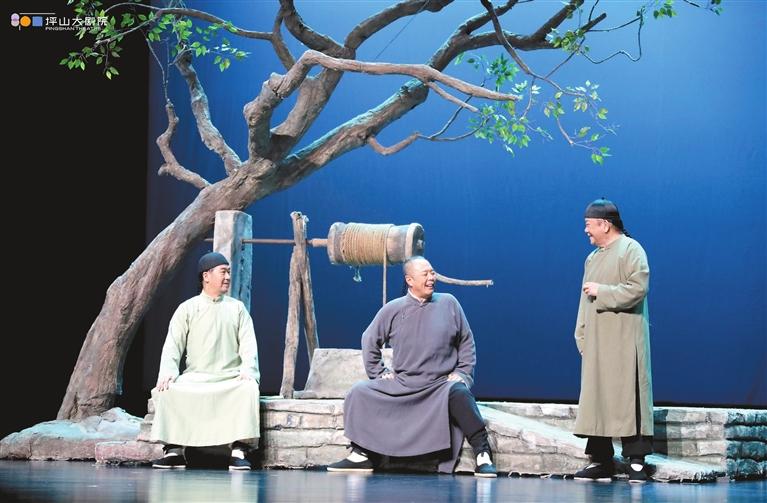 PEOPLE's Government of Pingshan District has signed a cooperative agreement Saturday with Longma Studio in Beijing for stage drama creation and production, including launching the Pingshan International Theater Festival.
The initiative aims to produce outstanding original works, invite renowned figures from the drama industry for artistic residency programs, promote cultural and artistic exchanges and strive to make Pingshan a theater hub in the Guangdong-Hong Kong-Macao Greater Bay Area.
"Pingshan District has always attached great importance to the high-quality cultural development and been promoting cultural prosperity," Deng Yandong, director of the Publicity Department of the Pingshan District Committee of the CPC, said at the signing ceremony after Longma Studio's drama "Break Gold" drew its curtain for its 100th performance at the National Center for the Performing Arts in Beijing on Saturday.
"Break Gold," starring Zhang Guoli, Wang Gang and Zhang Tielin, was staged at the Pingshan Theater in August last year.
Founded in 2008 by playwrights Zou Jingzhi, Liu Heng and Wan Fang, Longma Studio has rich experience in operating artistic spaces and has created or produced multiple outstanding dramas, experimental plays, avant-garde works, children's plays and stand-up comedies.
"Creating theatrical works requires arduous labor, inspiration, knowledge, experience and keen observation. I look forward to the joint efforts of Pingshan District and Longma Studio in the theatrical industry development," said Liu.
Actor Zhang Guoli said that he was very impressed by Pingshan when he performed "Break Gold" here last year. "Pingshan is a region with an international vision. In the future, we will use the Pingshan International Theater Festival to introduce dramas from around the world while promoting our own theatrical productions. Pingshan will also have its own theater groups, and through dedicated work, I'm confident that Pingshan will have a flourishing theater scene," said Zhang.
Cultural scholar Ma Weidu expressed his admiration for the unique cultural atmosphere in Pingshan. "The Pingshan Theater is adjacent to the Pingshan Library and Pingshan Art Museum and other organizations, forming a cultural cluster. The district has also attracted such excellent organizations as Longma Studio to settle here, which will undoubtedly benefit the urban cultural development," he said.
Ma stressed that preserving a culture in a city requires not only a positive attitude but also strong measures and he expected the cooperation between Pingshan and Longma Studio will meet the cultural demands of residents.
(Cao Zhen)