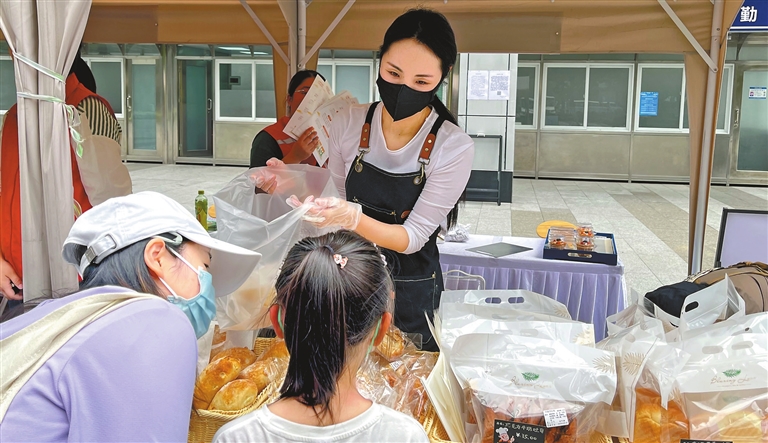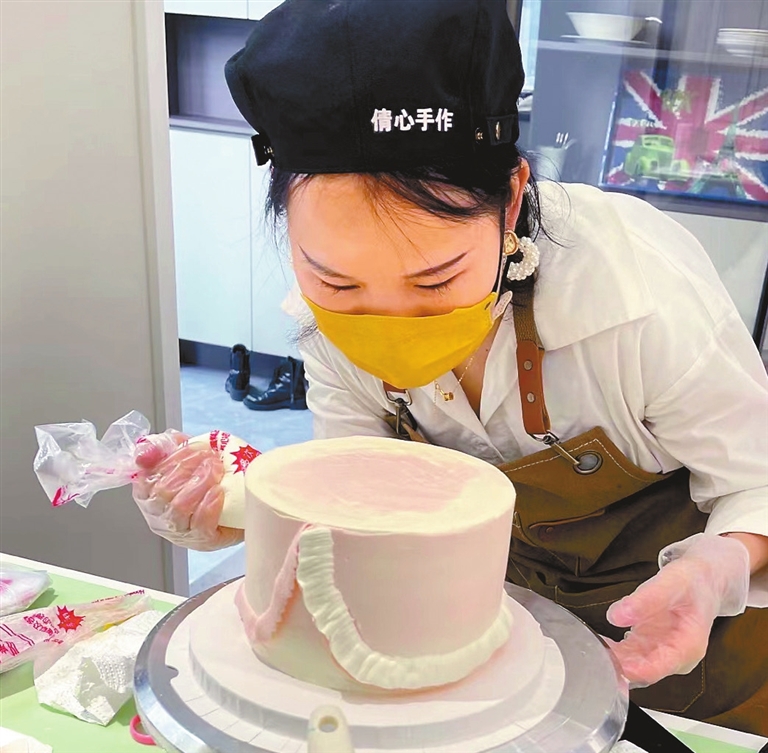 Liu Yangyang, Huang Yishan
524652046@qq.com
IF you get to know Zhang Xueqian through her WeChat moments, you will probably come to a quick conclusion that she is a successful mother with a fulfilling career, a happy family and a vibrant lifestyle, all the while raising three children. Her confident smile and poised demeanor make it hard to imagine that she once suffered from postpartum depression (PPD). In addition to regular counseling, her love for baking has significantly contributed to her recovery from PPD.
Haunted by
baby blues
"I developed anxiety during my third pregnancy as the doctor told me that there was a possibility of the baby suffocating within a short period time, and if not treated promptly, my child could die," Zhang said. "I was totally panicking at that time."
Although her baby daughter was smoothly delivered, she still underwent miserable mood swings afterwards.
According to Zhang, caring for the baby was extremely challenging. "From then on, I started to feel unwell. Initially, I thought it was trivial, just random bouts of tears and low moods for no apparent reason. But later, I couldn't stop blaming myself, feeling like I wasn't strong enough to handle it all," Zhang said.
Her husband noticed her problems and took her to the hospital. She was diagnosed with moderate depression and anxiety. Despite the doctor's recommendation of medication treatment, she initially resisted taking medicines, thinking that she could manage things on her own.
"But later on, my condition became worse. I would freak out over small things and even began to have suicidal thoughts. One time, after a conflict with my child over a minor issue, I ran straight up to the rooftop, contemplating jumping off to end it all," she recalled.
Such an impulsive thought made Zhang realize that she definitely needed medical intervention.
"I visited a psychological clinic. With the doctor's reassurance, I underwent two years' treatment, including medication, which had a noticeable effect on me," Zhang said.
Baking has
healing power
During her treatment, the doctor advised Zhang to develop some hobbies. Soon after, she began learning how to make bread online and found herself really enjoying it.
After studying at a baking training institution for a period of time, Zhang went to work in a coffee shop before deciding to start up her own baking studio in Futian District.
Her story inspired another mother of three, Liu Xiaozhuan, a stay-at-home mom who was a neighbor of Zhang and also troubled by PPD.
"One time, I went to visit Xueqian and found her busy making bread. She asked me to help, and I felt very happy during the process and my existence had value," Liu said.
Liu soon made up her mind to pursue advanced training in baking. Now she is the business partner of Zhang.
Baking has not only changed their ways of life, but also their relationship with their children. "My eldest son gave me a lot of strength. He said, 'Mom, you have changed a lot. Your attitude towards life is very positive now.' The children see it and know that their mothers are working hard and becoming more successful," Zhang said.
"My favorite moment is when the kids look forward to me bringing home dessert every night," Liu said. "It makes me feel fulfilled."
Zhang believes that in addition to taking medication, finding something she loves and sticking with it is the key to overcoming the depression. She hopes her studio can become a platform for stay-at-home moms to learn, not just about baking, but also to acquire some psychological knowledge that can help them manage their emotions.