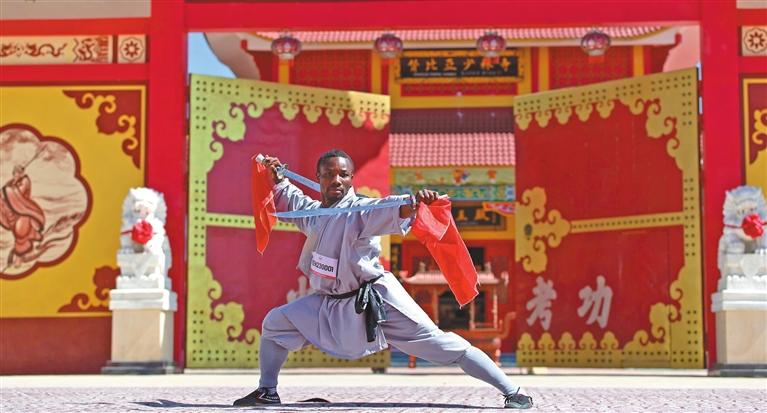 THE Shaolin Temple Cultural Center in Zambia has organized the first-ever African Shaolin Kung Fu Games and other activities to promote the sport in Africa and cultural exchanges.
The six-day event, from June 21 to 26 at the center, has attracted over 150 contestants from 23 African countries and regions, while Abbot of the Shaolin Temple in China, Grand Monk Shi Yongxin, has come with a monk group to carry out cultural exchange activities. The establishment of the African Shaolin Federation was also announced.
The activities began with the Shaolin kung fu ranking system and test training class and was followed by lectures on the Shaolin culture, as well as a grading award ceremony. This was followed by the Shaolin kung fu competition which included multiple Shaolin boxing routines and different categories of weapons, judged by Shaolin masters to ensure professionalism and fairness.
A total of 29 athletes from 13 countries, including Zambia, Benin and Senegal, were awarded first place in their respective categories. The Shaolin Temple in Zambia received the first-place award for the group performance category. In addition, seven participants were selected as African Shaolin Kung Fu Stars.
Konate Yaya, a 30-year-old from Cote d'Ivoire, started learning kung fu seven years ago to keep fit. He said that kung fu is not just about fighting, but also getting lessons on life, family, how to treat other people and how to be self-disciplined.
Stanley Banda, a 20-year-old from Zambia, said that he was inspired to learn kung fu after watching Chinese movies, and participating in the games will build his confidence and help the sport gain popularity in other parts of Africa. He further said the sport has helped him in building his mental capacity, fitness and self-confidence.
Gahungu Serges from Burundi said he was happy to have been given an opportunity to participate in the games, saying he learned a lot from senior competitors. The 31-year-old, who got the inspiration to learn kung fu from a young age after watching Chinese movies, expressed happiness that his dream of stepping into a Shaolin Temple has become a reality.
Lacmagou Fregis Arnaud from Cameroon encouraged people in Africa to learn kung fu, and commended the organizers of the event, as it allowed people to see at close range the kung fu skills they previously watched on TV.
The Shaolin Temple Cultural Center in Zambia, established in 2021, is the first temple of its kind in Africa. In addition to learning the classic Shaolin kung fu skills, students also engage in traditional Chinese cultural courses, including Chinese language, calligraphy, traditional etiquette, traditional Chinese medicine theory, acupuncture and massage. (Xinhua)