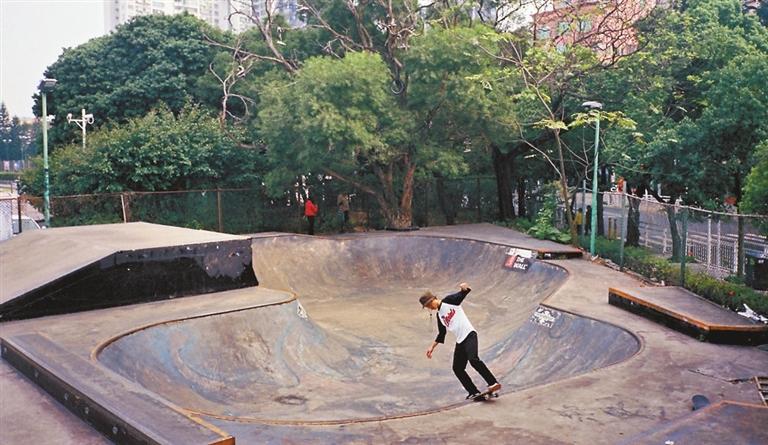 Liu Shuyan
szlsy1202@163.com
AS the summer heat begins to rise in subtropical Shenzhen, skateboarding enthusiasts are on the lookout for the best sites to enjoy their favorite sport. From the bustling streets of Futian to the picturesque parks of Nanshan, there are plenty of options for boarders of all skill levels. Here are some sites where they can learn and practice or simply while away the hours in leisure.
1985 Skatepark(1985滑板公园)
Winning fame among younger generations as a byword for the "skaters' mecca," the 1985 Skatepark is a modern skate facility featuring various obstacles, ramps, and rails that are guaranteed to excite and challenge skaters of all capabilities.
Nestled in Shenzhen's vibrant downtown, the 1985 Skatepark sets itself apart with a unique street-style concrete space. Spanning an expansive area of 2,500 square meters, 1985 offers a diverse range of skateboarding facilities, including a large curved surface, a launch platform, and steps. It is open to both members and non-members, with non-members being charged 30 yuan (US$4.1) per day. Moreover, any purchase over 85 yuan at any 1985 store grants free entry.
Opening hours: 10 a.m.- 10 p.m.
Add: 100m west from the intersection of Huanggang Road and Ximen Road, Vanke Sports Community, Futian District
Metro: Line 10 to Donggualing Station, Exit E
Shark Skateboard College
(鲨鱼滑板学院)
The Shark Skateboard College provides professional coaching and a safe space for practice, ideal for children and teenagers eager to learn the basics or to improve their skills.
Located on the rooftop of the Liang'an Building in Futian District, the innovative skateboarding venue offers breathtaking city views and a fresh, open space for its young patrons.
It features a combination of flat ground and gently undulating terrain, made from durable epoxy board material that can be rearranged to accommodate various skill levels. This versatility ensures the park remains engaging and suitable for the young skateboarders it serves.
Entry is free, while course tuition fees can be discussed directly with the person in charge. The college offers comprehensive skateboarding lessons tailored to individual needs. They also sell a range of skateboarding equipment and accessories.
Shark prides itself on being Shenzhen's first publicly accessible rooftop skatepark. The venue boasts an array of facilities, including a standalone beverage bar, a video screening area and an E-sports area.
Opening Hours: 9 a.m.-9 p.m.
Add: 7/F, Liang'an Building, Meilin, Futian District
Metro: Line 9 to Shangmeiling Station, Exit J1
OH Bay Skatepark
(欢乐港湾海滨滑板营)
In the heart of Bao'an district, OH Bay Skatepark is certainly on the Chinese skateboarding map.
As the country's first professional seaside skatepark, it covers an impressive area of 3,500 square meters. This expansive site is divided into two main sections, a street-style area and a bowl area. Each section is designed in strict compliance with international skateboarding competition standards, offering a diverse range of state-of-the-art facilities.
The skatepark charges a fee of 30 yuan for a single entry. For frequent visitors, there are half-yearly and annual membership cards available at 980 yuan and 1,680 yuan respectively. Skateboarding is strictly prohibited in the public areas outside the designated skateboarding zones.
It is also a training base for professional skateboarders and a venue for skateboarding events, a place that nurtures talent and brings exciting activities to Shenzhen. Skaters here can enjoy unique seashore-inspired designs and a sea breeze while navigating the multifaceted terrain, which includes mini ramps, a huge bowl and a street course.
Opening hours: 10 a.m. -10 p.m.
Add: West of OH Bay, 8 Baoxing Road, Bao'an District
Metro: Line 5 to Baohua Station, Exit D; or Line 1 or 5 to Bao'an Zhongxin Station, Exit F
Wandering Indoor Skatepark
(Wandering 室内滑板场•宝安店)
Wandering Indoor Skatepark offers a spacious, air-conditioned environment where skateboarders can practice their tricks away from the scorching sun.
The indoor facility charges a reasonable entry fee for a decent space of around 1,000 square meters.
The park features an open flat land area as well as various terrains to challenge skaters. Skateboarding lessons are available for those interested in learning the sport. Additionally, the park retails skateboarding equipment and has an on-site café for skaters to relax and socialize.
Opening Hours: 10 a.m.-11 p.m.
Add: 101 Skatepark, Block B, Building No. 378, Gushu 1st Road, Xixiang Street, Bao'an District
Metro: Line 1 to Gushu Station, Exit F
Shenzhen Bay Sports Center
(深圳湾体育中心)
Shenzhen Bay Sports Center is a comprehensive leisure zone where skateboarders can enjoy stunning views of Shenzhen Bay while taking advantage of the skatepark's outdoor facilities.
This skatepark in Nanshan District is free to use and covers a sizable area, providing plenty of space for skaters to explore.
With both open flat land and various terrains, skateboarders of all levels can test their skills and learn new tricks. The park does not offer skateboarding lessons.
While it does not retail skateboarding equipment, there are shops nearby catering to skaters' needs. The park's location within the sports center also offers access to other sports facilities and amenities.
Opening Hours: 9:30 a.m.-10:30 p.m. (weekdays);
8:30 a.m.- 10:30 p.m. (weekends)
Add: Shenzhen Bay Sports Center, No. 3001 Binhai Avenue, Nanshan District
Metro: Line 2 or 11 to Houhai Station, Exit H