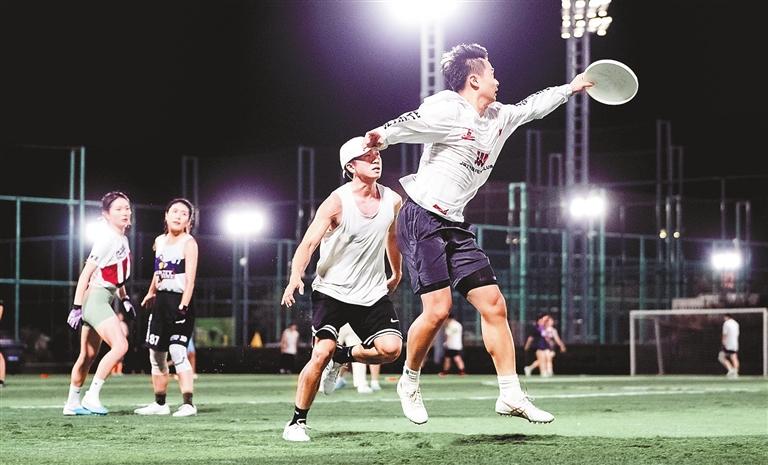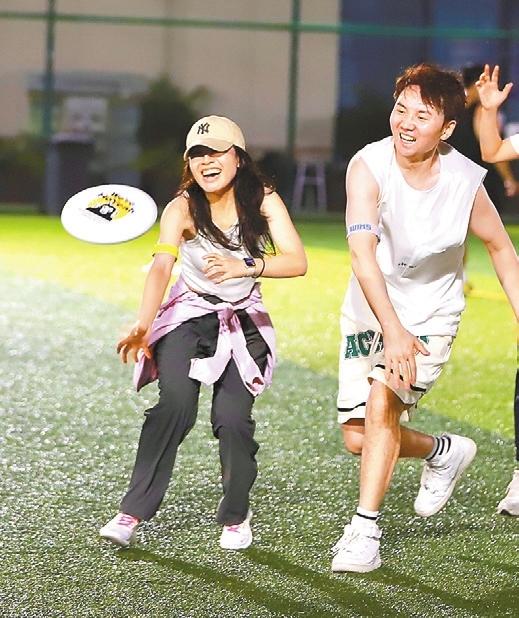 Lan Caiyou
yolanda_cylan@163.com
YO YO, a college student spending her summer vacation back home in Bao'an District, enthusiastically cheered alongside her friends Sunday evening as they watched an Ultimate Frisbee match between China and Germany online. This week, the Highfields Sports Complex in Nottingham, the U.K., is hosting the first WFDF World Under-24 Ultimate Championships since the pandemic, featuring 45 teams across three divisions (men, women and mixed).
"The Germans are taller and stronger, and they played with great intensity," she remarked. "Although we lost, it was undeniably an exciting and well-played match."
A young sport
Easy to learn and centered around teamwork and sportsmanship, Ultimate Frisbee has been gaining traction among Chinese youth, including those in Shenzhen.
Originally invented as a recreational object in 1948, Frisbee transitioned into a competitive sport two decades later. Ultimate Frisbee, or simply Ultimate, which was created in the U.S. in 1968, has rapidly grown into a globally competitive sport.
Combining elements of football, soccer and basketball, Ultimate Frisbee offers a thrilling and enjoyable experience. It stands out by exemplifying sportsmanship, as there are no referees, placing the responsibility of maintaining fair play solely on the players themselves. The athletes must have a thorough understanding of the rules and abide by them.
Frisbee time in SZ
In Shenzhen, many groups are seen playing Frisbee not only on soccer fields in stadiums, but also on grass in parks. Shenzhen Flying Disc Association identified over 60 Ultimate clubs in the city by publishing an "Ultimate map" last November.
Some clubs focus on recreation, providing a platform for exercise and relaxation, while others, such as the JW Free Frisbee Club, are more competitive.
Recreational clubs are perfect for beginners who want to try the sport and enjoy socializing. Games in these clubs, known as "pickup games," allow participants to freely choose their teammates, and there are no strict rules regarding the duration or conditions of the game.
Most clubs train in the evening when young people finish their work and finally have time to pursue their hobbies.
Ye Wenfeng, founder of Ho Yeah Sports, a community devoted to Ultimate, said he wishes to get more people to play this sport. "It's fulfilling when I see the disc gliding across the sky. Depending heavily on teamwork, it also demands tactics and strategies if you want to play well," the young man said.
For clubs like JW Free Frisbee, their aim is to train, brush up their skills and enter more important competitions.
Allure for youth
Over the past decade, Ultimate Frisbee has become a part of the physical education curriculum in several Chinese universities. Hu Xinyi, an undergraduate student at the Central Academy of Fine Arts in Beijing, is representing the Chinese U24 Women's Team in Nottingham. Hu's university has an active Ultimate Frisbee team that trains weekly. Often dining and watching Ultimate games together, Hu and her teammates consider each other best friends on campus.
"I choose to play Ultimate to let off some steam from fierce competition in school life in the first place, and I have been rewarded by a sense of fulfillment as we grow stronger as a team," Hu told Shenzhen Daily via WeChat.
"The best reward from the past two years of playing Ultimate is the close bond I've formed with my teammates, and during the process I've also become more mature and more composed, and now I'm a better person," she added.
The popularity of seeking "da zi," or companions for specific activities, such as dining and traveling, reflects the universal desire for relaxed and meaningful friendships.
This trend also explains the rising popularity of niche sports like Ultimate Frisbee. In an era characterized by intense competition and feelings of isolation, having a group of friends who share the same hobby is simply valuable. This is particularly true in Shenzhen, a young city where many people are separated from their families and childhood friends due to migration.