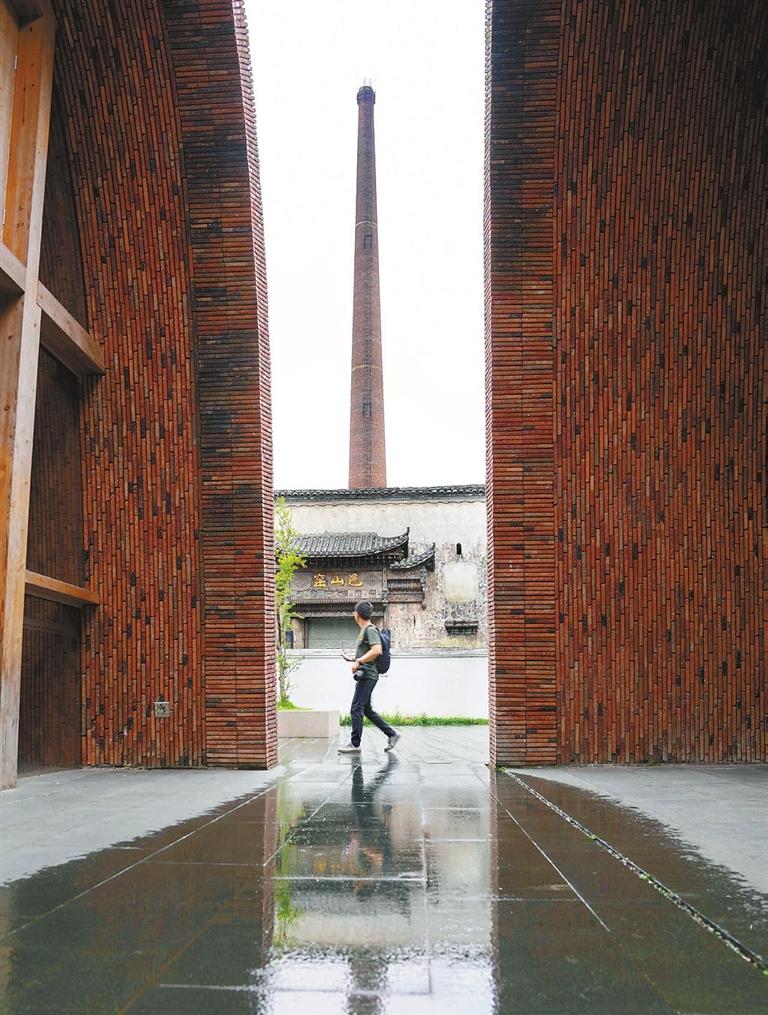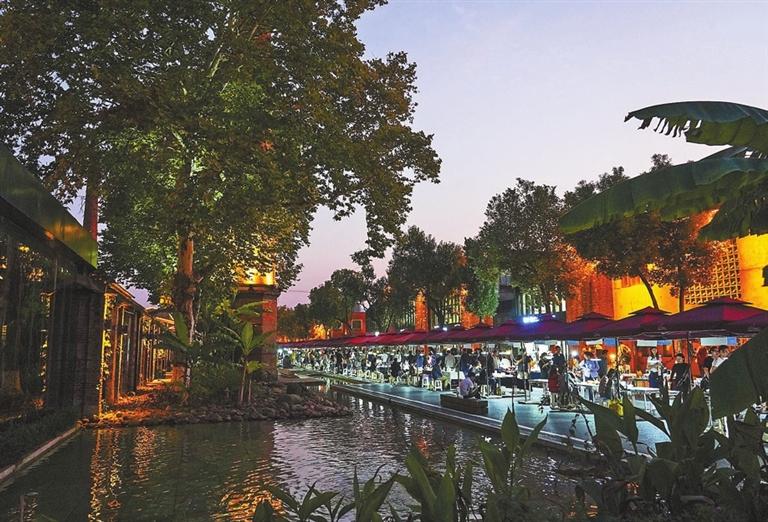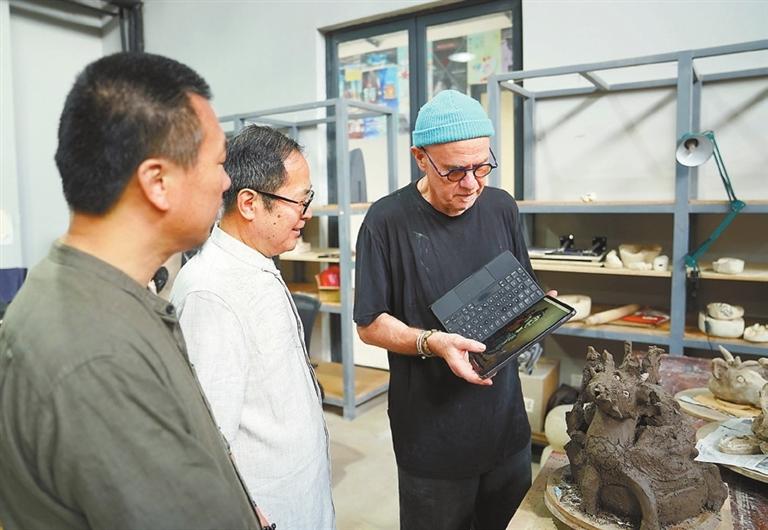 TUCKED away in Chenjiafan Village in the suburbs of Jingdezhen, a famed "porcelain capital" in Jiangxi Province, Denis Naymark's studio stands out for its exquisite works on showcase.
The creations within his studio, including plates with ocean wave patterns and teapots adorned with octopus and coral reef-shaped decorations, reflect Naymark's passion for environmental preservation, influenced by his previous experience as a conservationist in his hometown in the United States.
According to the 32-year-old artist, Jingdezhen is home to the most comprehensive handmade ceramic system globally, and he has resided in this city for eight years. He has adopted the Chinese name "Ni Deming," which translates to "the brightness of clay."
With a ceramic craftsmanship history spanning over 2,000 years, Jingdezhen's reputation as home to official and imperial kilns has elevated the art of porcelain making to unparalleled heights. Today, the city holds the status of China's exclusive national ceramic culture inheritance and innovation pilot zone, boasting advanced facilities and a vast network of supply chains. Over 30,000 migrants, known as "Jingpiaos," have flocked to Jingdezhen to pursue their dreams.
A magnet for artists
During its peak "migration boom," Jingdezhen attracted over 5,000 foreigners, making it a hub for cultural exchange. One such artist is Camille Kami, a French talent who graduated from the prestigious Royal College of Art in Britain. Kami, who settled in Jingdezhen in 2015, said the city has a magical attraction that keeps pulling her back. She had lived in the Netherlands, Britain, and Switzerland before finding a home in Jingdezhen. She describes the city as unique, inclusive, and receptive to diverse creative ideas.
Kami operates two workshops in Jingdezhen, incorporating elements of Chinese folklore into her distinct French-style imagination.
Kang Dong-hyun, a native of South Korea, arrived at Jingdezhen Ceramic University (JCU) in 2013 for postgraduate studies after earning a bachelor's degree in ceramic design from Seoul National University of Science and Technology.
As the only multidisciplinary university in China specifically dedicated to ceramics, JCU has attracted over 3,000 international students from over 60 countries and regions since the 1950s.
After completing his studies, Kang and his wife founded their own ceramic studio with the support of the local government. "The government provides entrepreneurship training in addition to favorable policy and financial and technical assistance; we received a lot of help to steer us away from the risks faced by startups," he said.
Jingdezhen's appeal as a global ceramics destination is clearly evident in the diverse community of resident artists at the Jingdezhen International Artist Studio, where talents from around 50 countries come together.
Jiao Mengtian, president of the Jingdezhen Association for Migrant Artists, Businessmen and Craftsmen, said, "Jingdezhen has now become a powerful magnet, drawing professionals from the ceramics industry around the world."
A haven for startups
Taoxichuan Ceramic Art Avenue comes alive with young entrepreneurs every weekend night, offering an array of creative handicrafts such as ceramic earrings, tableware, and decorations that quickly capture the hearts of buyers.
"I have fulfilled my artistic dream here," proudly stated Li Zhenxing, a 23-year-old stall keeper who has been present at the fair for the past six months. He and his two classmates started a specialized ceramic sculpture studio after completing their sculpture degrees last year.
Li's ceramic creations have garnered a steady stream of customers. Zhou Pengchao, a resident of Jiujiang City in Jiangxi, purchased a rabbit sculpture as a gift for his daughter. "This is my third visit to Taoxichuan, and the ceramics crafted by these young artists are not only affordable but also delightful," he said.
According to Su Hui, a young artist from Northwest China's Shaanxi Province, "After applying through a WeChat mini-program, which is super easy, we can set up a stall here. Moreover, the monthly stall fee is only 300 yuan (US$41.6)."
"As of now, Taoxichuan has supported more than 20,000 young people under 36 to start businesses and find jobs," stated Hua Jing, deputy general manager of the cultural development company, Jingdezhen Taoyi, which oversees Taoxichuan. The number of stalls in Taoxichuan has grown from 55 in 2016 to nearly 1,000 today, showcasing the rapid expansion of this creative hub.
Statistics indicate that more than half of Jingdezhen's entrepreneurs were born in the 1990s. According to Hua, these young individuals possess dreams and remarkable talents that have infused the city with endless possibilities, all while contributing to the preservation and dissemination of its cherished ceramic cultural heritage.
Craftsmanship a legacy
Within the confines of his studio at the Sanbao International Ceramics Village in Jingdezhen, artisan Zhan Shaolin imparts his knowledge of wheel throwing to his students, showcasing the art of shaping and molding clay on the potter's wheel. Among his pupils, the youngest is merely 16. To make this traditional craft accessible beyond the city boundaries, Zhan has also tried online teaching.
"The essence of ceramic culture inheritance lies in passing down the ethos of craftsmanship," affirmed Zhan, a committed practitioner of wheel throwing for the past three decades. He finds solace in witnessing the growing number of young individuals exhibiting a profound interest in becoming heirs of this cultural legacy.
Tan Ruijiang, a 23-year-old with a degree in industrial art design, undertook a transformative journey from his hometown in Guangxi Zhuang Autonomous Region to Jingdezhen, where he apprenticed under the tutelage of Zhan. Following four months of all-encompassing learning, Tan's determination to hold steadfast to his pursuit has only intensified. He expressed deep inspiration derived from a master who dedicated half of his life to mastering this craft. "I, too, aspire to achieve excellence in ceramics and fulfill my life's purpose," he said.
Jingdezhen has established friendly relations with over 180 cities in 72 countries and regions to promote Chinese ceramic culture, enabling various ceramic-themed exchanges and research initiatives.
Through collaborations with institutions like Peking University and the Palace Museum, the Jingdezhen Imperial Kiln Institute has developed a "gene bank" of ancient ceramics. This comprehensive database, built over 40 years and comprising almost 20 million ceramic specimens, contains valuable information regarding glaze, pigment, and craftsmanship.
According to Weng Yanjun, president of the Jingdezhen Imperial Kiln Institute, a hundred pieces of "gene" information can be traced through a single fragment of ancient ceramic. Utilizing digital techniques, the data allows researchers to delve into historical ceramic production techniques, gaining insights into the cultural and social contexts of their creation. Additionally, it enables the reconstruction and visualization of ancient lifestyles, customs, and artistic expressions.
The gene bank aims to promote research projects on ceramic civilizations by sharing its data with academic institutions at home and abroad. (Xinhua)