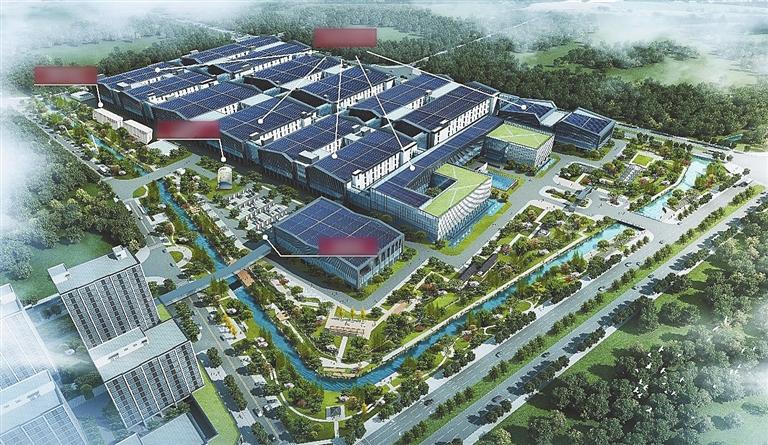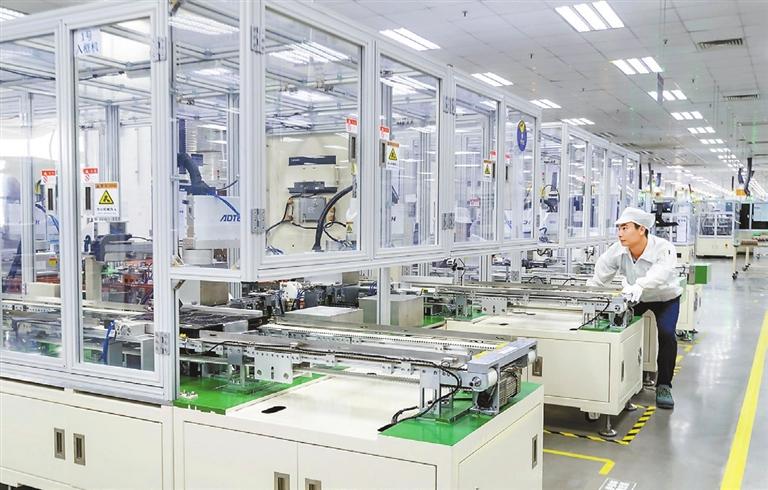 Zhang Yu
JeniZhang13@163.com
A DRONE soared into the air, providing a panoramic view of the near-zero carbon industrial park of Sunwoda Electronic Co. Ltd., a Shenzhen-based global leader in the lithium-ion battery industry.
One can see that the park's energy storage power stations, chilled water storage tanks, photovoltaic roofs and solar carports are distributed in an orderly manner.
The park, located at Boluo County in Huizhou neighboring Shenzhen, is not only one of Sunwoda's core production bases, but also its first near-zero carbon industrial park that integrates high-tech solutions like digital technology and data governance.
The project also includes the building of an intelligent energy management system that combines power generation and energy storage.
Going green
As one of the first batch of low-carbon pilot cities in China, Shenzhen is exploring a near-zero carbon emission path.
According to a construction plan of near-zero carbon emission zones unveiled by the city government in 2021, Shenzhen will build a number of pilot near-zero carbon emission zones in batches and establish a dynamic tracking and evaluation mechanism for implementation by 2025.
In 2022, the city unveiled its first batch of pilot projects relevant to near-zero carbon emissions, which included industrial parks, communities, campuses, buildings and enterprises. Sunwoda was one of the six enterprises selected to pilot near-zero carbon emissions, in a program aimed at helping the country realize carbon peaking and carbon neutrality goals.
Speaking of the near-zero carbon industrial park in Huizhou, Liang Rui, vice president of Sunwoda, said in an interview that this is an outgrowth of enterprise development and brings greater development opportunities for the company.
Sunwoda's dual carbon goals are to reach peak carbon emissions and achieve carbon neutrality at the operational level by 2029 and by 2050, respectively.
"The specific goals are to help society reduce carbon emissions by 6.84 million tons by 2030 and cut traffic carbon emissions by 42.37 million tons by 2040," Liang said.
The park integrates low-carbon energy, diversified energy storage, intelligent control, big data and advanced communication technologies, and uses a green, flexible and reliable new-type power system to enable the consumption of clean energy.
The park's comprehensive energy consumption has been reduced by more than 8%, and the use of green energy has reached up to 80%, according to the company.
Tech empowerment
Meng Xiangjun, general manager of Sunwoda Smart Energy Co. Ltd., a subsidiary of Sunwoda, stressed that an integrated solution is the critical path for the company to realize zero-carbon emissions in the park.
For instance, the solution involves using five types of clean energy — namely solar photovoltaic power generation, wind power generation, natural gas-distributed energy system, biomass power generation and hydrogen energy — and building an energy and carbon digital management platform.
"At present, Sunwoda has built 13 production bases worldwide and put nearly eight bases into operation, all of which have been transformed based on the model of a zero-carbon industrial park," Meng said.
China has pledged to reduce domestic carbon dioxide emissions in an international effort to keep global temperatures from rising more than 2 degrees Celsius above preindustrial levels — part of the 2015 Paris Agreement on climate change. The country is striving to reach peak carbon dioxide emissions by 2030 and achieve carbon neutrality by 2060.
China's 15,000-plus industrial parks, which account for over 60% of the nation's power consumption, will become key factors for the carbon neutrality target, according to the Carbon Zero Shanghai Summit in 2021.