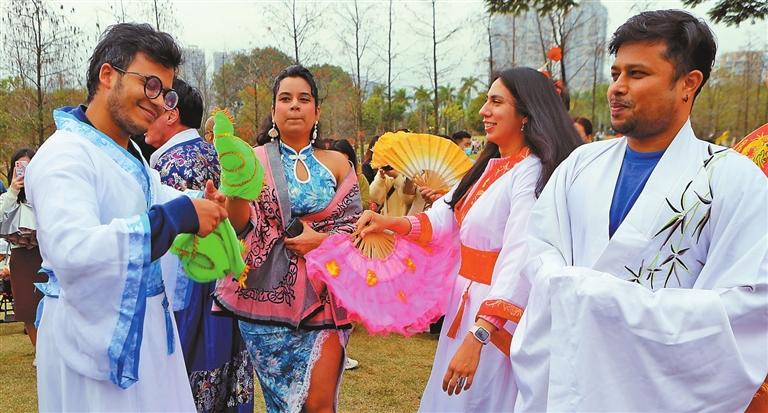 Wei Jie
claudiamente@hotmail.com
KIM DAE-SOON, a household name in Donghai Community at Xiangmihu Subdistrict in Futian District, was appointed as one of Shenzhen Global Communication Ambassadors last month for years of contribution to cultural exchanges between South Korean expats and local residents.
Kim, vice president of the Shenzhen Branch of the World Federation of Overseas Korean Traders Association, relocated to the city from Seoul in 2001 after marrying her Chinese husband. She created a website in 2002 to provide essential information for newly arrived compatriots to adapt to the local life.
The website became an instant hit in the local South Korean circle, and Kim took it a step further, setting up an advertising company in 2004 to publish a weekly magazine named Life, to cater to the needs of seniors who may not be familiar with surfing the internet for information. In addition, Kim has been devoted to helping organize various cultural exchange activities, such as inviting South Korean chefs to teach local and international residents how to make Tteokbokki, or Korean spicy stir-fried rice cake, to help connect people in the community.
Donghai Community
Donghai has long been known in Shenzhen for its Korean community, which is appealing to South Koreans for its convenient location, livable environment and a cluster of South Korean-funded enterprises like Samsung.
Mr. Yoon, a resident who holds a managerial position in a Korean electronics company, has been working in Shenzhen since graduating from college. "Traditionally, Qingdao, Yantai and Shanghai were the top destinations for South Koreans who sought career development in China. Shenzhen, however, has become increasingly more popular among South Koreans due to its economic prospects, enhanced living conditions and improved environment," Yoon said.
"I do feel at home in Donghai," said Mr. Yim who had lived in several Chinese cities such as Beijing, Shanghai and Guangzhou for over a decade before relocating to Shenzhen.
The community plays an indispensable role in Xiangmihu Subdistrict's efforts in gaining recognition as an international block.
Xiangmihu
intl. block
Covering an area of 9.57 sqkm, Xiangmihu Subdistrict is home to about 1,000 expats from 47 countries and regions, according to the latest data from the subdistrict office. It was recognized this year by the city government as a demonstration block for internationalization and a characteristic block for international business exchanges.
It also aimed to become an international VC (venture capital)/PE (private equity) block, aiming to foster well-known firms and talents in the sector to serve scientific and technological innovations and the real economy.
Cultural events
The subdistrict has organized many cultural events for expats to promote multicultural exchanges and experience the diverse lifestyle of Shenzhen.
On Feb. 5, Xiangmihu hosted the First Chinese Quintessence Carnival to celebrate the Lantern Festival in Xiangmi Park, presenting a cross-cultural feast for local and expat residents.
"The festival is an interesting one where we get to experience Chinese culture, like solving lantern riddles and enjoying the full moon that is a sign of luck, happiness and joy," said Jay Okra from South Africa, who attended the festival in traditional Chinese costumes.