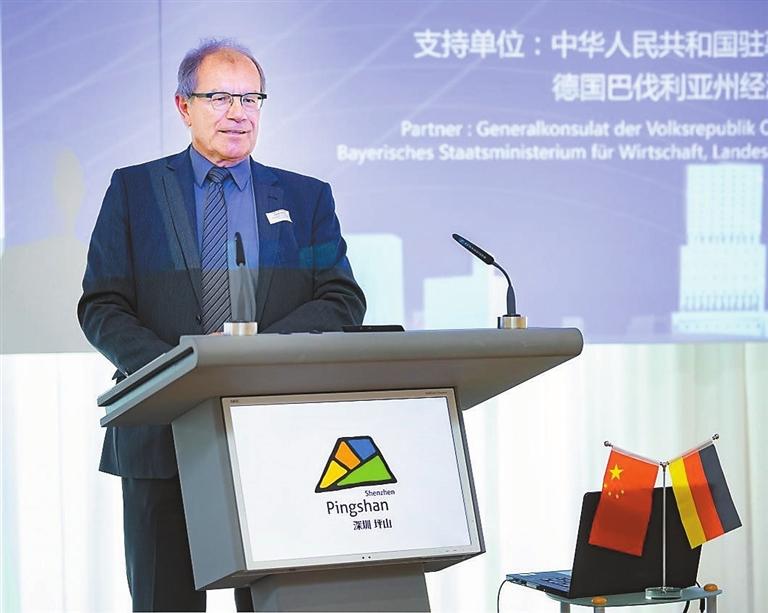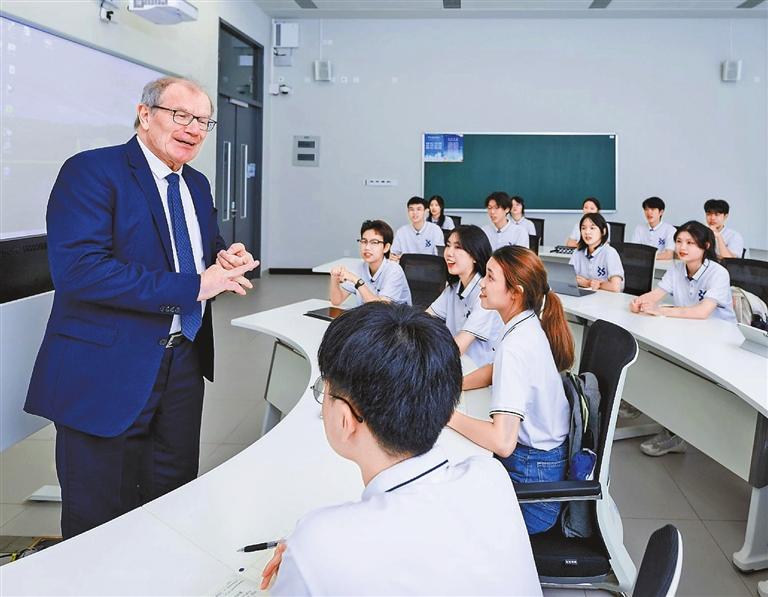 The university [Shenzhen Technology University] is a product of Shenzhen speed and German quality. It will be a great success.
Holger Haldenwang, honorary dean of SZTU Business School and recipient of the first Guangdong Friendship Award
Wang Jingli
wangjingli0715@163.com
HAILING from Regensburg, Germany, Holger Haldenwang has spent nearly 35 years of his academic career at Regensburg University of Applied Sciences in Bavaria.
In 2017, he was employed by Shenzhen Technology University (SZTU) as an international consultant during the school's establishment.
The professor, a leading expert in economics and international and regional trade who received his Ph.D. from University of Regensburg, is currently the honorary dean of SZTU Business School.
He has been honored with the title of Pengcheng Scholar, a Shenzhen government-funded program to hire 60 renowned professors and academic leaders from home and abroad for the city's full-time higher education institutions with an aim to promote the development of key disciplines.
This March, Haldenwang was awarded the first Guangdong Friendship Award.
The award, established by the provincial government in 2022, recognized 49 people from 23 countries for their outstanding contributions to the province's development and international exchanges.
Contributor to SZTU development
"The university (SZTU) is a product of Shenzhen speed and German quality. It will be a great success," Haldenwang said in an interview with Shenzhen Evening News as early as 2017 as an international consultant for SZTU's establishment.
Haldenwang, who brought in Germany's advanced school philosophy, management experience and technical achievements, said he has witnessed the university's rapid development.
SZTU has introduced Germany's education system and provided students opportunities for internships in large companies and overseas exchanges, for which Haldenwang's vision has taken a credit.
Promoting
cooperation
Haldenwang has played an important role in fostering strategic collaboration between SZTU and many international enterprises, as well as promoting exchanges and cooperation between China and Germany.
With Haldenwang's efforts, SZTU has set up its first overseas office in Regensburg, Germany, in 2019.
In June 2019, German company Siemens signed a cooperation agreement with SZTU in Munich. Haldenwang was the facilitator of the Sino-German school-enterprise collaboration.
With Haldenwang's initiative, SZTU and Austria's Management Center Innsbruck (MCI) signed a memorandum of understanding in July 2020 to carry out diverse cooperation projects.
Over the years, Haldenwang has helped with the signing of international cooperation projects between SZTU and nine universities in Europe, inviting a total of 56 foreign professors and visiting scholars to participate in over 20 academic exchanges in China, and introducing some 12 foreign professors to work in the university, according to SZTU.
Haldenwang was also invited to attend the 2019 Shenzhen (Pingshan)-Munich Intelligent Manufacturing Industry Cooperation Exchange held in Munich, witnessing the cooperation between Shenzhen and southwestern Germany.
Boosting intl.
programs
Haldenwang valued the university's international exchange work.
He supported SZTU to hold online international academic events and offline cultural activities such as international week activities, international forums, and German summer camps and winter camps, playing a positive role in promoting Sino-German cultural and academic exchanges.
The professor said that he really appreciated SZTU's commitment to cultivating application-oriented talents, including engineers and designers with international vision and entrepreneurship, and its goal to build a first-class university for applied sciences.
Additionally, he commended the university's decision to draw on and introduce advanced experience of first-class technical universities in countries such as Germany and Switzerland.
He suggested the university continue carrying out more international exchange programs to attract more international students and offer more opportunities for its students to study abroad.