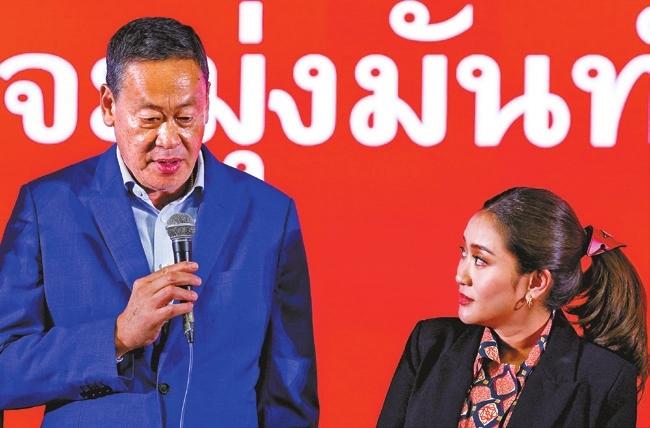 THE biggest area of disagreement between the liberals backing Move Forward and the deeply conservative Senate is the campaign pledge of Pita's party to amend a law that makes defaming the royal family punishable by three to 15 years in prison.
The monarchy is sacrosanct to members of Thailand's royalist establishment. Even minor reforms that might improve and modernize the monarchy's image are anathema to them. Move Forward's coalition has proposed to limit the "royal defamation" law to allow only the royal family to lodge complaints and soften penalties.
Much of the debate that preceded Thursday's vote concerned that law, also known as Article 112, which critics say is abused for political purposes.
Some opponents explicitly said Move Forward party's stand on Article 112 was the reason they would not vote for a government led by Pita. The Pheu Thai Party, the second-biggest in the coalition holding 141 House seats, could step up and try to win support from enough senators.
Pheu Thai used to be the royalist establishment's most bitter rival. The party is closely affiliated with former Prime Minister Thaksin Shinawatra, a billionaire populist who was ousted in a 2006 military coup, in part because his popularity rubbed royalists the wrong way. But the party is anxious to get back into power, and less strident in supporting a reformist agenda that conservatives deem radical.
A likely scenario is that Pheu Thai would field Srettha Thavisin, a property tycoon who is considered a more palatable candidate among Thailand's military establishment.
Military-backed lawmakers may vote for Srettha, said Wanwichit Boonprong, a political scientist at Rangsit University, outside Bangkok. But Pheu Thai could still be a good compromise for reform-minded voters who had supported Pita, he said.
As for the old guard, Prime Minister Prayuth Chan-ocha, the general who took power after leading Thailand's 2014 military coup, said last Tuesday that he would retire from politics once a new government is formed. But even if he does retire, analysts said the military and its allies may try to hold onto power in other ways.
A small number of Move Forward's supporters, wearing the party's signature orange colors, gathered outside Parliament last Thursday, following the proceedings vote by vote on a large screen. They expressed disappointment and anger at the final result, especially the lack of support from senators.
Pro-democracy activists have already called for protests, and there is concern that they could snowball, especially if Move Forward is shut out of power. When a forerunner party to Move Forward was forced to dissolve in 2019, it sparked a youth-led protest movement that ended up violently resisting efforts to disperse their gatherings. Political polarization in the years following the 2006 coup against Thaksin saw bursts of intense street fighting from both right and left, on occasion paralyzing central areas of the capital Bangkok and its international airport.
Depending how they are resolved, the efforts to block Pita and Move Forward could prove dangerous and cause Thailand unnecessary pain, said Michael Montesano, a Thai studies scholar at Singapore's ISEAS-Yusof Ishak Institute.
"At the end of the day, the political system and those who would dominate need to move into closer correspondence with the realities of Thai society and with the aspirations of its younger, well-educated members," Montesano said. "The biggest question is whether this transition will be painful and even violent, or whether it will be constructive and thus serve the country's future prospects."
(SD-Agencies)