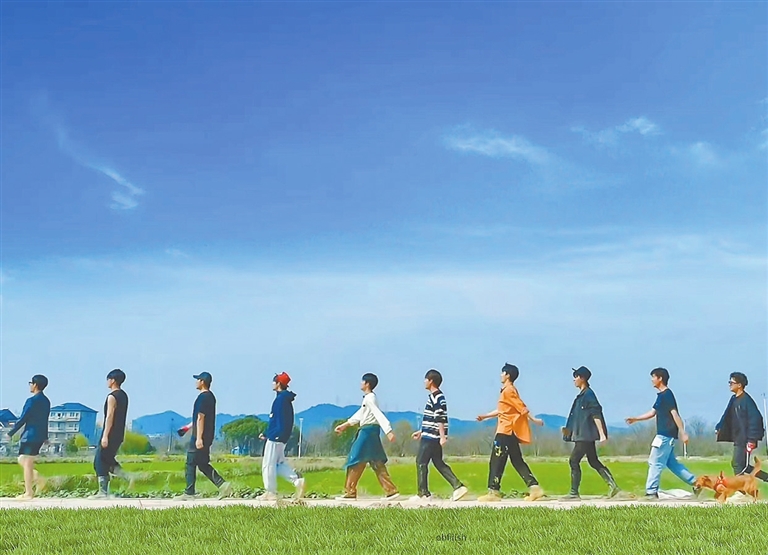 THE farming-themed show "Become a Farmer" has created a sensation on Chinese social media, shedding light on the crucial role of agriculture in Chinese culture.
As the term "farming" may be unfamiliar to many young urban Chinese, the show aspires to bridge the gap and connect urban individuals with the agricultural industry.
The 50-episode variety show takes a unique approach by inviting 10 young men from diverse backgrounds to experience life on a farm. It provides valuable insights into farming practices and modern agricultural production.
Since its premiere in early February, the show has garnered widespread acclaim online, earning a rating of 9 out of 10 points on Douban, a popular site frequented by young cultural and art enthusiasts in China.
In recognition of its quality, the program was nominated for the esteemed Magnolia Award for Best Variety Program at the 28th Shanghai TV Festival.
"Become a Farmer" is produced by iQIYI, a leading streaming site in China, and adopts an interactive reality show format presented in a documentary style.
Featuring 10 Gen-Z men between the ages of 18 and 27, the show takes place in Sandun, Hangzhou City in East China's Zhejiang Province.
Each cast member immerses himself in farming activities throughout a span of 190 days on 142 mu (approximately 9.5 hectares) of land. They engage in tasks such as sowing, irrigating, fertilizing, and harvesting. Starting with limited resources including a piece of land, dilapidated houses, and a few ponds, they gradually build their lives from scratch.
Chief director Yang Changling explains that the show aims to portray the practice of farming through a documentary lens.
By sharing the experiences and personal growth of these young participants, the series strives to enhance the audience's understanding of agriculture and raise awareness of food security.
Wu Han, the producer of the program, stated that it aims to promote traditional Chinese farming culture and foster understanding between urban and rural communities. Additionally, the cast members documented their experiences through vlogs to provide a more personal perspective.
For example, in one vlog, He Haonan, aged 22, showcased the process of building a hen house from scratch.
In another vlog, Jiang Dunhao, 27, and his team members dug up fresh bamboo shoots in the early morning, which quickly sold out online.
Jiang shared his experience of witnessing the struggles and ultimate triumph of a newborn lamb in a post on Weibo, China's Twitter-like platform, saying, "One particular moment touched me: I saw the initial struggles of a newborn lamb as it repeatedly failed to stand up, but after a long rest, it summoned all its strength and finally rose. Then the second lamb was born and slowly stood up as well."
To promote their products, the cast members registered a company and pushed sales by livestreaming on social media. This approach proved successful, as evidenced by the rapid sale of 1,000 fresh-cut rose gift boxes within seconds during one livestream.
The reality series has sparked interest in farming among young people, with undergraduates from the Communication University of China voluntarily joining the cast in April to participate in agricultural activities and learn about modern farming techniques.
The show has received widespread acclaim on Chinese social media platforms. As one user on Weibo expressed, "This is a meaningful program. It enlightened me on the hard work and long process of growing a grain of rice... It has also taught me to respect manual labor and farming."
(China Daily)