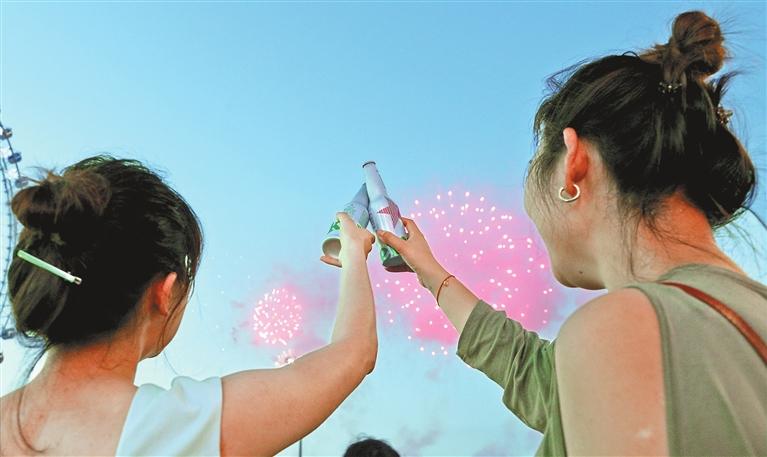 DESPITE ongoing heat waves, China's tourism market is heating up during the first summer since the country lifted its COVID-19 control measures. And beer festivals in a number of Chinese cities are attracting huge crowds.
The Harbin International Beer Festival in Harbin, Northeast China's Heilongjiang Province, offers more than 500 varieties of beer from over 30 brands. Visitors can also enjoy music performances and themed parades.
The Qingdao International Beer Festival in the coastal city of Qingdao in East China's Shandong Province showcases more than 2,000 varieties of beer from over 40 countries and regions, a record high number.
Inaugurated in 1991, Qingdao's beer festival has grown into the largest and most influential beer event in China, and it is now one of the four major beer festivals in the world. It has also become a carnival of sorts for all tourists visiting from domestic and international locations. The event features over 300 activities, including music performances, art shows, sports events, beer-drinking competitions and beer culture fashion shows.
The festival in the home city of the renowned Tsingtao Brewery is expected to attract over 5 million visitors this year, more than tripling last year's figure.
"Beer is a universal language, and festivals are human rituals of empathy. The combination of these two things is the most important factor in the success of the Qingdao International Beer Festival," said Lin Xingyu, one of the festival's senior consultants.
Micheal Bhatti, an international student from Australia, was in the crowd at the Qingdao beer festival, intently studying the drinks list at the entrance to a beer tent.
"This is my first time at the beer festival. I like to taste different kinds of beers and attend the activities they arrange," Bhatti said. Qingdao is an open and inclusive city, he observed, and he often receives friendly gestures from locals.
The beer festivals are giving a further boost to consumption, a major driver of China's economy, as tourists spend lavishly during summer vacations.
During a seafood and beer festival in Qingdao, a vendor surnamed Ye is selling a great variety of seafood, including clams, sea snails and oysters.
"At around 3 a.m. every day, the fishing vessels bring back the freshest seafood at affordable prices. My business is not only about making money, but about promoting our seafood to more people," Ye said.
Wang Chong is busy entertaining guests in his store on Dengzhou Road, a beer street in Qingdao. He operates three specialty product stores, selling beer ice cream, beer fruit tea and beer bread.
"Since June, our three stores have received an average of over 1,500 customers per day. Beer has become a part of daily life," Wang said. "To my surprise, our goods attract many foreign visitors. They know a lot about Tsingtao beer, and are willing to try its products."
Consumption in the catering and tourism sectors has surpassed pre-pandemic levels, and consumption's contribution to economic growth reached 77.2% for the first six months of the year, said Jin Xiandong, an official of the National Development and Reform Commission.
Many types of consumption activities, including shopping festivals, markets and sales promotion activities, are being held concurrently with the beer festivals, said Wang Zhongwu, a professor at Shandong University. "They can give a strong boost to summer tourism and the night economy, and help accelerate the country's post-pandemic economic recovery."
Dai Bin, president of the China Tourism Academy, said that all popular tourist destinations are doing everything possible to attract tourists with products integrated with culture.
"Further efforts should be made on the supply side to provide high-quality services, promoting the continued recovery and expansion of consumption," said Wang Yun, a researcher at the Academy of Macroeconomic Research. (Xinhua)