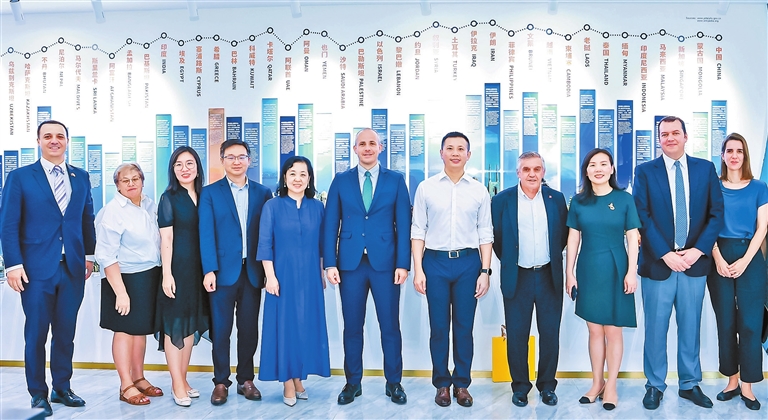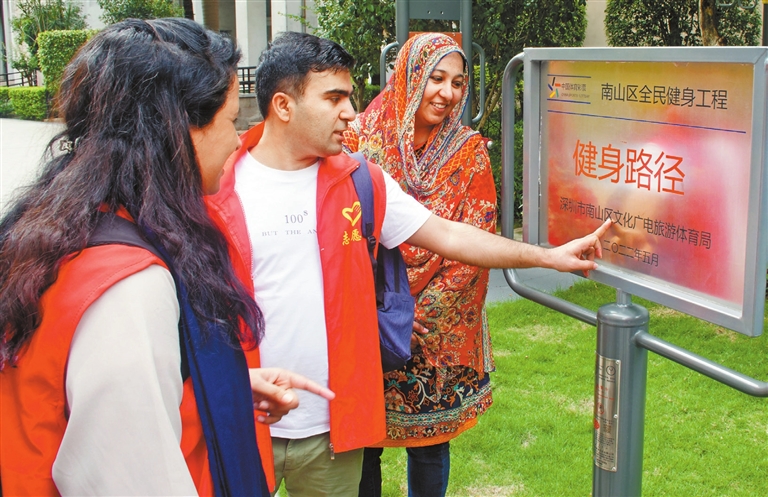 Zhang Yu
JeniZhang13@163.com
"TODAY, I am the representative of Yuehai Subdistrict. It's my honor to represent the neighborhood where my dear Shenzhen University is located. If we all pursue a good life and each of us contributes to the region where we live, our Shenzhen, our China, our Earth and our universe will become more and more beautiful."
This is what Esma Toprak from Türkiye, a Ph.D. student at Shenzhen University, posted on her social media platform after participating in the awarding ceremony of the first batch of international blocks in Shenzhen this March.
Hotbed for firms
Housing about 34,000 enterprises, Yuehai in Nanshan District is home to a large number of well-known enterprises such as Tencent and Mindray. It gathers high-tech industries and boasts a fertile land for innovation and entrepreneurship. Among some 200 listed companies in Nanshan, over half of them are located in Yuehai.
For Yuehai Subdistrict, enterprises are undoubtedly its most eye-catching calling cards, as the two are interdependent and grow together. The subdistrict is actively building an innovation-led international block, in a bid to help more local companies go global and international companies go local, and to increase residents' sense of happiness.
As the biggest economy among all subdistricts in Nanshan, Yuehai has the most concentrated high-tech industrial parks in Shenzhen.
Serving intl. firms
Yuehai Enterprise Service Center (YHES) was officially inaugurated June 10 this year, marking the launch of the district's one-stop service platform for international enterprises and talents, as well as its commitment in promoting cultural exchanges.
Martin Gosselin, senior director of program management at Flex, a global supply chain and manufacturing solutions provider, has been working in Yuehai Subdistrict for over eight years.
"I'd like to say a big thank you to YHES for giving such a good business environment to expats like me, sharing important information and providing help when we need it, helping us integrate into this lively and eco-friendly community," Gosselin said when sharing his experiences of living and working in Yuehai at the opening ceremony.
Also at the ceremony, YHES unveiled the Key Industrial Parks Map, Startup Incubators Map and Consumer Business Circles Map, aiming to promote and showcase the area's key industrial parks, innovative incubation centers and high-quality consumer business circles.
According to YHES, it will be dedicated to providing comprehensive international enterprise services, facilitating international talent services, promoting cultural exchanges and offering support for innovation and entrepreneurship, while at the same time contributing efforts to help build Yuehai Subdistrict into an international innovation block.
So far, the subdistrict has also appointed more than 20 domestic and foreign experts as advisers for construction of the international block.
At present, Yuehai has three volunteer service teams, namely the International Volunteer Team, the Enterprise Employee Volunteer Team and the Local Government Employee Team.