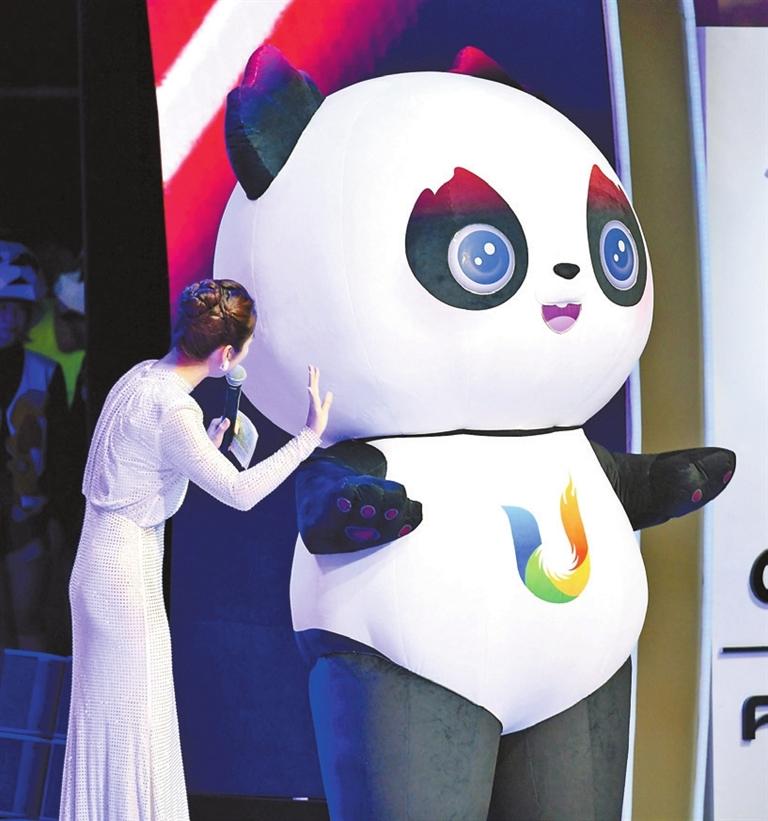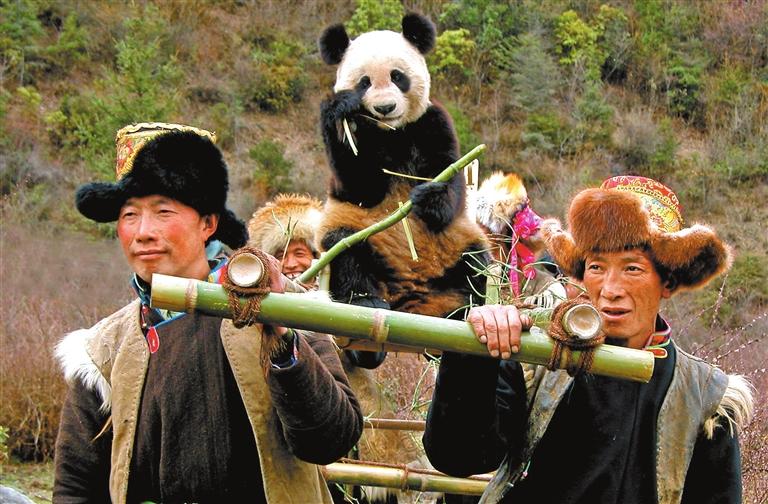 FOLLOWING the tremendous popularity of the Beijing Winter Olympics mascot Bing Dwen Dwen, Rongbao, the "giant panda" mascot for the 31st FISU World University Games in Chengdu, Sichuan Province, has now become another massive hit.
Customized bicycles adorned with the image of Rongbao can be spotted throughout the streets, while trains decorated with Rongbao amaze tourists at the high-speed railway station. Furthermore, Rongbao merchandise is proving to be highly popular at stores.
The soaring popularity of Rongbao is also closely connected to Zhi Ma, a giant panda from the Chengdu Research Base of Giant Panda Breeding, which received the highest number of votes among the candidates for the mascot image.
According to caretaker Yang Cheng, Zhi Ma, which is 6 years old, is both a "sports prodigy" and a foodie. "It is lively, energetic and very curious about new surroundings. It exercises a lot and sometimes even acts up in front of us. Currently, Zhi Ma is in excellent health and weighs 130 kilograms," Yang said.
This panda's athletic traits stem from its family lineage and the other family members have a profound connection with various sporting activities. The base also houses several "kung fu pandas" often showcasing their agility and prowess.
Zhi Ma's great-grandmother was named Ya Ya, renowned as the "Asian Games Princess" for being born on the day of the opening ceremony of the 1990 Beijing Asian Games. It is one of the world's first artificially-bred twin giant pandas.
In conjunction with the opening of the 1992 Barcelona Olympics, another remarkable giant panda was born in Chengdu and received the name "Ke Bi" from then-International Olympic Committee (IOC) President Juan Antonio Samaranch. This name coincided with the Olympic mascot of that year, earning it the title of the "Olympic Giant Panda."
During the 2008 Beijing Olympics, Ke Bi's daughter Cheng Ji became a mother to a pair of twins, named Ying Ying and Ni Ni. Then, in 2015, Ke Lin, another daughter of Ke Bi, gave birth to twin female cubs. These adorable cubs were named Olympia and Fuwa by the current IOC President Thomas Bach, symbolizing the thriving and widespread development of the Olympic spirit in China.
Established in 1987, the Chengdu Research Base of Giant Panda Breeding initially had only six sick and starving pandas rescued from the wild. As of the end of 2022, it boasted an impressive population of 237 giant pandas, all in excellent health. With this remarkable achievement, the base now houses the world's largest population of captive-bred giant pandas.
The connection between giant pandas and major sports events held in China never ceases. Each giant panda mascot integrates unique aesthetics and design, leaving unforgettable memories for people of different generations.
Giant pandas are also loved by people worldwide. Over the years, giant pandas have served as messengers of peace and friendship, representing China in cultural exchanges with the world. Statistics show that China has conducted cooperative research on giant pandas with 22 zoos in 17 countries. As of 2022, there were 64 giant pandas and their cubs living overseas, serving as "friendly ambassadors" from China.
For many athletes, "seeing giant pandas" is one of the most anticipated activities apart from the competitions.
The FISU World University Games amplify the spirits of sports, while giant pandas bring the whole world together in awe and admiration, said Duan Zhaogang, director of the China Conservation and Research Center for the Giant Panda.(Xinhua)