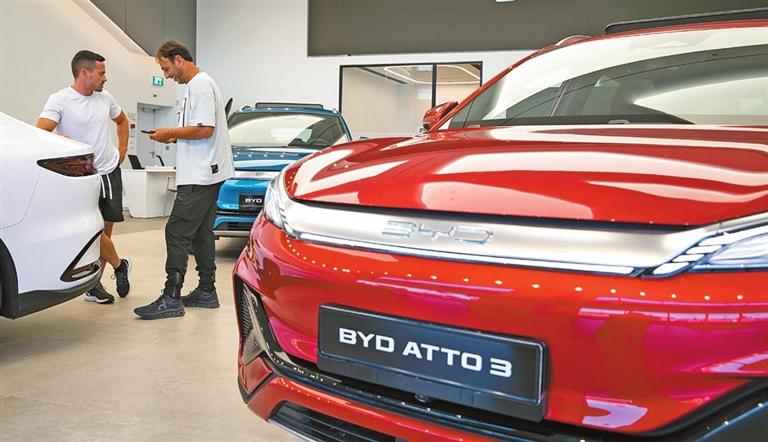 YAHEL DAVIAN, an Israeli student majoring in Asian studies at Haifa University, selected the global expansion of China's electric vehicles (EVs) as the topic of his bachelor thesis to uncover the reasons behind the rapid rise of China's EV industry.
Davian, whose college life coincided with a period when Israel's EV market grew from almost invisible to flourishing, was inspired by Chinese EV brands' fast expansion in Israel.
EVs were rarely seen in Israel before 2021 when Chinese car companies first started to enter the country's market, where EVs only accounted for 3.8% of total car sales.
But in 2022 and the first half of 2023, this proportion climbed to 10% and 16.3%, respectively, surpassing that of many European countries. Behind this change, Chinese EVs played a prominent role.
The data released by the Israel Vehicle Importers Association in early July showed that China's BYD and Geely were the champion and runner-up of Israel's best-selling EV brands in the first half of this year. Over a third of new EVs sold in Israel during this period were subcompact crossover SUV Atto 3 produced by BYD, which has opened six sales and service centers in Israel.
"The BYD soon broke handover records after entering the Israeli market last year. It headed the list of EV brand handovers with nearly 14,000 vehicles handed over in less than a year," said Jacky Aviv, CEO of Shlomo Motors, the BYD importer in Israel.
Besides BYD and Geely, Hongqi, Cherry, Skywell, Aiways, Seres, Maxus, JAC, Leapmotor, Ora ... more and more Chinese EVs are now seen in car dealerships and on the streets in Israeli cities.
China is leading other countries with 20 car brands entering or preparing to enter the Israeli market, said Tomel Hadar, an auto industry observer who works for the Israeli daily business newspaper Calcalist.
On the reasons for Chinese EVs' growing popularity in Israel, Hadar believed that Israelis' openness to innovation plays a part.
"Given that Chinese products are quite prevalent here, a Chinese car is only an extension. It's very logical if you have a Chinese smartphone or Chinese TV, so why not get a Chinese car?" he said.
Hadar said that purchasing Chinese EVs with cutting-edge technology at affordable prices is very appealing to Israeli buyers. "Chinese cars make technology more accessible and that's why we follow everything in China."
Israel has rolled out favorable policies to support the EV industry. In 2018, the Israeli government set a target for banning sales of new gasoline- or diesel-powered vehicles after 2030.
Industry observers said that as Israel is a market that adopts European regulatory standards, gaining a firm foothold in the Israeli market would help accelerate Chinese automakers' entry into the European market.
"The fact that Israel is in the first wave of BYD's European market penetration allows us to carry out rapid adaptations to any challenges that come up," said Aviv.
He said that BYD's success in Israel "stems first and foremost from a productive and fruitful collaboration with the Chinese manufacturer," which helps its Israeli partners enjoy the large-scale and high-quality product line.
It is also believed that the cooperation between China, a manufacturing power, and Israel, a nation renowned for innovation, will contribute to the healthy development of the global auto industry through knowledge and experience sharing.(Xinhua)