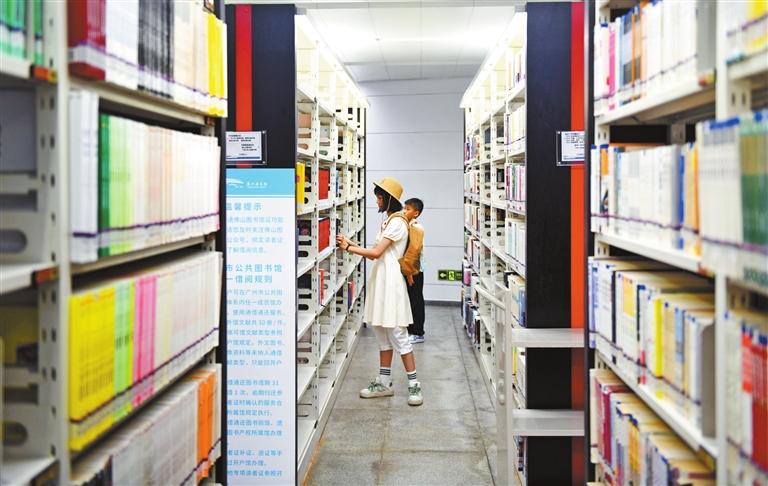 A SIGNIFICANT project is underway in Qianhai, a pilot free trade zone, where a network of large cold stations is being built. Upon completion, the ten cold stations, along with a 90-kilometer cooling pipeline network, will cool 15 million square meters of building space in the area.
Cold water pipes are emerging as a sustainable alternative for air conditioning (AC) solutions. Instead of relying on refrigerants with high global warming potential, this innovative method utilizes chilled water to cool indoor spaces. Not only is it more environmentally friendly, but it also promotes energy efficiency.
In nearby Guangzhou, the success of the cold water pipe system can be observed in the Guangzhou Library. The library has employed this innovative approach to beat the heat and reduce electricity consumption. Huang Zhen-xiong, director of the asset and property management department of Guangzhou Library, has plenty to say about the benefits. "In addition to saving on electricity, the cost of buying cold water as a cooling source is much lower than installing an air conditioning system."
Huang further explains that the centralized cooling system at the library utilizes inlet and outlet water pipes, facilitated by water pumps, to cool the air. The system resembles central air conditioning, but it functions using water. Cold air is delivered through pipelines, maintaining a constant indoor temperature of approximately 26 degrees Celsius.
According to Huang, the cold water supplied from a third-party cold station enters the system at a constant temperature of around 2 degrees Celsius. As it circulates through the library, the water's outlet temperature rises to about 7 degrees Celsius, resulting in an overall temperature difference of over 4 degrees Celsius.
The library, located in the bustling Zhujiang New Town, attracts a significant number of visitors. Zeng Qian, from the library's publicity department, reports that in July alone, the library received over 700,000 visitors, with daily numbers exceeding 40,000 on weekends. These visitor fluctuations impact the library's temperature, making the effectiveness of the cooling system all the more crucial.
To supply the cold water, the library relies on a nearby cold station established in 2008. Teng Lin, general manager of Guangzhou Pearl River New Town Energy Co., explains that the ice for the station is made during the nighttime hours when electricity costs are lower. Teng adds, "The ice melts after being injected with water during the day. The resulting ice water is then distributed to the users' facilities through pipes, effectively cooling the air. A secondary pump is used to circulate the cool air."
By producing ice at night, the cooling system significantly reduces electricity costs. Teng explains that during the summer, the price of commercial electricity is much cheaper from midnight to 8 a.m., at 0.19 yuan (2.6 US cents) per kilowatt-hour, compared to the peak daytime rate of 1.63 yuan per kWh.
"We maximize ice storage during the night, taking advantage of the lower electricity prices, and deliver it to nearby buildings," Teng said. The company's cooling services extend to encompass a total building area of 2 million square meters, which includes nearby subways, theaters, and office buildings. With an increasing number of cities, including Jinan and Wuhan, issuing high-temperature alerts this summer, the centralized cold water cooling system is garnering attention nationwide.(China Daily)