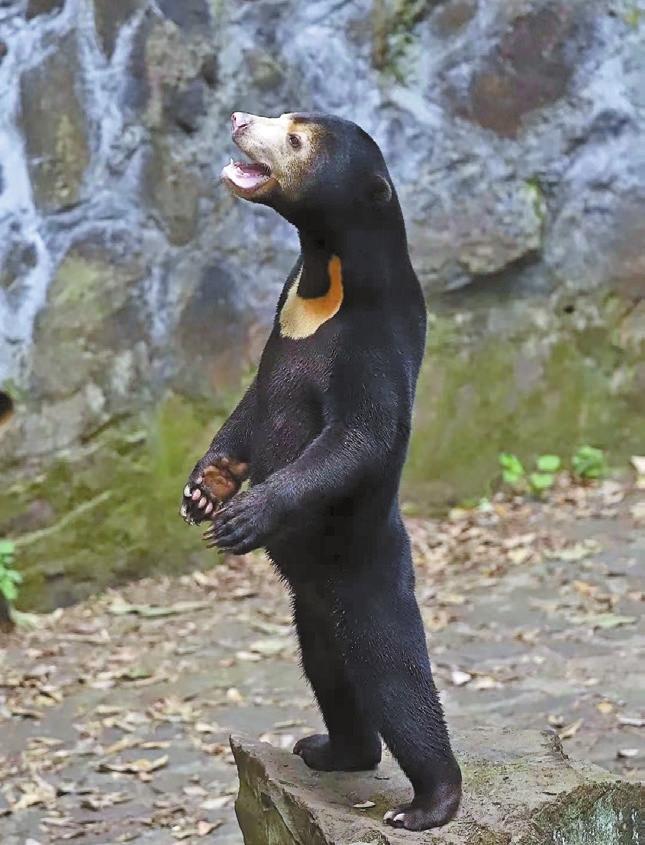 FORGET about the giant panda and South China tiger — visitors to the Hangzhou Zoo over the past weekend grew by more than 30% to more than 20,000 in a single day, and they were drawn by a pair of sun bears.
The zoo in East China's Zhejiang Province caught people's imagination after some questioned whether the bears were people dressed in costume after videos of a Malayan sun bear standing on its hind legs — and looking uncannily human — went viral.
In a statement written from the perspective of a sun bear named "Angela," officials from Hangzhou Zoo said people "didn't understand" the species.
"I'm Angela the sun bear — I got a call after work yesterday from the head of the zoo asking if I was being lazy and skipped work today and found a human to take my place," says the statement posted Friday on the zoo's WeChat official account.
"Let me reiterate again to everyone that I am a sun bear — not a black bear, not a dog — a sun bear!"
In videos shared on Sina Weibo, the Chinese equivalent to Twitter, a sun bear was seen standing upright on a rock and looking out of its enclosure.
Many Weibo users noted the animal's upright posture, as well as folds of loose fur on its behind — making the bear look somewhat odd and fueling speculation that a human imposter might be masquerading in its place.
"I saw the video and immediately came to see it, driven by my curiosity," said a visitor surnamed Shan. "I think it's quite shy."
Native to the tropical forests of Southeast Asia, sun bears are the world's smallest bear species. Adult bears stand at heights of up to 70 centimeters tall and weigh between 25 to 65 kilograms.
They do not hibernate and are also characterized by amber-colored crescent-shaped fur patches on their chests and long tongues which help them extract honey from bee hives — earning them the name "beruangmadu" (honey bear) in Malaysia and Indonesia.
Sun bears are listed as vulnerable by the International Union for Conservation of Nature (IUCN) and are a protected species in native countries like Malaysia.
Their numbers in the wild are at threat by poachers and deforestation, declining by 35% over the past three decades, according to conservation groups like the Bornean Sun Bear Conservation Center (BSBCC) in Sabah, Malaysia.
"Not enough people know about sun bears — they are a very forgotten species," said BSBCC founder and wildlife biologist Wong Siew Te.
"Most bear species can stand on their hind legs but sun bears stand up high to reach higher ground to investigate their surroundings so there is a purpose to why they do that. Female sun bears even hold their cubs with both hands and walk on their feet, very human like, so I guess that's why people get mistaken."
Wong said that the bear's loose, saggy skin also serves an important function in the wild, by acting as armor from predators, protecting them from deeper bites and injuries.
"Forests are vanishing and mothers are often killed by hunters who steal their cubs — this is a huge problem across Southeast Asia. Sun bears are also subject to the cruel bear bile trade," Wong added.
"There needs to be more awareness and education about sun bears — they are a protected and special species and are in serious trouble."
There are two sun bears at Hangzhou Zoo, a male and a female, and they are an affectionate couple, according to an official surnamed Jiang.
"We hope to welcome a cub later this year," the official added.
(SD-Agencies)