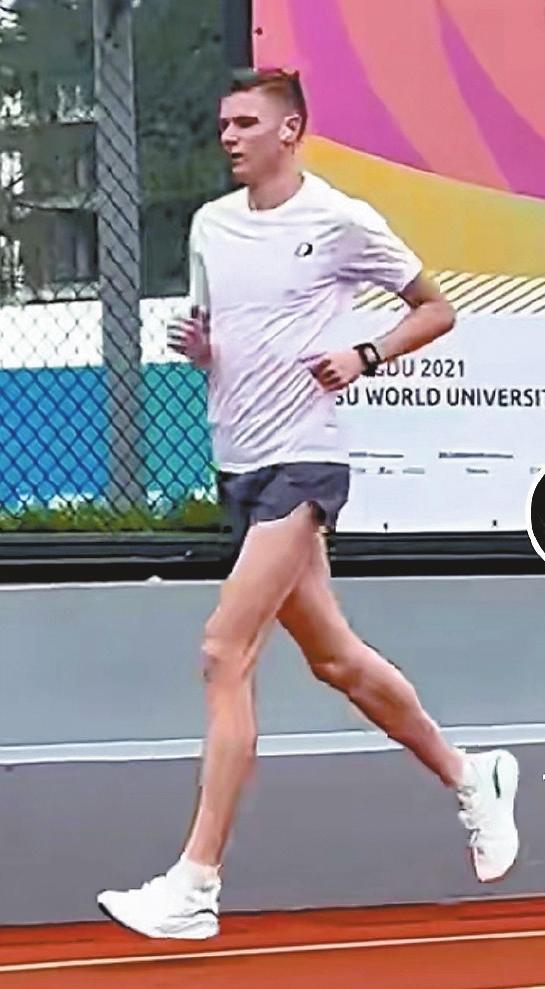 DENISS SALMIJANOV is possibly the most famous foreign participant among Chinese fans at the Chengdu FISU World University Games.
The 24-year-old middle-distance runner from Estonia boasts over 2 million followers on Chinese social media platform Douyin, with his posts about the games attracting thousands of likes and comments.
Salmijanov has just graduated from the University of Tartu with a master's degree in dentistry, and describes himself as "the fastest dentist over 800 meters in the world."
"I am very satisfied with my performance in the event and I really enjoyed it," he posted on Douyin after his 800m semifinal Saturday. "The enthusiasm of the local crowd for the games is incredible. Now I cannot wait to explore the city, tasting the cuisine and seeing pandas."
Salmijanov has enjoyed a warm welcome in China, with fans eager to pose for selfies alongside him. "Having face-to-face conversations with Chinese fans in the athletes' village is a lot of fun," he told local media. "I like to interact with them."
Estonia, a country in northeastern Europe with about 1.3 million people, sent 15 student-athletes to compete in athletics, tennis, swimming, judo, rhythmic gymnastics, badminton and fencing at the Chengdu games.
"It is my first time participating in the university games," said Salmijanov. "I am happy to have this experience and do my best."
Salmijanov failed to reach the 800m final, but he reckons the fierce competition at the games will help prepare him for future challenges. "It is a very high-level competition, and it is important to take part in these competitions to gain experience," he said. "Because in the future there will be more of these kinds of races and you have to feel comfortable in them."
He set up the Douyin account in March last year with the help of a Chinese friend, sharing his training and life anecdotes. "I like to interact with the people on Douyin," he said. "They have positive energy and they are interested in my ideas."
Mostly sharing running tips initially, the 1.96-meter-tall Estonian saw his follower numbers mushroom, no doubt helped by his photogenic good looks. "Sharing my videos is part of my life and it is a great way to inspire people and pass positive energy to others," he said. "Sports can bring health and friendship."
After learning that Chengdu would stage the university games, Salmijanov began to do some research into the host city. "I found out that Chengdu is famous for its pandas and technology development," he said.
He has been mightily impressed by the organization of the event and, in particular, the opening ceremony. "The opening ceremony of the Chengdu games was like the Olympic Games, and the fireworks were amazing," he said.
After graduating in June, Salmijanov started to learn Chinese in preparation for his Chengdu trip.
"The tones of Chinese words are very important, and they need to be pronounced perfectly," he said. "Now I am trying to master the tones."
He's been trying to put his Chinese into practice in the short videos he produces for Douyin, but admits that he still needs a lot of practice.
(China Daily)