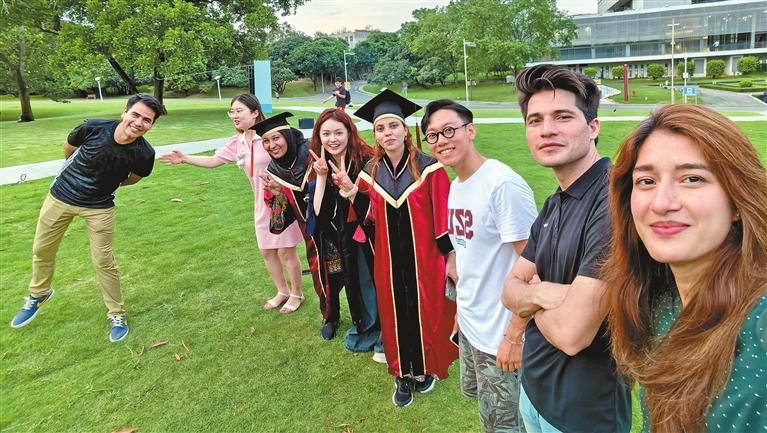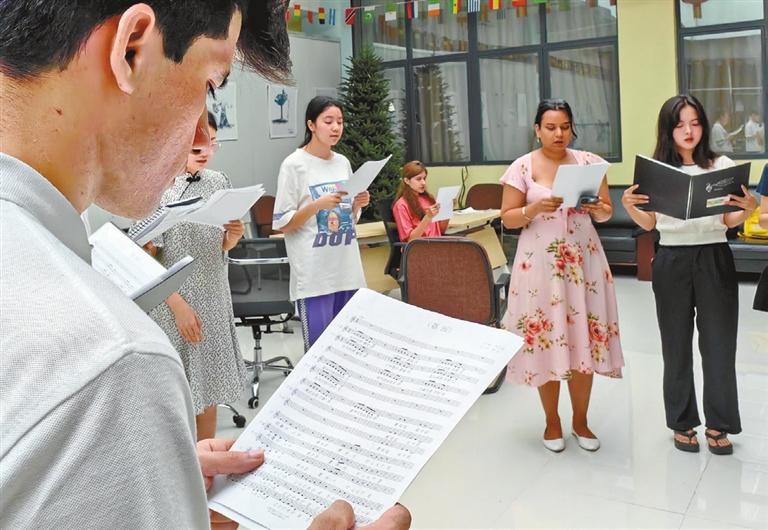 AS they embark on a new phase of their lives this summer, many students graduating from Shenzhen University have been inspired by an evocative song written and performed by the university's international choir.
The song, "Litchi Orchard," has been released on video, with words and visuals celebrating the accomplishments and lives of the university's students as they wave goodbye: "The bright sun hangs high, casting farewell shadows. The campus, filled with summer songs of cicadas, still smells the sweetness of litchis..."
The composition was created by the International Choir of Shenzhen University as a gift to the university ahead of its 40th anniversary celebration in September.
Tale behind the song
In an interview with Xinhua News Agency, Shin Moon-sub, the choir's head, explained the sentiments behind the song, how the choir came into being, and what motivates this group of students from various countries to produce such compelling work.
"Although we come from different parts of the world, we have gathered here out of our love for the Chinese language and music. Now, as we face graduation, we hope everyone can look back on the campus memories through our songs," said Shin, a South Korean who is a doctoral student at the university.
With such high production values, as well as top-notch singing and composition, it is perhaps hard to believe that "Litchi Orchard" is the work of students. However, the choir has already written and produced many songs in Chinese, and has built a solid reputation since its founding in 2016.
Prior to "Litchi Orchard," the choir produced "When the Ice Is Shining" in celebration of the Beijing Winter Olympics, which was reported by Shenzhen Daily on Feb. 3, 2022, while the song "Letter From Spring" portrays the reunion of Chinese and international students after the pandemic.
"No matter how the themes of the songs may change, the creative concept has always been telling stories about China," Shin said. "Music is an art form rooted in life and a bridge between people."
According to Shin, international students in China witness China's development. Music that crosses national boundaries is the best way to express their experiences in China.
Story of the choir
The choir's story started in 2016, when a men's a cappella group from Yale University performed at Shenzhen University, singing proficiently in Chinese despite their different ethnic and national backgrounds. Sitting in the audience, Shin was inspired to establish an international choir of his own.
"Shenzhen is a very international city and needs an international choir like this. Moreover, there are quite a few students learning Chinese at Shenzhen University. I had no difficulty in attracting some singing enthusiasts," Shin said.
Initially, the choir was very small, with fewer than 10 members, most of whom were Shin's classmates or acquaintances. "Although there were few students, they were very enthusiastic. From rehearsals to song production, from costume rentals to stage performances, everyone had clear roles and actively participated," he said.
In 2016, at the "Charming Guangdong, Living My Dreams" exchange event for foreign students in Guangdong, the choir made its debut performance, led by Shin, with classic Chinese songs like "Dance of Youth" and "Just Once" in Chinese.
The choir grew steadily in size from 2018 to 2019, eventually settling at around 140 members, while gradually gaining reputation.
"From 2016 to the present, the choir has performed more than 60 shows and taken part in various competitions. In addition to Shenzhen, the choir has also performed in Guangzhou, Beijing and other places," Shin said.
These days, the team are busy recording two original Chinese songs. One is called "Sail of the South China Sea" dedicated to the 40th anniversary of the establishment of Shenzhen University, and the other is "Road of Our Dreams" marking the 10th anniversary of the Belt and Road Initiative.
Shin came to China in 2010 and learned Chinese from scratch, and has spent more than 10 years studying at Shenzhen University. In 2024, all being well, he will graduate with a Ph.D. degree in economics.
"But my story with China will not end here. No matter where I go, I will continue to be part of the choir and release more songs," he said. "We will continue to tell our China stories through music." (Xinhua)