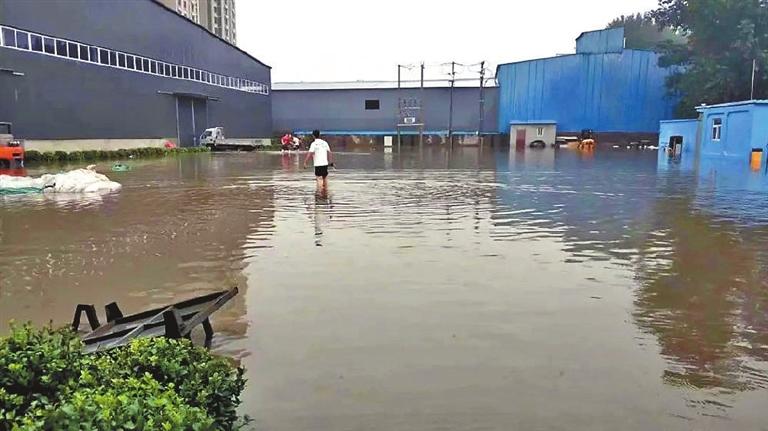 FOR Wei Lintao, Aug. 1 was an eventful day, as her company's warehouse in Zhuozhou got flooded due to the continuous heavy rainfalls caused by Typhoon Doksuri in the Beijing-Tianjin-Hebei region of North China. This flooding resulted in the submersion of almost all the books that had been stored in the warehouse.
Wei, a native of Zhuozhou, one of the worst-hit areas in Hebei Province, works as a customer service manager at the Zhuozhou storage center of Books China. This company is one of the earliest online book sales platforms in China and established its warehouse in Zhuozhou in 2018. The warehouse spans an impressive 20,000 square meters and houses over 4 million books.
A futile attempt to save the books
"At around 2 p.m. Aug. 1, the floodwater rushed into the warehouse," Wei recalled.
In anticipation of the torrential rainstorm, the company had purchased 2,000 sandbags in advance and equipped themselves with necessary supplies such as flashlights, raincoats, and waterproof footwear. At 10 a.m. that day, Wei and her colleagues sprang into action, piling the sandbags in front of the warehouse.
However, the floodwater breached the warehouse's rolling door and rose at a much faster pace than expected. Witnessing the books being submerged, the staff immediately tried to carry them upstairs. Unfortunately, by around 4:30 p.m., the water had already caused massive damage to the valuable collection, rendering their efforts futile.
They later sought refuge in a nearby four-story office building, where more than 60 employees and their family members found themselves stranded.
"Essential utilities such as drinking water, power and internet service were unavailable at the time, and we were inevitably feeling anxious," Wei said.
The floodwater reached beyond the first floor and advanced to a mere seven steps away from the second floor. At its peak, the water level rose over three meters, creating an alarming situation.
The rescue team eventually arrived at about 11 p.m., and Wei, along with the rest of those trapped, was safely evacuated the next morning.
"It's heartbreaking to see the loss of so many valuable books," Wei said. Tragically, nearly 80% of the warehouse's extensive collection, totaling over 4 million books, was soaked and damaged, resulting in an estimated economic loss of nearly 300 million yuan (US$42 million).
Readers rush to buy books to show support
In an official statement released Aug. 2 on its official account on Sina Weibo, the Chinese equivalent to Twitter, Books China acknowledged the profound impact of the incident, stating, "This is the most devastating loss and a major blow Books China has suffered in the past 25 years. We lost not only money but also those rare, out-of-print, old books that cannot be reproduced."
Books China was not the only company suffering impacts of the flood in Zhuozhou, which serves as an important logistics hub for China's publishing industry. The region is home to the Beijing southwest logistics center, a vital location spanning approximately 26.67 hectares and hosting the warehouses of nearly 100 publishing houses and dealers.
After the disaster, several publishing enterprises, including Books China, incurred significant losses, leading them to issue statements regarding delayed shipments. These announcements quickly went viral on social media platforms.
"It's a pity that so many books were soaked, but as long as the people are safe, the books will bounce back," commented a netizen on the Sina Weibo.
"I previously bought a lot of books on the Books China platform, which helped me greatly. Now it's our turn to save you," wrote another. Hundreds of thousands of people from the online community echoed their support through various messages.
Numerous book lovers have been closely following the struggles of the publishing companies and actively providing advice to aid in the industry's recovery. Many individuals expressed their willingness to donate money and buy the water-damaged books.
These heartwarming gestures deeply touched individuals like Wei, who work in the publishing industry. However, Books China clarified that it will not sell the water-damaged books due to the possibility of harboring dirt and germs, which could pose a safety risk to buyers.
As of Aug. 5, the Books China warehouse remained submerged under more than a meter of floodwater. The company is implementing a gradual recovery plan and aims to recoup a portion of its losses through the pre-sale of two online "refueling packages," each priced at 99 yuan.
One package consists of four books, a metal bookmark and a commemorative badge, and the other one contains cultural and creative products.
"I am a fan of reading books, especially physical copies," said Liu Hao, 36, who is engaged in science popularization work.
Upon learning about the distressing news of Zhuozhou's disaster, Liu felt deep sorrow. Without wasting any time, the avid bookworm immediately placed an order upon discovering the availability of the "refueling packages" for sale online.
According to media reports, Books China's website experienced temporary downtime due to the overwhelming influx of buyers interested in the "refueling packages," causing heavy traffic and making the website inaccessible for a while.
On the afternoon of Aug. 4, Books China's founder and CEO, Huang Ping, participated in his first-ever livestreaming effort on Taobao, China's leading e-commerce platform. During the livestream, Huang promoted books from his company as well as his peers in an effort to support the book industry.
Despite not expecting to sell a significant number of books initially, Huang expressed his hope for unity within the industry. He also announced that Books China would allocate 10% of the sales generated from the "cultural and creative product refueling package" to support other publishing companies in overcoming the current difficulties.
Data from Taobao indicates that the two-hour livestream garnered nearly 90,000 viewers, with over 5,000 "refueling packages" sold. This response highlights the positive impact of this promotional effort.
On the same day, Taobao launched a special promotional event specifically for books that were stockpiled in Zhuozhou. This initiative aims to provide crucial support to the affected businesses by helping them reduce their operating costs.
Looking ahead, Wei expressed her optimism and determination. "When the water recedes, we will clean and disinfect the warehouse, and resume production as soon as possible," she said. (Xinhua)