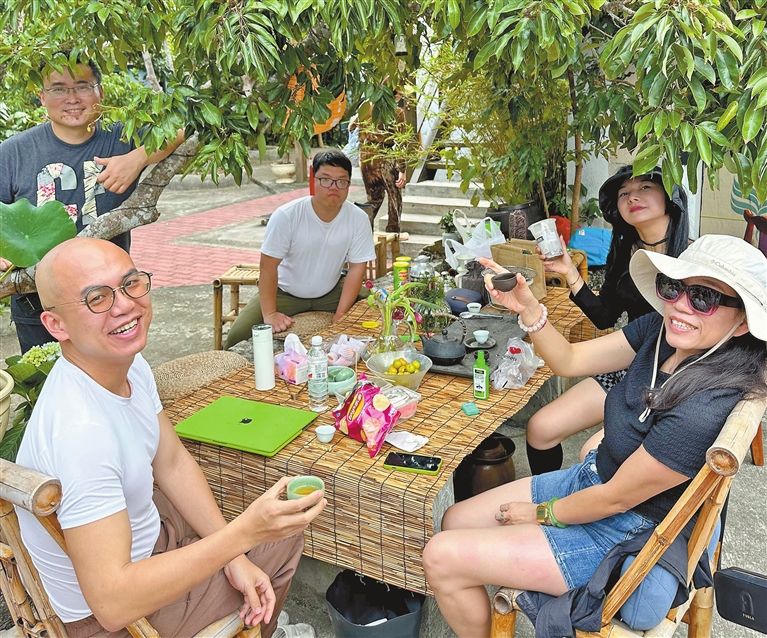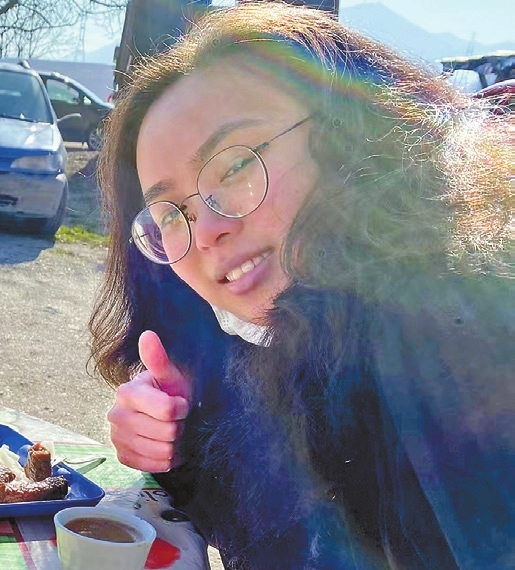 Debra Li
debra_lidan@163.com
WHEN Sherilyn Tam graduated with a master's degree in curating contemporary design from Kingston University, London, in 2019, her original plan was to go back to China to find a job. Growing up in Shenzhen, the 28-year-old had always wanted a free life that would allow her to see the world and work remotely. But she envisioned that life for well after she could be well-established in a career and with better social resources and connections.
Truth is, she became a digital nomad not long after graduation, working online jobs for more than two years in Bosnia and Herzegovina.
The development of information and communication technologies and globalization has opened the possibility of new flexible working arrangements.
In today's world, it is common to work remotely using digital technologies. Worker-travelers have existed for a long time, whereas the global COVID-19 pandemic certainly has accelerated this practice.
A global survey, according to Statista, reveals that digital nomads were primarily self-employed as of 2022, with more than half made up of business owners and around 35% freelancers or gig workers.
Living with strangers
Hao Hao, co-founder of Community of Associated Living, Creation, Utilization and Socialization (CACTUS), a digital nomad community by the sea in east Shenzhen, observed that many digital nomads in China graduated in 2018 and 2019. "The pandemic made it difficult to find a job, and some decided to take whatever online gigs they could. While many female digital nomads work in marketing and creative jobs, males are predominantly software developers like myself," he said.
For Tam, she had a practical concern when choosing to work remotely. Her British boyfriend Asa couldn't get a visa to enter China during the pandemic, and the two wanted to stay together. "We found that Bosnia and Herzegovina was the optimal choice for us, where we both could get a visa and living expenses are affordable."
Digital nomads consider cost of living, accessible internet and safety top factors when choosing their destinations. They also consider the scenery and climate. Popular international destinations for digital nomads include Bali, Chiang Mai, Mexico City and several European cities, while popular destinations in China include Dali in Yunnan and Anji in Zhejiang.
"Sarajevo is a slow-paced and comfortable city after years of bitter war in the 90s. People there are friendly, and the climate is pleasant with distinctive seasons," Tam said.
With a background in art and design, she found gigs online. "My boyfriend studied music production back in college," Tam said, adding that although it was more difficult for him to find gigs, he was often much better paid for each gig.
The duo has also experimented with a YouTube channel offering his music combined with her graphics. "The incomes were not always stable, but we could live comfortably, except when emergencies popped up." For instance, when she rescued two stray cats, their physical exams and vaccines cost extra money.
Tam, who returned to Shenzhen earlier this year, plans to find a full-time job to accumulate more credentials that would finally land her a well-paying remote gig with big-name firms. "While Asa can teach English and continue to take online gigs, we hope we can save some money," she said. "After we've saved enough, we plan to buy an RV and drive first around China and then to other countries, to continue the life of digital nomads."
Seaside community
With a master's degree in computer science from Sun Yat-sen University, Hao Hao worked years for Tencent before quitting to become a digital nomad. "I've been to Dali, Anji, Wenchang [Hainan Province] and Chiang Mai, where I met many other digital nomads," he said. "Community and networking are crucial for people away from their family."
Along with his friends Liu Beibei and Wang Xiaochuan, Hao started the CACTUS project in Dapeng Peninsula, turning a seaside homestay into a community for digital nomads in Shenzhen. "We aim this to be a temporary home for like-minded people, where we have seminars on topics such as AI, Web 3.0 and others. While many of us take online gigs, some also have the ambition to start up and explore technological breakthroughs," he said.
Digital nomads who intend to spend time at the base named Mizhiyuan (meaning "Courtyard of Enlightenment") need to apply before they can enjoy a preferable prices. "Dapeng provides the perfect location that combines good infrastructure, a refreshing environment and close vicinity to industries and supply chains," he said.
Hao estimates the Chinese digital nomad population at several thousand.
Since its trial operation in June, CACTUS has hosted some 40 nomads.
Co-founder Liu Beibei said she feels these people share a lot in common. "They are never afraid of the future and uncertainty; they are always curious about technology, art, other people and cultures; they never stop learning," she said.
Given Shenzhen's positioning as a first-tier city, the living costs even in suburban Dapeng are not quite competitive compared with Dali, and Liu acknowledged that the project is unlikely to turn profits in the foreseeable future.
Still, she thinks it a worthy cause, creating a haven for young aspiring entrepreneurs and free souls on the road. "Digital Nomad Anji (DNA) in Huzhou City in Zhejiang Province has thrived since its launch at the end of 2021, thanks to preferential governmental policies and deep-pocketed investors," she said