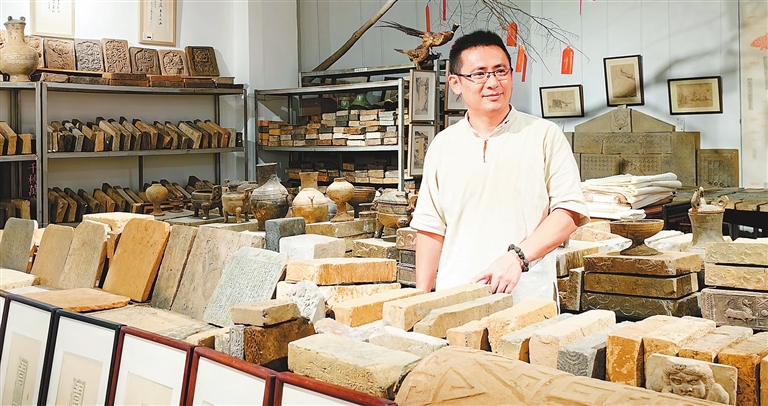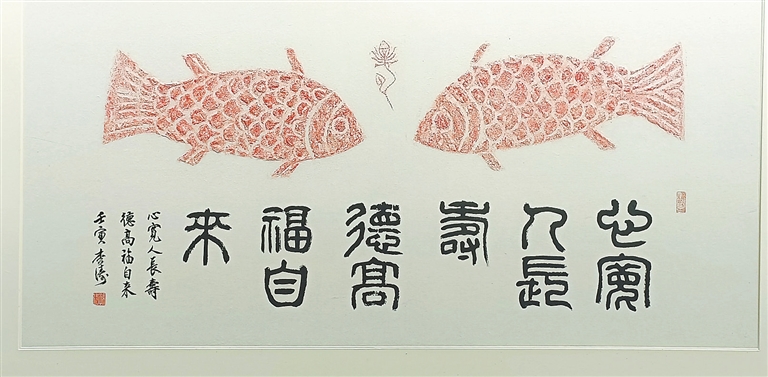 Lin Songtao
254238712@qq.com
WHEN one enters a building in a former factory zone in Xinqiao Subdistrict, Bao'an District, he/she can see a room with a plaque carrying ancient Chinese characters on its wooden door. Upon pushing the door, a world of stone bricks appears. Dai Yuanhuan, owner of the Qingyuanzhai brick hall, is tidying up bricks in the room.
Ancient stone bricks have been used in buildings throughout Chinese history, often seen as "encyclopedias" reflecting the social environment. The bricks would often contain markings such as the year, family names, patterns or words of blessings, playing a key role in archaeology, fine arts, literature and calligraphy. These bricks are also important carriers of traditional Chinese culture.
Firm decision
Before he entered the world of bricks, Dai first opened an electronics factory in Bao'an. In 2014, he was attracted by chance to a brick in an antique market in Changsha, Hunan Province, and bought it for 3,300 yuan (US$416).
"When I first saw these bricks, I fell in love with them from the bottom of my heart. I wanted to research and preserve them. They were precious treasures ancestors left us. With demolition of old houses, their value has increased," he said. "I hope through my efforts I can have more people pay attention to this form of heritage."
Deciding to take the path of preserving bricks, Dai transferred his factory to a friend.
Hard efforts
Every brick has a story behind it, and in order to learn more, Dai has read many ancient documents until late at night, often skipping meals and sleep.
He "dived" into alleys in cities and pigpens in the countryside, and got acquainted with other brick collectors nationwide. "Three years ago, when I learned about a collection hall in Shanghai that has over 30,000 bricks, my dream of being the collector with the most bricks was broken since I only collected over 1,000. But later I realized that the bricks in that hall were not as varied as mine. That made me confident [about my collection] again."
"A collection system hasn't been set up in China that time," Dai said. "Each place just collects relics in its area. For example, Zhejiang collects bricks within the province, Chengdu collects bricks within the city. But as Shenzhen gathers people from various places, I can have bricks in almost each province and classify them in my hall."
With bricks costing a lot and having little liquidity, Dai encountered running low on finances. He even sold his house to have enough money to buy bricks. "I have spent over 10 million yuan. Many people don't understand why I did this. We had conflicts in my family about it — where my relatives and friends taunted me. I felt depressed and nearly gave up that time," Dai recalled.
Later, Dai set a limit to his investments. "When I reach this limit, I'd stop. At last, this made me go on."
In 2019, Dai completed building his brick hall.
Livening up heritage
Dai's previous experience in business made him stand out from other collectors, increasing the bricks' added value.
"I cooperate with renowned calligraphers and painters, as well as cultural creative product companies, to turn the bricks into artworks and sell them online and offline. I established a database of characters and patterns on the bricks for the global design industry. I'm now trying to combine the brick derivatives with digital merchandise such as nonfungible tokens [NFTs] to do more enjoyable stuff," he said.
"We put rubbings from bricks on tea cakes. After drinking the tea, you can write and paint on rubbings. Recently we're making 'brick soaps' with patterns, and we'll even have 'brick breads' in future."
Dai also brought traditional inscription art to classes and office buildings, provided free lectures, and held exhibitions in communities.
Better future
His efforts have been recognized and supported by government departments and many people, including his daughter.
"One time, she wanted to buy a handbag, but was shy to speak out since she knew the family was short of money. I told her that she could exchange a brick creative product for the bag. She couldn't believe it succeeded: 'Bricks in my home is equal to money!' After that, she understood the value behind bricks and changed her attitude toward me," Dai recalled.
As of now, Dai has collected over 3,500 bricks spanning from the Han Dynasty (202 B.C.-220) to the Southern and Northern Dynasties (420-589), with 100 family names and 81 historical year marks.
He is preparing for the opening of a bigger exhibition hall at Xinqiao.
"I'm looking forward to interacting with foreigners when the larger hall is built. We can do more exhibitions abroad, focusing on pattern presentations as they're easier to be experienced. Each country has its characteristics. I want to combine our brick culture with their cultures, as this may let audience feel more welcomed," he said.