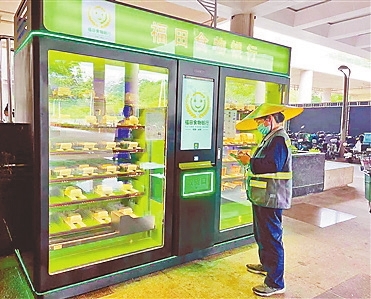 Han Ximin
1824295095@qq.com
FUTIAN District's Food Bank Program has reduced 57 metric tons of food waste, or 114 metric tons of carbon dioxide emissions, since it was introduced in May last year.
At a ceremony marking the first National Ecology Day, which falls today, at UpperHills on Saturday, the program operator, Futian Ecological Civilization Promotion Association, said the program had benefited 100,000 people.
The district launched the program to encourage businesses and individuals to donate excess food or nearly expired food to reduce food waste and help people in need. The program aims to serve low-income residents such as sanitation and gardening workers, as well as people with special needs, such as childless senior citizens.
So far, self-service machines and smart storage and distribution depots, where donated food can be picked up by those in need, have been installed in 10 subdistricts in Futian.
Using the iShenzhen app, residents can select items to collect for free anytime at the food banks, including meat, vegetables, fruits, bread and drinks.
Also at the ceremony, the district's environment authority unveiled an ecological map to show the locations of protected and rare plant and animal species, nature education bases and environmental protection facilities. An Otters Cup digital arts competition was launched, calling for contributions around the themes of rare species and mangrove wetland in Futian. Winners will be announced in November.