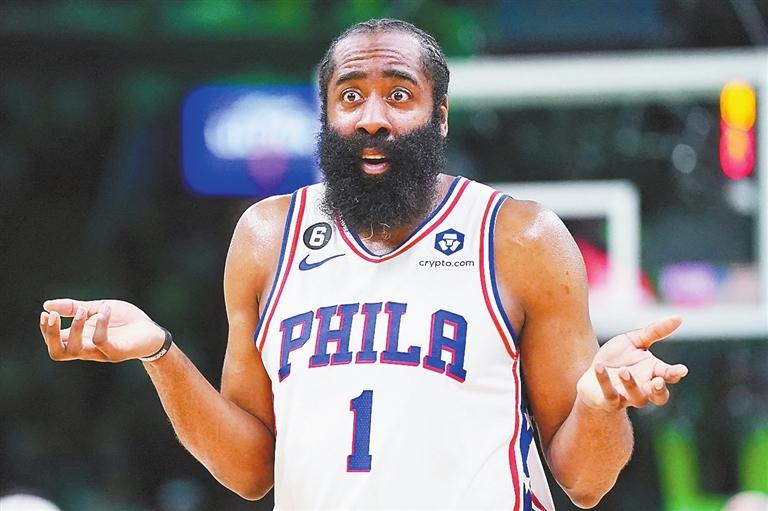 NBA star James Harden expressed disbelief after Chinese fans snapped up 10,000 bottles of his own-branded wine in seconds, demonstrating the massive reach of livestreaming in the country, where basketball is loved by millions.
The veteran Philadelphia 76ers guard Tuesday joined the livestream of online celebrity Crazy Brother Yang to promote his J-Harden brand wine as 15 million viewers tuned in, Global Times reported.
"How many bottles do you usually sell in a day … from one store?" Yang asked Harden, who replied: "A few cases."
Yang then told the star to watch how quickly they could sell them. "Show me," Harden replied, sitting back with his arms crossed.
"Ready? Go!" Yang told viewers. Just 14 seconds later, he shouted: "Stop!"
With 5,000 orders placed at US$60 for two bottles, the quick-as-a-flash sales raked in US$300,000.
"No way!" Harden said, as he checked a computer monitor before bursting into laughter and applause.
Livestream shopping has exploded in popularity in China in recent years, becoming a multibillion-dollar industry. It combines entertainment and e-commerce, with the host offering viewers flash deals or discount coupons in real time. Viewers can instantly buy goods from streamers and click to send their favorite stars virtual "gifts."
The streamers sell everything from makeup and skincare to laundry detergent, and top hosts can earn millions of dollars a year — prompting many to quit their full-time jobs in the hopes of becoming an online star.
Harden's livestream quickly trended on Chinese social media, with some fans joking that he should play in China rather than the NBA and reap the benefits of his fan base in the country.
Basketball is enormously popular in China, in no small part thanks to Chinese legend Yao Ming's Hall of Fame NBA career.
That popularity among hundreds of millions of Chinese fans translates to lucrative sponsorship deals for the league and its star players. (SD-Agencies)