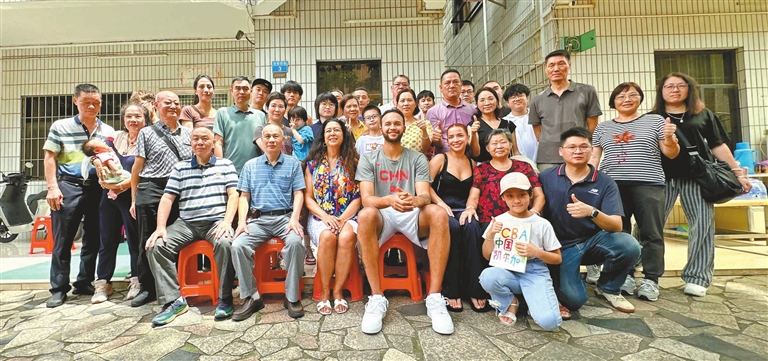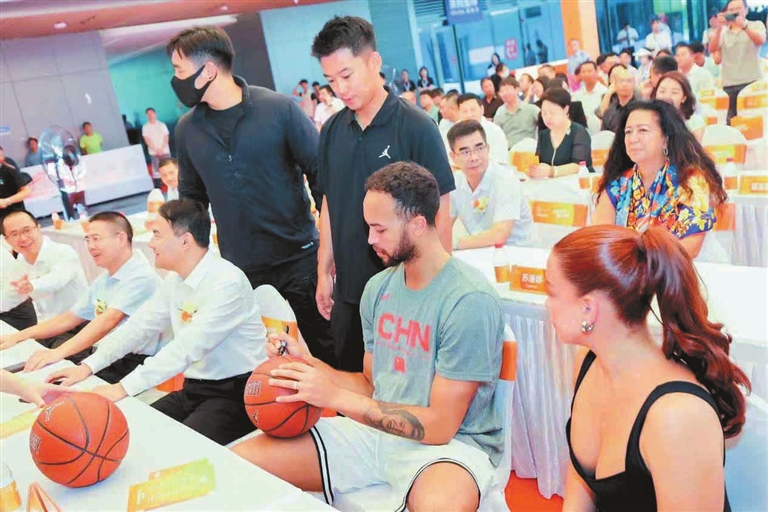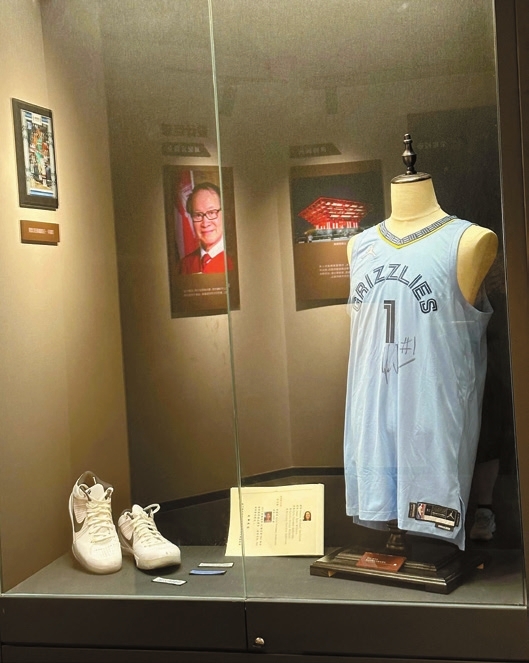 KYLE ANDERSON, known as Li Kaier in China, the first naturalized player of the Chinese Basketball Association, revisited his ancestral home in Longgang District on Monday after playing a FIBA Solidarity Cup match in Bao'an Stadium, the Chinese team's last warmup for the 2023 FIBA World Cup.
This was the first time for Li to represent China to participate in the FIBA games in China and the first time to visit his ancestral home in Longgang District after the U.S.-born NBA player officially obtained Chinese nationality this July.
Unforgettable visit
Xinmu New Village in Longgang was crowded with locals waiting for Li and his mother Susana on Monday noon.
In 2018, when Li first came to the village at 25, he was more than excited. He learned how to make sweet dumplings and played basketball with relatives. It was then that the family added him into the genealogy and gave him the Chinese name Li Kaier.
Five years later, when he once again set foot on the land, Li was greeted by enthusiastic villagers and presented with a welcome painting by a little girl.
The family went to Fuzeyuan Cemetery to worship ancestors and visited Pinghu Concentric Circles Exhibition Hall where his jersey, basketball and sneakers were on display.
"I wish I could stay longer and sit down to have a nice long chat with my families. This trip has illustrated where my roots are and how deep they are, which is extremely touching to me," Li told the Daily Sunshine.
Susana was very proud of his choice to become a Chinese citizen and said she knew her son would perform even better in his new stage of life.
Li Tianping, Kaier's eldest cousin in his 70s, hoped he could achieve good results in the coming basketball games and the whole family will support him.
Chinese lineage
As a one-eighth Chinese, Kaier believes that his roots are deeply planted in China. Kaier's great grandfather Li Chongxin and his brother Tom set off to Jamaica in the 1920s and their offsprings thrived in Jamaica and the U.S.
During the 1960s, Li Yulou, son of Chongxin, kept receiving remittance from Jamaica every month for five years.
"The money was little but precious," Li Wenqing, grandson of Li Yulou, said.
In 2017, Donald, Susana's cousin and grandchild of Li Chongxin's brother Tom, found his way back to this small Hakka village in Shenzhen with an old picture of Tom. The long separated extended family eventually reunited.
No. 1 jersey
Wearing the No. 1 jersey of the Chinese team, Kaier is striving for goals along with his new team members. The match against Serbia on Sunday was his first game as a Chinese basketball player, and over 60 family members were invited to witness his new start.
After obtaining Chinese nationality, Kaier said on Chinese social media platform Sina Weibo that he was considering wearing the No. 1 jersey for the Chinese team at the Basketball World Cup, hoping to get blessings from his fans. With No. 1 Zeng Fanbo leaving the team due to injury, Kaier inherited the number.
"I've worn the No. 1 jersey to meet challenges in many important moments of my basketball career. It has brought me infinite strength and motivation," Kaier said in his post.
"My relatives in China told me that No. 1 is a very special number, containing excellent meanings, such as success, continuous pursuit of excellence and unity… Therefore, I am eager to wear the No. 1 jersey and spare no efforts with my brothers in the men's basketball team at the World Cup without any regrets," he wrote.
During his family visit Monday, Kaier also attended the inauguration of Pinghu Culture and Sports Center, the first subdistrict-level cultural and sports center in Longgang District, and gave his No. 1 jersey and a signed basketball as a gift.
Kaier will be suiting up for China in the 2023 FIBA World Cup in the Philippines next month. He ended his ninth year in the NBA last season averaging 9.4 points, 5.3 rebounds and 4.9 assists.
He was drafted 30th overall by the San Antonio Spurs in 2014. He spent four seasons with the Spurs before leaving in free agency in 2018 and signing with Memphis Grizzlies.
(Han Ximin, Cheng Yixuan)