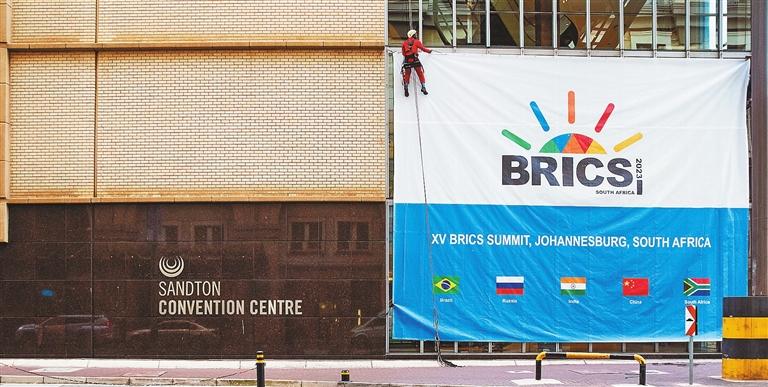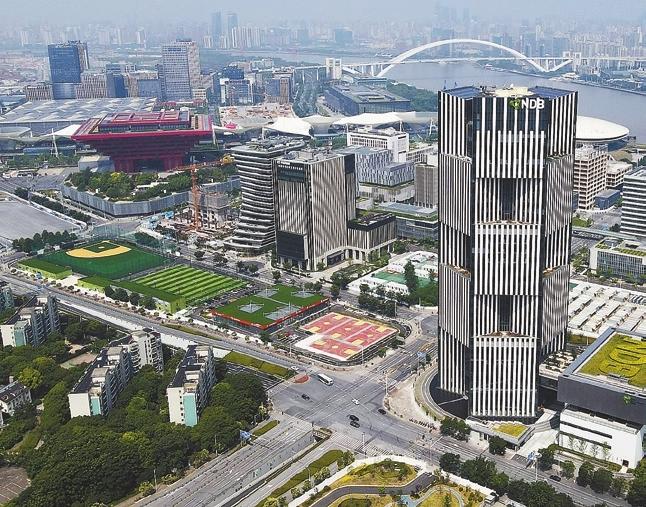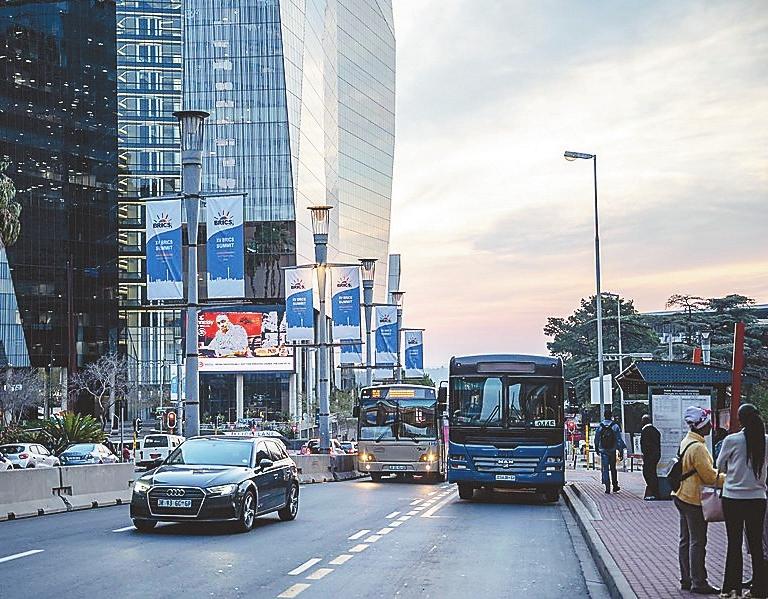 THE 2023 BRICS summit logo features a sun that beams light in five colors: green, blue, orange, red and yellow, representing the current five members of the group.
Members of this economic group of major emerging economies — Brazil, Russia, India, China and South Africa —are meeting this week in South Africa for a summit that could determine the future of the bloc and see its global influence further expand.
This year's summit, being held in South Africa from Tuesday to Thursday, champions the theme "Partnership for Mutually Accelerated Growth, Sustainable Development and Inclusive Multilateralism." That spirit, BRICS officials say, has sparked the interest of some 40 countries from the Global South in joining the group.
Growing appeal
At the summit, leaders are expected to discuss the BRICS group's expansion, including the admission criteria and the guiding principles, said Carlos Maria Correa, executive director of the South Center, a Geneva-based think tank that serves developing countries and promote cooperation among them.
South African President Cyril Ramaphosa on Sunday voiced his support behind BRICS expansion, saying a larger body would "represent a diverse group of nations" that share a "common desire to have a more balanced global order in a increasingly complex and fractured" world.
The anticipated expansion would be the second in the history of the group, which focuses on economic development and increasing its members' voice in global forums.
Built off a term originally coined by former Goldman Sachs economist Jim O'Neill to describe investment opportunities in key emerging markets, the BRIC held its first summit in 2009 with four members and then added South Africa the following year. The BRICS launched its New Development Bank (NDB) in 2015.
"Twenty-two countries have formally approached BRICS countries to become full members. There's an equal number of countries that have been informally inquiring about becoming BRICS members," said Anil Sooklal, South Africa's BRICS ambassador.
Those who formally applied include Argentina, Mexico, Iran, Saudi Arabia, the United Arab Emirates, Egypt, Nigeria and Bangladesh.
Algeria is among the latest countries to show their interest. "We officially applied to join the BRICS group, and we sent a letter asking to be shareholder members in the bank (New Development Bank)," Ennahar TV, an Arabic broadcaster, quoted Algerian President Abdelmadjid Tebboune as saying July 22.
According to Mainichi Shimbun, a Japanese daily, many oil-producing countries have made applications. Once approved, the BRICS members will jointly own over half of the world's oil and gas resources.
"Many countries in the Global South have sought to come together in order to work towards a more just and inclusive world order ... BRICS inspires many countries to come together again in order to advance this vision," said Kenneth Creamer, a senior lecturer at the University of the Witwatersrand, South Africa.
Charms of BRICS
In June this year, French President Emmanuel Macron once voiced his interest in attending the summit following his talks with South Africa's International Relations and Cooperation Minister Naledi Pandor.
Set against the backdrop of a turbulent world, the BRICS has established itself as a positive, stable and constructive force in international affairs.
Several emerging economies, which are financially distressed due to the IMF's stringent economic policies, according to Germany's broadcaster Deutsche Welle, are hoping that the New Development Bank and the BRICS Contingent Reserve Arrangement could support them through payment difficulties.
Since its launch in 2015, the NDB has approved loans worth more than US$30 billion for nearly 100 projects, financing infrastructure construction and sustainable development in emerging markets and developing economies, contributing to global economic growth.
The bank also plans to provide a further US$30 billion of financial support from 2022 to 2026, to meet the needs of developing countries. As NDB President Dilma Rousseff puts it, "The NDB reflects the close ties of the BRICS countries and their shared commitment to South-South cooperation."
Daniel Bradlow, a University of Pretoria professor, commented, "The New Development Bank is the most prominent achievement. It's also led to increased trade between the countries, and won international attention."
BRICS defends multipolarity and multilateralism, Cuban President Miguel Diaz-Canel said, adding that "BRICS countries are countering the concept of the Cold War and opening up the possibility of a more equitable and just international order that benefits the world."
"In an increasingly polarized world, BRICS is creating an enabling avenue for countries to fashion a more inclusive political and economic order," said Cavince Adhere, a Kenyan international relations scholar.
United States' virtual domination of the global economy for decades has harmed the interest of many other countries, said the Spanish website Rebelion, as failure to comply with Washington's directives often results in sanctions and financial blackmail.
New prospects
With potential members down the road, cross-border trade within the group would become more efficient, with the potential to lure more investors. Even the prospect of a BRICS-issued currency is a possibility.
"Its members would likely be able to produce a wider range of goods than any existing monetary union," said Foreign Policy, an American news publication, while remarking on the prospective currency. "Because each member of the BRICS grouping is an economic heavyweight in its own region, countries around the world would likely be willing to do business in the hypothetical money."
As Bangladesh, Egypt, the United Arab Emirates and Uruguay were added as new members of the BRICS New Development Bank, there's bound to be even fairer and more accessible international trade as the four countries lie on three continents.
"For new entrants, being part of BRICS could expand their diplomatic influence and open up lucrative trade and investment opportunities," the Washington Post said in a recent article.
"BRICS is committed to upholding multilateralism, reforming the global governance system and has consistently advocated for the developing countries to be fairly treated in the international arena," said Gerald Mbanda, an Africa-China cooperation expert.
"This is the reason I believe that the BRICS is undoubtedly an avenue for accelerated growth with increased trade and investment opportunities," Mbanda said.
Currently, the BRICS countries account for nearly 42% of the global population, 25% of the global economy and 20% of the global trade. As of 2022, the five countries combined have over 14% of the voting power in the World Bank, and over 14% of the total share in the International Monetary Fund (IMF).
An expanding BRICS+ framework would mean a bigger say in the international arena. Thanks to the efforts of a vocal BRICS, the long-ignored appeal of the developing world will be valued more.(Xinhua)