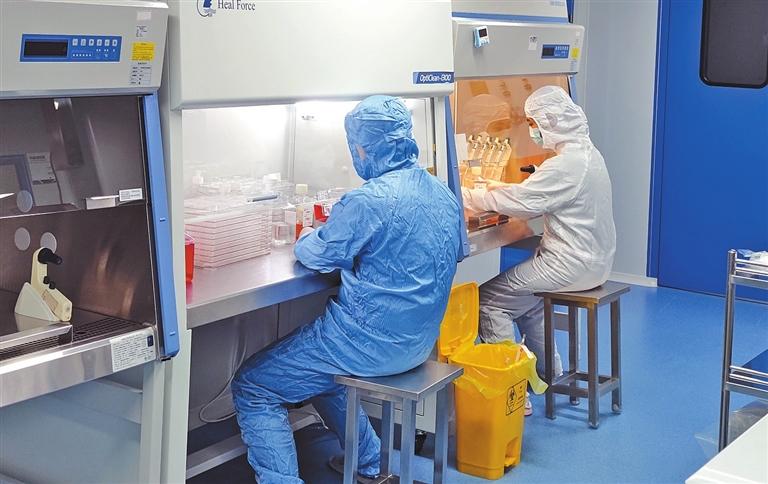 Chen Siqi
vankochensq@163.com
FROM a team of four founders to a group of 35 members, and from a 600-square-meter company to a 3,000-square-meter facility complete with laboratories and a factory, Huamei BioTech Co. Ltd., a biotech company specializing in medical treatment products using 3D cell printing as its core technology, has made remarkable strides within just 20 months since its establishment in December 2021.
Liu Boxun, co-founder of Huamei BioTech, emphasized that their decision to settle down in Shenzhen has proven to be a right one.
While pursuing his doctoral degree at the Shenzhen campus of Peking University, Liu envisioned starting his own company as he had a strong desire to bridge the gap between basic research and clinical treatment.
"Shenzhen is the ideal city for starting a company. Its rapid development provides numerous opportunities, accompanied by inevitable challenges," he said.
After completing his studies, Liu collaborated with two partners to establish Huamei at Guangming District Overseas Chinese Venture Park, Guangming Science City, in December 2021.
Shenzhen, with an average population age of 32.5, exudes an atmosphere of innovation. In 2022, Shenzhen saw 446,900 newly registered business entities, bringing the total number to 3.938 million, a 3.52% increase year on year.
Moreover, Shenzhen's entrepreneurial density, with 222.7 businesses per 1,000 persons, has ranked first in China for eight consecutive years. There is a saying that among five Shenzhen residents, there is one "boss."
Talents driving force for entrepreneurship
Liu, who sought knowledge in Wuhan, Shanghai and Shenzhen, ultimately switched his major from material science to bioengineering. He views entrepreneurship as the right path for him, as Shenzhen fuels his passion.
In 2022, Liu decided to participate in the Shenzhen Dream Catcher Cup University Students Innovation and Entrepreneurship Contest, an annual competition that encourages college students to establish their own businesses by offering subsidies to the winners.
A project developed by Huamei won a second prize in the 2022 contest and received a subsidy of 250,000 yuan (US$34,300).
"Participating in this competition not only granted us subsidies, but also introduced us to an innovative community, which allows us to gain insights into advanced ideas and operational skills," Liu said. "Shenzhen attracts passionate young talents who serve as the driving force behind entrepreneurship."
Over its seven-year run, the contest has attracted 2,373 startup teams, with 219 projects receiving prizes totaling 22.75 million yuan.
To honor both entrepreneurs and talents, the city has designated Nov. 1 as both Entrepreneurs' Day and Talent Day.
Official data showed that Shenzhen is home to 6.77 million talents. It boasts 86 full-time academicians, 23,000 high-end talents, and over 200,000 people who were educated overseas.
Industrial clusters
motivation
The city's complete industrial chain allows Huamei to establish a strong presence, particularly in Guangming District.
As the company expanded, it needed a bigger location. Liu and his partners chose to stay in Guangming because of its scientific research cluster, particularly in the field of synthetic biology.
China Merchants Guangming Science Center is an ideal location for Huamei due to its convenient proximity to both Shenzhen Bay Laboratory, the Industrial Innovation Center for Engineering Biology, and Guangming Life Science Park. This strategic positioning allows the company to easily access and collaborate with these institutions, benefiting from their advanced testing equipment to enhance their technologies. Consequently, Huamei saves costs that would otherwise be incurred for purchasing specialized devices.
In addition to the facilitation of basic research facilities, market opportunities are also important.
Shenzhen, being a mature hub for cell industry, attracts numerous institutes and businesses within the industrial chain, such as Beike Biotechnology and BGI.
The presence of a sound industrial cluster has motivated Liu to commit to long-term development in Guangming.
In June 2022, Shenzhen released guidelines for the development of 20 globally competitive strategic emerging industrial clusters and eight future industries.
The 20 strategic emerging industrial clusters encompass diverse areas such as materials, biomedicine, health, machine tools, intelligent robotics, and laser additive manufacturing.
It also has unveiled supportive measures to foster a favorable environment for entrepreneurs, including offering subsidies to startups, protecting intellectual property rights, and establishing bankruptcy regulations. Such initiatives are designed to boost entrepreneurs' confidence.