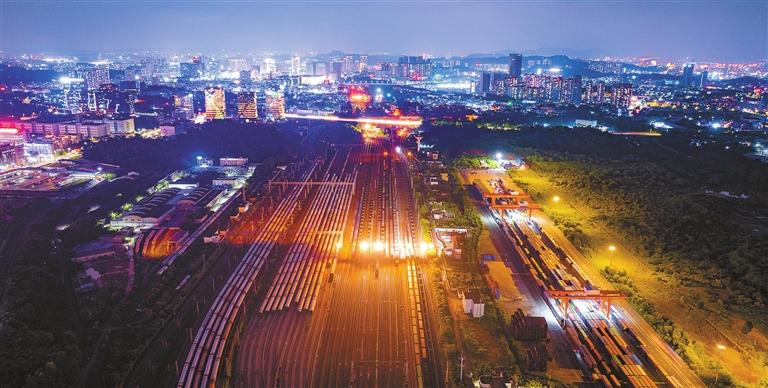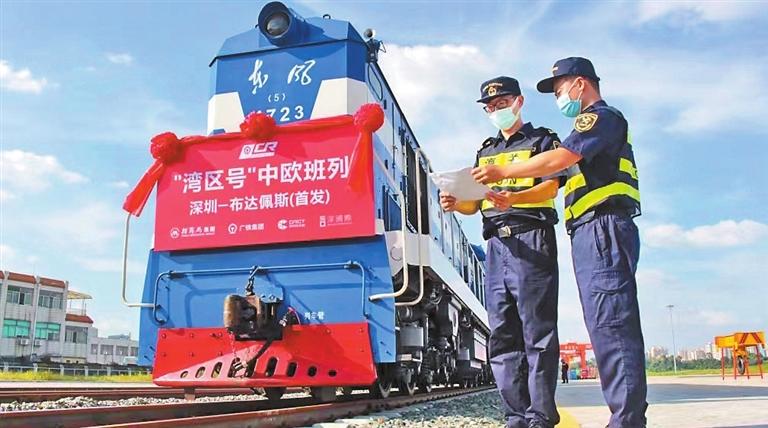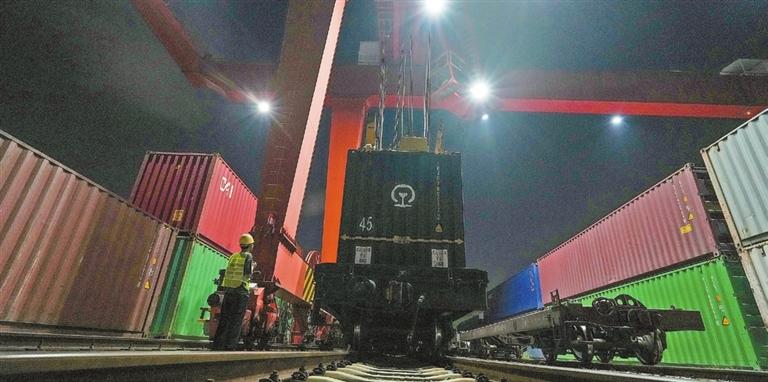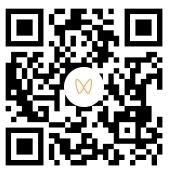 Han Ximin
1824295095@qq.com
A SINO-EUROPE train loaded with export products from cities in the Guangdong-Hong Kong-Macao Greater Bay Area (GBA) departed from Pinghu South National Logistics Hub at 5:30 p.m. Thursday for Moscow, Russia. The products, worth US$4.188 million, included clothing, electronic products, daily necessities and chemicals.
Since the operation of the first GBA Sino-Europe freight train in Shenzhen on Aug. 18, 2020, 561 such trains have carried 361,100 tons of cargo worth 10.8 billion yuan (US$1.48 billion). Trains have become a major transportation mode for trade between the GBA and Eurasian countries participating in the Belt and Road Initiative (BRI). The national Sino-Europe freight train service was launched in Chongqing in 2011.
Starting from
one route
With uncertainties in air and sea transport during the pandemic, Guangzhou Railway Group Corp. started running the Sino-Europe freight trains at the Pinghu hub in August 2020, with the first route linking Shenzhen with Duisburg, Germany.
The 13,438-kilometer route covers the longest distance from China, passing China's Xinjiang, Moscow in Russia, Minsk in Belarus, Malaszewicze and Warsaw in Poland, and Hamburg in Germany. It gained attention from exporters due to its safety, convenience, low cost and high efficiency.
The trains' major operator, Sinotrans Shenzhen International Logistics Co. Ltd., hoped the trains would bring closer trade ties between the GBA and Asian and European markets.
"In the past three years, the Sino-Europe freight train network has been expanded to 18 routes spanning 41 countries. National checkpoints for exports have also been increased to four, namely Manzhouli, Alataw Pass, Erenhot and Khorgos," Zhang Yun, deputy manager of the Pinghu hub, told Shenzhen Daily on Wednesday night.
"Over 4,000 firms from the Pearl River Delta area, including 1,208 in Shenzhen, have used the freight service, accounting for 24.7% of the total," Zhang added.
Zhang said the hub is playing a vital role in ensuring supply chain stability in global trade, enhancing trade between the GBA and Belt and Road countries, and promoting the high-quality development of supply chain in the GBA.
So far, the service has been expanded from once to thrice a week and could be further increased to four times a week in the future, he said.
The scope of major export commodities has also expanded, with more high-end electronic products, high-value e-commerce products, machinery equipment and new energy vehicles added for transport.
The Pinghu hub is one of the seven stations for international freight trains in Guangdong. The other cities with such stations include Guangzhou, Dongguan and Jiangmen.
Data from Guangzhou Customs showed 1,119 Sino-Europe freight trains carrying goods worth 31.5 billion yuan have departed from Guangzhou since the service started operations Aug. 28, 2016. The trains cover 40 cities in over 20 countries in Asia and Europe.
Leading logistics hub
Shenzhen aims to become a model transportation city in China by 2025, according to the city's 14th Five-Year Plan for Transport (2021-2025).
The Pinghu hub features a multimodal transportation system and is one of the three national logistics hubs in Shenzhen, in addition to its seaport and airport logistics hubs.
In 2021, construction of Phase II of the Pinghu hub kicked off. Upon operation in 2026, the hub will become an intelligent logistics platform with cold-chain warehouses, vendor managed inventory services and e-commerce facilities. The 800,000-sqm hub will also become China's largest single-facility logistics center.