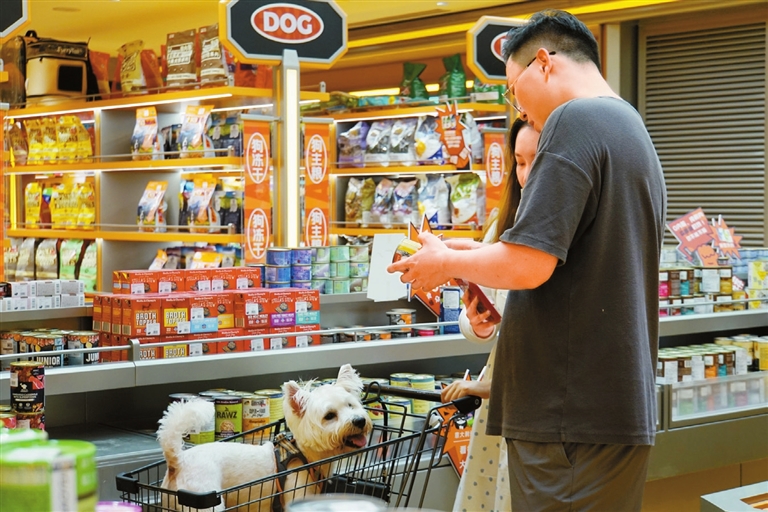 "LET'S see, which one of you will join me in my office today?" Every day, Wang Jingqi would bring one of her dogs to work at her newly-opened Marsmart pet store in The Box Youth Energy Center in Beijing's Chaoyang District.
Wang, 28, is the co-founder of two pet stores in the Chinese capital and a caregiver of six adorable dogs. Her story with her canine friend began in 2015 when she set out for her studies in the United States, accompanied by her first dog. "The dog became an integral part of my family, a source of immense solace in the foreign land," Wang reminisced.
This overseas adventure gave Wang a unique outlook on the future of China's pet economy. Espying its immense potential, she transitioned her career from education and technology to pet retail upon returning to China in 2020.
Teaming up with three partners who had quit their jobs in nightclubs and music festivals, Wang seized the opportunity to make a meaningful contribution to this burgeoning industry.
She currently serves as the chief product officer at Marsmart pet stores, which feature a captivating Martian aesthetic. She pointed out that the selection of the Martian visual icon is aligned with Gen Z's modern retail preferences of "art + technology + individual experience."
Born between 1995 and 2009, Chinese Gen Zers are synonymous with the internet and social media boom. According to the China Pet Industry Annual Report 2022 released by the Asia Pet Alliance Institute, the number of pets and pet owners in China continues to expand, with young people aged between 19 and 30 being the main pet-keeping population.
With more Gen Zers joining the pet-keeping community, "regarding pets as members of a family" is becoming a trend, said the report.
In a Marsmart store, it is a common sight to see young individuals accompanied by their furry friends. The well-designed setting enables pets to choose their favored products with ease. To accommodate the needs, display shelves in the store are specially designed at pet height, ensuring a delightful shopping experience for all.
Apart from dogs and cats, Gen Zers keep a diverse range of unconventional pets. "We've even welcomed lizards, ducks, parrots and hamsters to pick up their toys," Wang enthusiastically shared.
As digital natives, Gen Zers are increasingly connected through social media, and Marsmart's social platform is flooded with young enthusiasts inquiring about pet products and relevant information and posting self-made cute pet memes.
While mobile phones have undoubtedly enhanced convenience, Wang emphasized that Gen Zers have a strong desire for face-to-face interaction. Despite conducting 30% of the business online, Marsmart actively organizes offline social activities for both pets and their owners.
"Like-minded individuals can share stories and their love for animals together," Wang explains. "The pets are also excited to meet each other at our offline pet parties."
According to Wang, the landscape of pet ownership in China has been reshaped by the increasing number of young people living alone, leading to a rise in pets becoming cherished family members.
The monthly turnover of the two offline Marsmart stores now reaches an impressive 1.8 million yuan (US$250,000), which Wang believes, is largely fueled by Gen Zers' desire for emotional support and work-life balance.
According to iiMedia Research, the pet economy in China is projected to reach 592.8 billion yuan by 2023, following a compound growth rate of 20.2% from 2015 to 2020.
In a sharp shift from a decade ago, Wang has observed that young pet owners no longer blindly prioritize prestigious brands or imported products. They now opt for high-quality domestic products as well. "This trend is partly influenced by the growing affection and appreciation for Chinese culture and home-made products among young people," she said.
Aligned with this trend, Wang and her team have designed various products with distinct Chinese characteristics. Pets spoons, for example, are crafted in auspicious cloud shapes, drawing inspiration from traditional Chinese mythology.
"I'm also surprised to find that Gen Zers are highly conscious of environmental and ethical issues," Wang noted. She said that Gen Zers have shown a preference for green pet food and high-tech products that promote sustainability. "Our bestsellers include eco-friendly toys, biodegradable waste products, and recyclable packages for catteries."
Guided by a profound understanding of Gen Z's consumption values, Wang and her team are at the forefront of shaping the future of pet retail in China. "There are so many driving forces behind Gen Z's approach to pet ownership," concluded Wang, "for instance their strong emphasis on sociability and individuality."
Right on cue, Wang's dog popped up from under the table, eagerly seeking a hug. With a smile, she added, "And of course, companionship and a sense of family." (Xinhua)