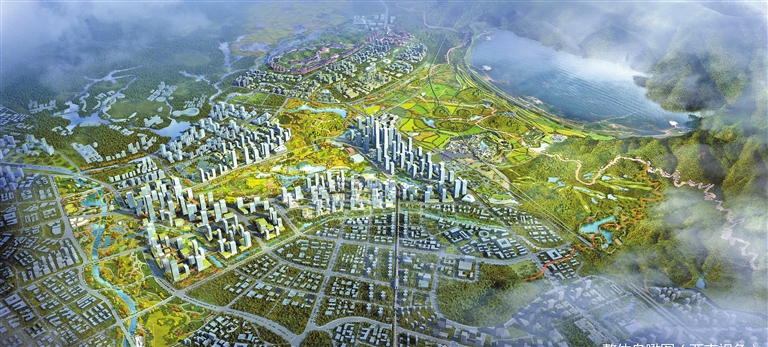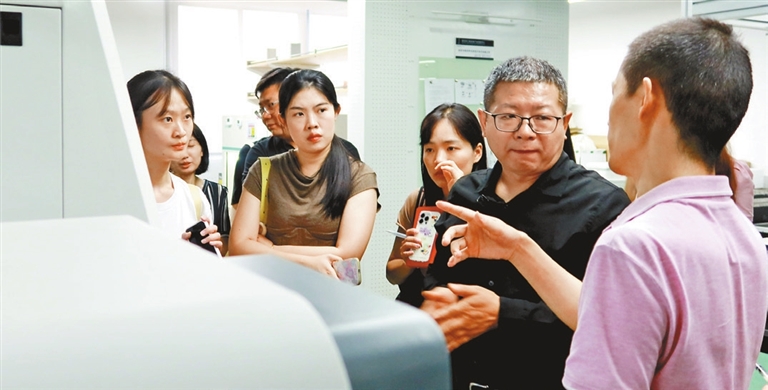 Chen Siqi
vankochensq@163.com
WHEN it comes to Guangming, the city's youngest district set up in 2018, the first thing that pops up to most people's mind is Guangming Science City.
Spanning 99 square kilometers of former farmland, Guangming Science City aims to become a world-class science center, according to a city government plan.
So far, the area has gathered 24 scientific and technological innovation facilities and institutions, which are mainly focused on information technology, life sciences and new materials research.
In a recent visit by media organizations, reporters visited startup firms, scientific infrastructures and incubation platforms in the science city.
New mode
attracts talents
Pioneering the concept of combining labs and enterprises, one notable establishment in Guangming Science City is the eight-floor Industrial Innovation Center for Engineering Biology. The center, put into use in 2017, covers a floor area of 12,000 square meters, with the bottom five floors designed to accommodate startups and the top three floors tailored for technological research.
By providing a favorable environment for tech entrepreneurs, the center fosters a vibrant scientific research and transformation ecosystem.
Zhang Lifeng, CEO of Cytorola, a company dedicated to artificially generating functional proteins, expressed appreciation for the center's consideration of their needs. "The building is thoughtfully designed with ventilation and sewage systems suitable for research purposes. The shared facilities also allow for collaboration among researchers in the building," Zhang said.
Since moving to the center in June 2021, Cytorola has seen its output more than double. As a result, the company plans to "graduate" from the incubation center and relocate to another science park in Guangming, where they will have larger premises.
Zhang emphasized that Guangming's favorable governmental incentives and Guangming Science City's synthetic biology cluster, which encompasses basic research and companies throughout the industrial chain, have boosted the company's growth.
Yang Zongying, co-founder of Emergence Synbio, a company engaged in DNA biosynthesis, also expressed his strong belief in Guangming Science City's scientific research ecosystem.
"When I did my doctoral program, I chose Guangming to establish my company."
According to Yuan Hai, general manager of Infrastructure for SynBio, the center brings together resources, bridges the gap between scientific research institutes and companies, and facilitates collaboration and innovation within the scientific community.
Crucial scientific
facilities
Within a 10-minute drive from the center, reporters arrived at the Guangming Life Science Park in Guangming Science City. The park houses two important facilities — the Infrastructure for SynBio and the Brain Science Infrastructure. The two structures are equipped with over 1,800 sets of equipment and nearly 100 researchers are working there.
The Infrastructure for SynBio is expected to be officially operational by the end of the year, according to Yuan.
On the fourth floor of the 14-story Infrastructure for SynBio, robot arms worked deftly, precisely locating microplates and dispensing liquid and reagents into various microplates. The synchronized operation of the automated machines facilitated orderly completion of tests.
"The facility will be developed into an intelligent biofoundry. Once it is officially operational, researchers and operators will be able to utilize the platform remotely," Yuan explained.
The Brain Science Infrastructure, connected to the Infrastructure for SynBio by a corridor, accommodates a large number of animals for experiments related to brain research, the most intricate system of the human body.
Wang Liping, president of the Shenzhen Hong Kong Institute of Brain Science, explained why many animals, including rodents and non-human primates, are raised in the facility.
"If we want to study diseases like Alzheimer's and understand why humans suffer from them, we use scientific logic to induce the same disease in mice, so that we can conduct animal tests and find potential solutions," Wang explained.
Animal testing is an important step in brain science research and in the development of drugs for brain-related illnesses.
Wang jokingly mentioned that there are feeder positions available to ensure the proper care of these animals, as they require meticulous attention.
By integrating brain science research in different species under one roof, the Brain Science Infrastructure is the world's first scientific research platform of its kind. Researchers at the facility can delve into brain dissection and brain simulation.