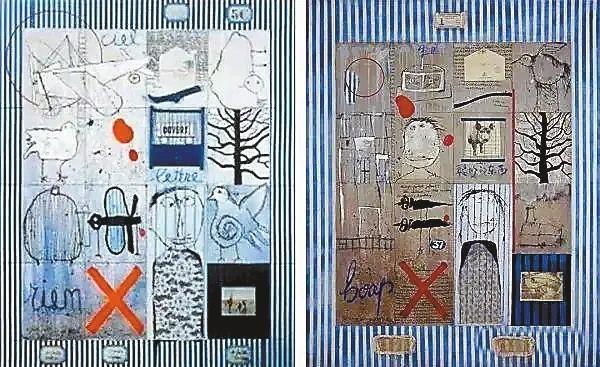 A CHINESE painter has been ordered to pay 5 million yuan (US$688,000) in damages to a Belgian artist for plagiarism, according to a ruling recently announced by Beijing Intellectual Property Court.
In the verdict, the court urged Ye Yongqing, a retired oil painting professor of Chongqing-based Sichuan Fine Arts Institute, to stop the infringement of Christian Silvain's artworks, and also required Ye to make a public apology in the media to Silvain.
Silvain, 73, posted the result of the lawsuit on social media, saying "After four years of waiting, we won the trial in China." Ye, who was born in 1958 and was among the first Chinese artists exposed to Western modernism, had not made any comment about the result as of press time.
Since the 1980s, Silvain has created a series of artworks with elements such as birds, nests, bird cages, red-cross frames and airplanes, and he published an album of works in 1990.
Silvain sued Ye after finding Ye had continuously copied ideas from his own collage series and profited from them since the 1990s, claiming that Ye did not identify the original author of the artworks but signed his own name instead, and that Ye also modified the paintings without getting his permission. In addition, Silvain complained that Ye copied, exhibited and published the works to seek profits, with plagiarism of 87 artworks over a period of more than 25 years.
Based on that, Silvain and his lawyer asked the court to stop Ye's infringement and pay more than 50 million yuan in compensation, along with a public apology.
"The amount of the compensation supported by the court is far from that requested by the Belgian, and Ye, the defendant, hasn't responded. So the verdict, I believe, is just a temporary result," said Liu Bin, a lawyer in Beijing who specializes in handling intellectual property cases.
He added that the final result of the case depends on whether the two sides appeal, even though Silvain has announced the victory of the lawsuit online.
The Beijing Intellectual Property Court was set up at the end of 2014 to address a rising number of intellectual property disputes. Data released by the court at the beginning of this year showed that it has filed more than 28,100 lawsuits involving foreign affairs since its establishment, accounting for over 22% of its cases. (China Daily)