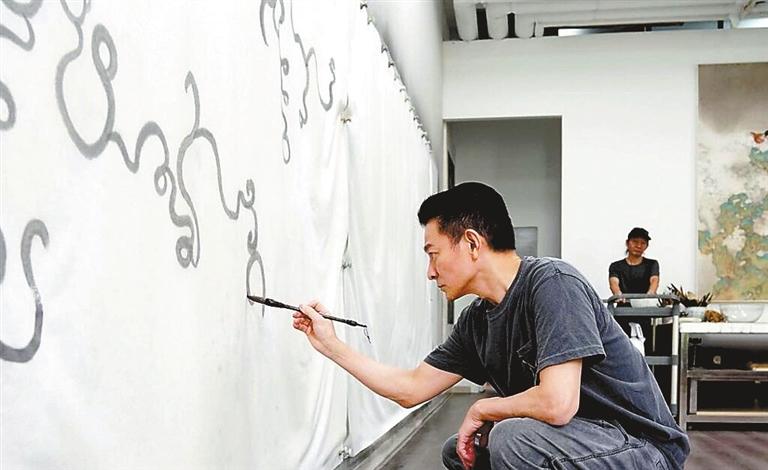 HONG KONG singer, actor and film producer Andy Lau is showing off his artistic talent via his "1/X Andy Lau X Art Exhibition" at the Freespace, West Kowloon Cultural District Art Park in Hong Kong through Saturday.
Curated by Gary Mok, the exhibition echoes Lau's own experiences, music, movies, etc., and presents a forward-looking perspective to the public in various forms such as painting, calligraphy, sculpture, video and installation.
"I used to visit art centers a lot. I felt like I belonged. Even after I became an artiste, the dream has always been there. I think this exhibition is a kind of return to my youth and dream. I also hope to introduce a group of outstanding artists to the public through the exhibition," said the 62-year-old superstar.
Fans can admire Lau's calligraphic works at the exhibition. Lau said he honed his handwriting skill while helping his family's dessert store by writing menus during his childhood. Later, he takes his calligraphy hobby more seriously by learning from other artists and sometimes writes calligraphic works for friends or as film titles.
Lau has also collaborated with five contemporary artists to create a number of works for the exhibition. Exploring psychology and the subconscious, Xu Zhuoer's works encompass installation, video, performance art, photography and public art; the Stickyline duo, consisting of Mic Leong and Soilworm Lai, focuses on exploring the minimalist geometric aesthetic of paper and metal works; Lin Yusi is rooted in ink paintings and his works showcase his sensitivity and imagination towards history and time; and by combining traditional materials with street culture, Huang Yulong is skilled in using various media and materials to create sculptures.
At the exhibition, there's an area dedicated to Lau's family which is full of landscape and flower paintings by him and his 11-year-old daughter Hanna. Lau said that painting together with his daughter helps them find more common topics, which has improved the way they communicate with each other.
One of Hong Kong's most iconic figures, Lau has achieved significant success with his TV dramas, movies and music albums since the 1980s. He is also actively involved in philanthropy and social causes, showcasing his commitment to making a positive impact on society. (SD News)