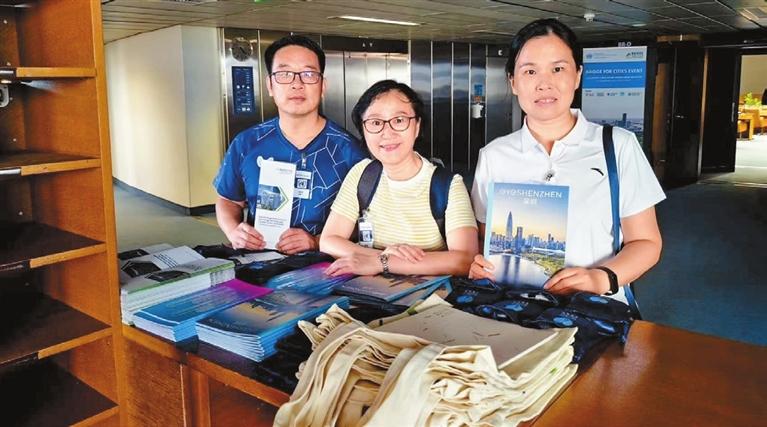 SHENZHEN'S pioneering efforts in low-carbon and sustainable development were shared at the eighth edition of the "Bridge for Cities" event held in Vienna, Austria on Monday.
At the event, Shenzhen introduced its distinctive features and visionary initiatives to a global audience through brochures and a captivating video titled "Shenzhen Forever." The video was made by EyeShenzhen, the city's first official multilingual information portal with versions available in nine languages.
The event, with the theme "Accelerating Climate Action Through Urban Innovation," was organized by the United Nations Industrial Development Organization (UNIDO).
Representing Shenzhen at the mayors' dialogue session, Zhang Yali, deputy director of the Shenzhen Municipal Ecology and Environment Bureau, shared Shenzhen's journey in low-carbon and sustainable development. Zhang underscored Shenzhen's steadfast commitment to seizing the challenges of climate change as a golden opportunity to reshape its development paradigm.
The city is aggressively pursuing the green transformation of its industrial structures, optimizing its energy mix, and actively nurturing green technology innovation within the private sector, she said.
Zhang also highlighted Shenzhen's pioneering role in implementing green and low-carbon regulations and standards, promoting eco-conscious lifestyles among its citizens, and guiding the sustainable development of megacities, Zhang said.
Leaders from cities such as Dhofar in Oman, Rayong in Thailand, and Antsirabe in Madagascar joined Shenzhen in presenting their innovative approaches.
Gerd Müller, director-general of UNIDO, commended Shenzhen's efforts in building an inclusive and sustainable development city.
"Bridge for Cities" is an annual event that aligns with the objectives of the 2030 Agenda for Sustainable Development and shares common principles with the Belt and Road Initiative. It aims to promote sustainable development by fostering collaboration among cities and inspiring municipal officials and development stakeholders to engage in inclusive and sustainable urban and industrial development initiatives.
(Wang Jingli)