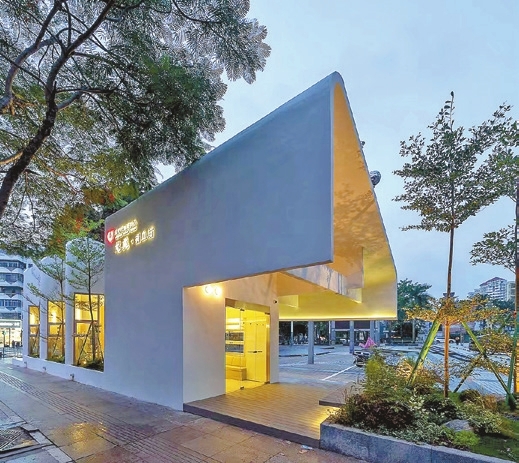 Zhang Yu
JeniZhang13@163.com
THE Longmei blood donation station, the city's first courtyard-style smart blood donation facility, was put into use recently after nearly a month of trial operation.
Located at the southwest corner of the intersection of Renmin and Baohua roads in Longhua District, the blood station underwent an upgrade this year and opened to the public Aug. 4.
According to the Shenzhen Blood Center, there are three French windows on the east and west sides of the blood station, with green plants and trees outside the windows, so that blood donors can see the city's landscape when donating blood.
Distinguishing itself from other smart blood stations in the city, the Longmei blood station has introduced intelligent electric blood collection chairs and an in vitro monitoring and warning system for adverse blood donation reactions. The chairs, designed with ergonomic principles, facilitate posture adjustments to accommodate donors of various physiques, reducing the risk of physical discomfort and fatigue associated with prolonged sitting. Additionally, the chairs feature heating functions on the armrests, enhancing the comfort of the blood donation process.
Furthermore, the intelligent electric blood collection chairs have functions such as emergency call, self-service meal ordering, entertainment videos, and blood donation satisfaction survey. "This marks the first time in China that the intelligent device is applied in blood donation," Lu Liang, deputy director of the city's blood center, said.
According to the center, a total of 544 citizens have donated blood at the new blood station after its trial operation, accounting for 23.5% of the blood collected in Longhua.