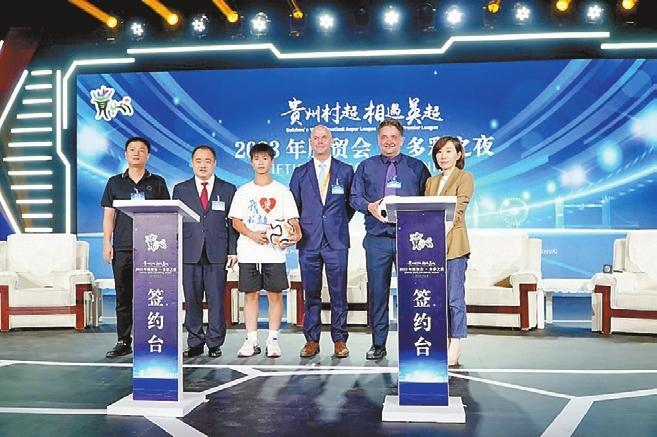 CHINESE villagers flocked to watch soccer games with great happiness on their faces, which deeply impressed Hu Zhaoheng, a representative of the English Premier League (EPL) in July.
It was the first time for Hu to watch China's village soccer tournament nicknamed "Cun Chao." Hu said, "Actually, the EPL didn't directly get in touch with 'Cun Chao' at that time, but I can feel the same passion of the public for soccer."
"Cun Chao" took place in Rongjiang County, Southwest China's Guizhou Province from May 13 to July 29 this year. During the event, 20 village teams played 98 games, attracting over a million viewers to the site. Sports fans globally appreciated the tournament online and showed high expectations for its future development.
At the 2023 China International Fair for Trade in Services, "Cun Chao" and the EPL agreed on a strategic cooperation Sept. 2. They plan to initiate training projects and potentially friendly matches.
Xu Bo, chief of Rongjiang County, said, "The village soccer tournament is like a door, through which people around the world came to know more about Guizhou, while the traditional Chinese culture here can be expressed to the whole world." "Soccer should be pure and filled with energy. It belongs to the people," Xu noted.
Both "Cun Chao" and the English soccer have a broad soccer mass base. The EPL, as one of the world's leading soccer leagues, is renowned for its experience in game organization and business operation. Its 380 matches each season bring excitement and lasting memories to fans.
"The Premier League was once a tournament among workers in England. The love for soccer is always the foundation of a mature league," Hu said.
In the mid-19th century, Britain's social life evolved with the industrial revolution. Workers played soccer in their free time, leading to the formation of more soccer clubs in British communities. Sheffield Football Club, founded in 1857, is the oldest soccer club still participating in modern soccer.
Rongjiang County records indicate that in the 1940s, Guangxi University moved to Rongjiang and introduced soccer to the locals. By the 1980s, parents took pride in enrolling their children in soccer-centric sports schools. Xu said, "Only when the parents are passionate about soccer, can they support the youth to enjoy soccer."
The fervor for "Cun Chao" is evident both on and off the field. Yang Liuxiang, a 94-year-old member of China's Dong ethnic group, donated 50 yuan (US$6.8) to buy drinking water for the village team. Meanwhile, local teens took on roles as "young coaches" on the sidelines.
"The passion for soccer is our common language," Hu noted. "The strategic cooperation marks a great start for the EPL and 'Cun Chao.' The two entities have much to discuss in the future to strengthen their bond."
The fame of "Cun Chao" has far exceeded the anticipations of Xu and many other organizers. Xu said, "The tournament manifested the potential of China's sports industry. The country's mass sports events will shine together with the achievements of athletes in competitive arenas." (Xinhua)