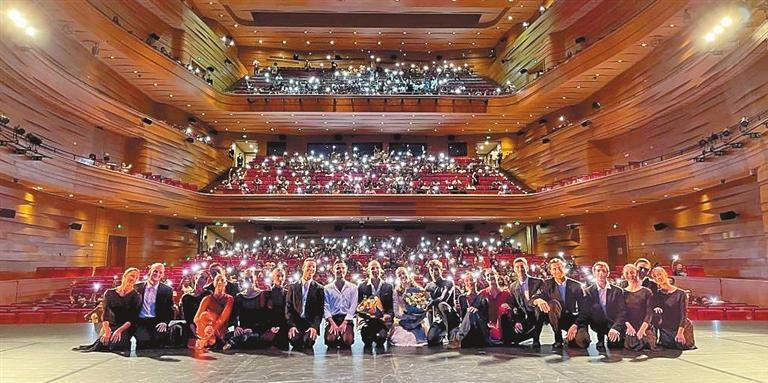 THE Rome Ballet Company this month kicked off its 2023 China tour in Guangdong Province with its modern "Juliet and Romeo" ballet.
The troupe gave a stunning performance in Guangzhou on Sept. 7, Shenzhen on Sept. 8 and Jiangmen on Sept. 10, despite heavy rain brought by Typhoon Haikui. The high attendance rates at the shows have demonstrated the enthusiasm of Chinese audience members.
The modern ballet was choreographed by Fabrizio Monteverde, reversing the centuries-old title and introducing many subversive stage changes. The story travels in time from the 14th century to after World War II, not only modernizing the visual elements and dance language, but also giving the classic story a contemporary significance.
The modern language used also provides a refreshing experience for Chinese audience members familiar with the Shakespearean tragedy.
"My daughter is studying dance, so she was fascinated by the performance. Although we don't understand Italian, ballet is a universal language, and the avant-garde art really shocked us," said an audience member surnamed Zhao, who brought his 9-year-old daughter to watch the ballet.
An audience member who is from Bologna, Italy, and currently working in Shenzhen attended the show with her friends. "I watched the ballet 'Romeo and Juliet' in Italy before, and now I come specifically to relive the experience," she said.(Xinhua)