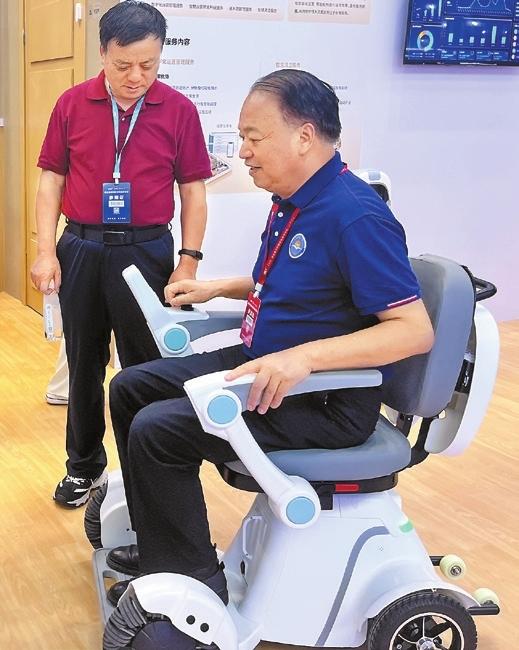 Zhang Yu
JeniZhang13@163.com
FEATURING over 1,000 cutting-edge smart elderly care products and technologies, the first Shenzhen International Smart Senior Care Industry Expo demonstrated how technological advancements have enriched the scenarios of intelligent elderly care.
Exoskeleton rehabilitation robots, feeding robots, and auxiliary-arm transfer devices are among some of the intelligent elderly care products exhibited at the expo's smart elderly care science popularization and experience area.
At the booth of UBTECH Robotics Corp., a smart wheelchair attracted a lot of interest from attendees. When the wheelchair encounters steps or obstacles, it will autonomously put on a brake to ensure the user's safety.
As a leading enterprise in intelligent service robots, UBTECH showcased seven AI service scenarios and multiple robots for smart health care at the expo.
"We expect to integrate different forms of products in smart elderly care scenarios, provide integrated services, and accurately identify the needs for robots in elderly care services," said Tan Huan, UBTECH's chief technology officer and general manager of UBTECH's health-care business unit.
Last year, the company unveiled a series of robots targeted at the health-care and elderly-care domain. According to the Shenzhen-based company, these robots directly address the challenges of an increasing shortage of caregivers, fast-growing aging populations globally, and an increasing demand for high-quality health-care services.
During the expo, more than 20 smart elderly care products made their debut on roadshows, including an interactive gym developed by Tencent SSV Silver Hair Technology Lab.
According to Tencent, the gym is designed specifically for older adults aged 50-70. The entire system only requires one mobile phone and can operate on real-time AI computing and rendering capabilities in the cloud, thus allowing users to have a virtual and real interactive fitness experience without the need to wear or purchase other devices.
"With just one mobile phone and one TV, users can practice Baduanjin — a set of traditional Chinese fitness exercises — and tai chi interactively. The virtual 'coach' will also help users correct their movements," explained Wang Junle, producer of the XDance project at Tencent SSV Silver Hair Technology Lab.
"It not only brings us some visual impact, but more importantly, the comfort, especially in some scenario applications. The price is also relatively affordable, which is acceptable to most families," said a man surnamed Qin.
The three-day expo, which ran from Friday to yesterday, attracted a large number of leading technology enterprises in the Guangdong-Hong Kong-Macao Greater Bay Area; enterprises and institutions from over 40 countries and regions also participated, according to expo organizers.