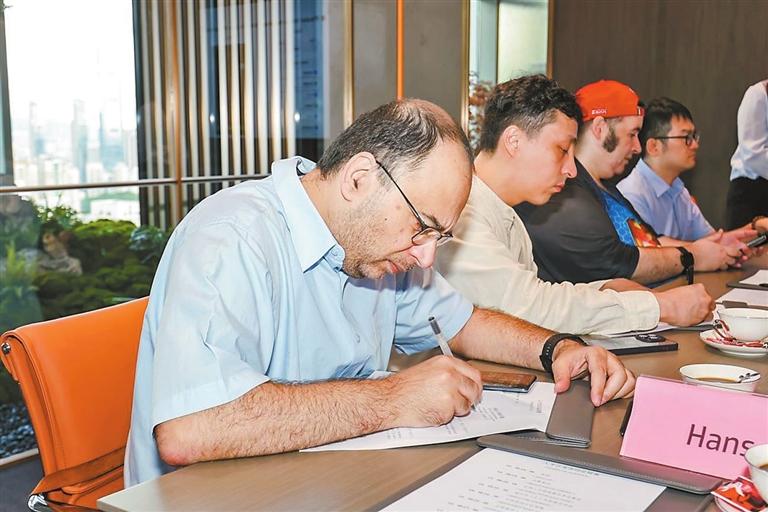 Han Ximin
1824295095@qq.com
EXPATS working in Futian District raised a variety of issues related to public services for international talent at a symposium hosted by the Futian Talent Bureau recently.
The two-hour symposium, organized by the Futian Economic Development Promotion Association, invited over 10 expats from the U.S., India, Canada, Greece and Colombia to share ideas and forward suggestions on further improving public services for international talent.
The speakers were from the fields of technology, finance, medical treatment and education, and they presented suggestions regarding international talent qualification recognition, taxation, medical services, work permits, and other issues international workers living in Shenzhen view as important.
The symposium was held following a plan released by the State Council two weeks ago to boost high-quality development of the Shenzhen section of the Hetao Science and Technology Innovation Cooperation Zone (HTCZ). The plan pledged to establish an internationalized scientific and technological innovation mechanism as well as a platform to pool global wisdom and boost international exchange and cooperation.
Radke Snehal, a doctor at C-Mer (Shenzhen) Dennis Lam Eye Hospital who relocated to Shenzhen with her family in 2017, noted that she is very happy living in the city because her employer is very supportive of familial needs including housing and school admission.
Snehal also expressed the hope that the government can open more online services for foreign talent and continue to optimize the medical qualification accreditation process for foreign talent.
Accenture is a leading professional services company in the business world; it is the world's largest management consulting company and a Fortune Global 500 company. Anna Bian, recruiting manager with Accenture (South China), said the main reason why it chose Futian is that enterprise and talent resources are concentrated and public services are well established.
Georgios Siviloglou, an engineer with the Shenzhen International Quantum Academy, hoped that foreign talent can log in to public service apps with passport numbers because it would be more convenient.
Chen Yihao, a Canadian executive from CITIC Securities, praised the efficiency of Shenzhen's government services such as work visas and immigration permits for foreign talent. He hoped that the government will make use of the plan of HTCZ to further expand the scope of existing policies to benefit more international talent.