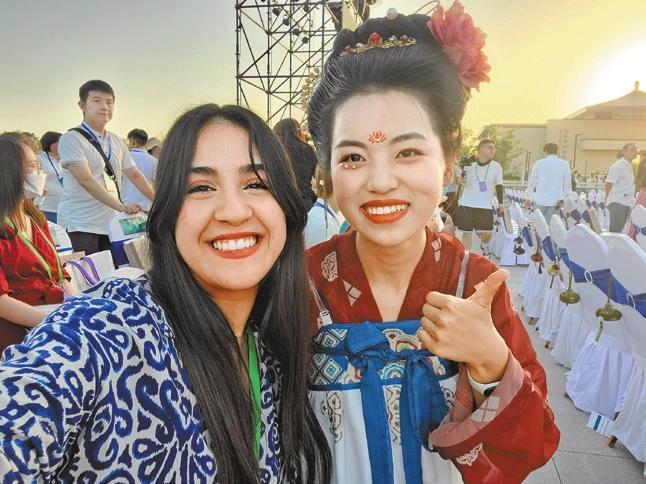 IT is a tranquil, early autumn day in Beijing and 25-year-old Tunisian vlogger Derouiche Asma strolls along the Liangma River. With her camera in hand, she captures the relaxed atmosphere as people casually stroll and jog along the riverside.
"Beijing is gorgeous and romantic with a harmonious coexistence of city and nature," said Asma, who has been in China for over a year.
Asma spends a big part of her spare time pounding the pavements of Beijing, shooting everyday scenes that she believes best capture the traditions and vitality of the capital city. This summer, eager to immerse herself further in Chinese culture and discover its diverse landscapes, she also traveled to Shaanxi Province and Inner Mongolia Autonomous Region.
For Asma, her vlogs offer her viewers a unique way to explore and understand China. "My father likes China so much. He told me that China has developed very quickly. He said I would have more job opportunities if I studied Chinese," Asma said. "So I really want him to come here and experience it himself."
Situated at the northern tip of the African continent, Tunisia boasts a rich ancient civilization, and tourism plays a pivotal role in the local economy. In February 2017, Tunisia implemented a visa-free policy for Chinese tourists. Asma's father works in tourism in Tunisia, and having enjoyed the dividends of Chinese tourist visits to his home country, he encouraged Asma to learn Chinese.
In 2018, when Asma began studying Chinese at a university in Tunisia, she was able to help out with the family business as her father's translator. "The Belt and Road Initiative (BRI) has a good impact on my country, especially on my family. China has helped us build infrastructure and the relationship between the two countries has become so deep. I'm so proud that I can speak Chinese," said Asma.
The BRI has prompted more Chinese companies to invest in Tunisia, bringing in fresh opportunities and more jobs for locals. "My elder sister once worked in smartphone producer Vivo's branch in Tunisia," said Asma.
Cultural exchanges are also heating up between China and Tunisia, with many Chinese heading to Tunisia to learn Arabic, and vice versa, noted Asma. Her vlogs have proven popular with overseas viewers, especially films of her celebrating traditional festivals with her Chinese friends. "In the future, I might teach Chinese to Tunisian students and become a bridge between the two countries." (Xinhua)