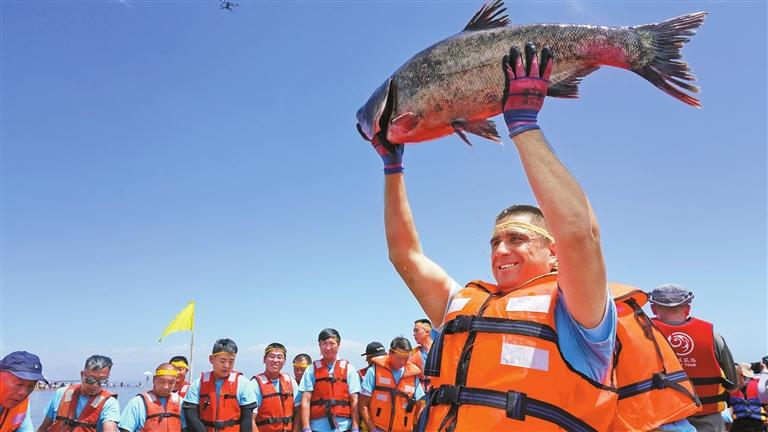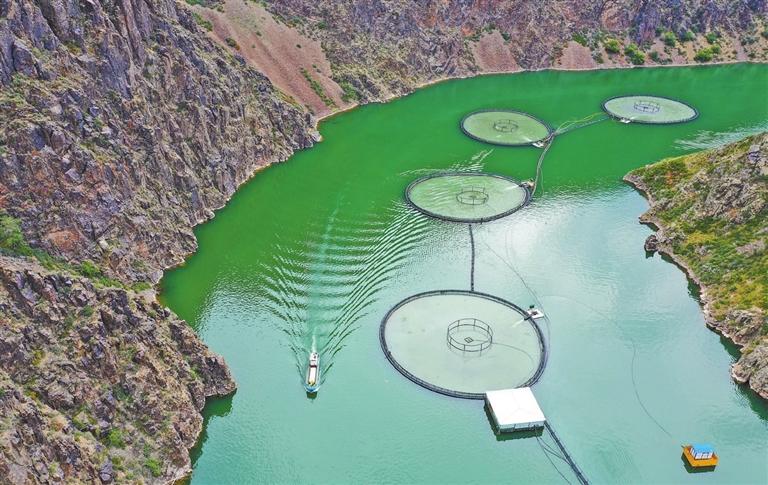 MUTTON and sweet fruit ordinarily steal the culinary spotlight in Northwest China's Xinjiang Uygur Autonomous Region. But they will soon have to share the stage with an unlikely contender in the inland region — aquatic food.
Aquatic products from Xinjiang are gaining popularity and the local fishery industry is on a fast development track thanks to successful ecological management in recent years.
Early this month, in Altay, Xinjiang, workers were fishing for this year's first batch of crabs, which will be packed and shipped to East China's Jiangsu Province. This tasty seafood will be available about 10 days earlier than crabs from Jiangsu, a traditionally big crab-producing province, creating a good effect for staggered sales.
According to a report from China News, in Bosten Lake alone, a bumper harvest of more than 4,000 tons of crabs is expected this year. In addition to crabs, Xinjiang's South American white shrimp, rainbow trout and other aquatic products have also seen a bumper harvest. In Ili Kazakh Autonomous Prefecture, it takes less than 24 hours for local rainbow trout to be processed, packaged and transported to consumers' tables from the time it was brought out of the water.
Production of rainbow trout raised in rivers in Nilka County is expected to reach 6,000 metric tons this year, nearly double last year's output, according to Xinjiang Tianyun Organic Agriculture Company.
Rainbow trout, which belongs to the same family as salmon, is known for its meaty texture and few bones, making it an ideal food source.
"Demand in the market for rainbow trout is significant," said Li Chunyu, general manager of Tianyun. "Our company is currently operating at full capacity, producing fresh rainbow trout every day."
China is the world's largest market for aquatic products. Last year, the country imported 4.54 million tons of aquatic products, a year-on-year increase of more than 20%. China has also become one of the world's largest salmon importers, with Norway, Canada and Chile as the main suppliers, according to the General Administration of Customs.
Because of concerns regarding seafood after discharges into the Pacific Ocean of nuclear-contaminated water from Japan's Fukushima Daiichi power plant, freshwater aquatic products will likely become more popular in the future.
South American white shrimp, tilapia, abalone and lobster are also being raised in Xinjiang and making their way onto consumers' dining tables nationwide. Some of these products are also sold in foreign markets.
The high salinity of the ground in many parts of Xinjiang and the region's natural lakes provide a conducive environment for fish farms in the region, experts said.
Farmers in a village in Midong District of Urumqi, the region's capital, have been busy catching South American white shrimp lately. The village has 10 freshwater shrimp ponds that produce more than 50 tons annually.
The melting snow and glaciers of the Tianshan Mountain range — water known for its purity — make for superior-quality fish. Taking advantage of the water resources, Tianyun has been developing fish farms and processing facilities since 2014 in Nilka County. It now offers a series of products, ranging from fillets to minced rainbow trout.
The company mainly sells its rainbow trout in Beijing, Shanghai, Guangzhou, Dalian, Singapore and Malaysia.
"The meltwater is pure, cold and rich in dissolved oxygen, which is perfect for raising rainbow trout," said Li.
The water must be deep enough to accommodate environmentally friendly net cages, which have a diameter of 51 meters and a depth of 25 meters, ensuring optimal fish growth. To maintain a clean and healthy river, the company uses automatic machines to clean fish droppings, leftover bait and silt from the riverbed.
Li said the company is developing more projects to raise trout in Xinjiang's high-quality water to meet the growing demand.
The trout business has brought benefits to local farmers in the region. "We provide jobs for more than 100 local farmers, with 39% belonging to ethnic minorities," Li said.
The average monthly salary for breeding and processing jobs reached 6,800 yuan (US$935) last year, a local media outlet reported.
(China Daily, Global Times)