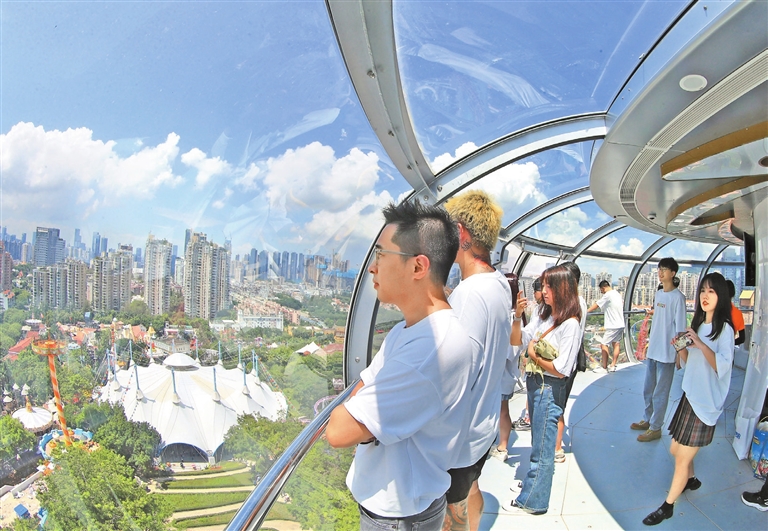 Chang Zhipeng
57589527@qq.com
AROUND 300 tourists and media reporters had the opportunity to experience Mini World Adventure Hill, a brand-new 35,000-square-meter theme zone located in Shenzhen Happy Valley, yesterday morning during a special prelaunch event.
The theme zone will officially open to the public during the upcoming National Day holiday.
Meticulously designed and decorated based on the characters and scenes from the popular mobile sandbox game Mini World, the zone boasts 13 exciting entertainment projects across four sub-zones: Mini Town, Yoyo Flower Path, Secret Jungle, and Adventure Tribe.
The Starry Sky Tower offers a panoramic high-altitude rotating sightseeing experience that allows tourists to take in the breathtaking views of the theme park and the nearby sea. The Coral Music Box, a two-story themed music carousel, provides endless fun for both parents and children. For thrill-seekers, the Jungle Adventure offers a thrilling parent-child roller coaster experience.
A variety of performances are also available including parent-child dramas, mini action figure musicals, melodramas, and interactive shows with parrots. Nearly 1,000 cultural products and a wide range of delicious food options are available, providing more choices for family entertainment and leisure activities.
Fu Shihai, deputy general manager of Shenzhen Happy Valley, stated that the new zone incorporates metaverse technologies such as augmented reality (AR) and virtual reality (VR). These technologies will allow visitors to enjoy a stunning AR light and shadow show.