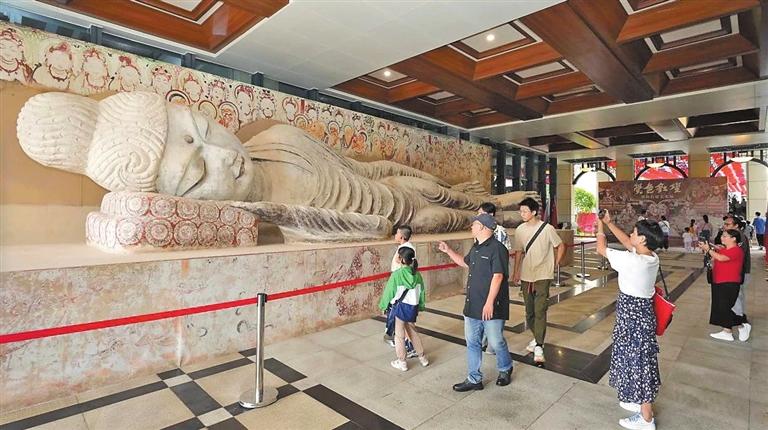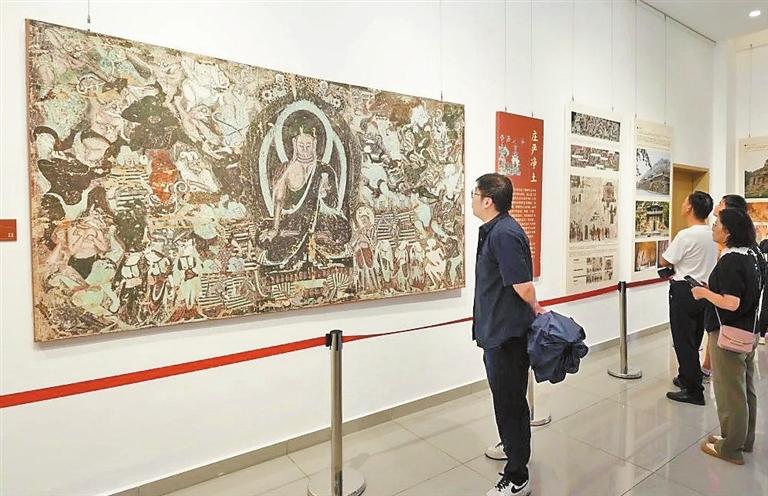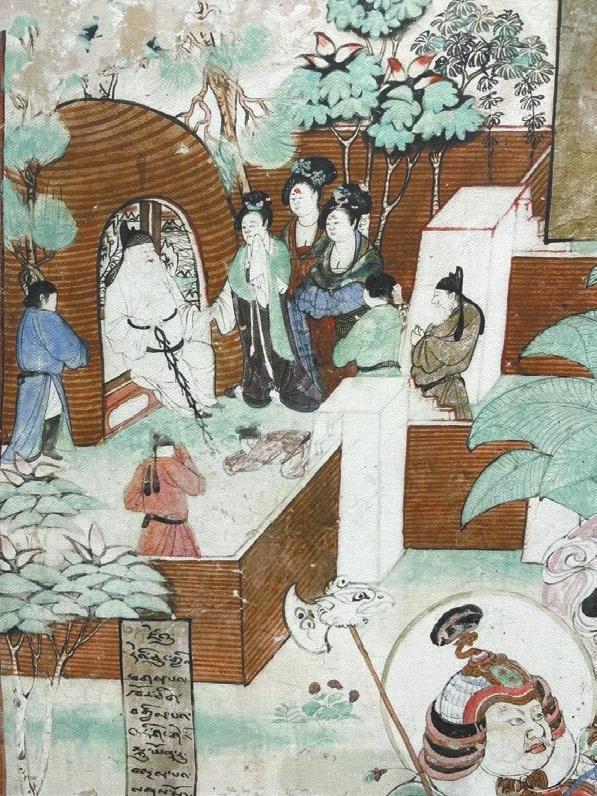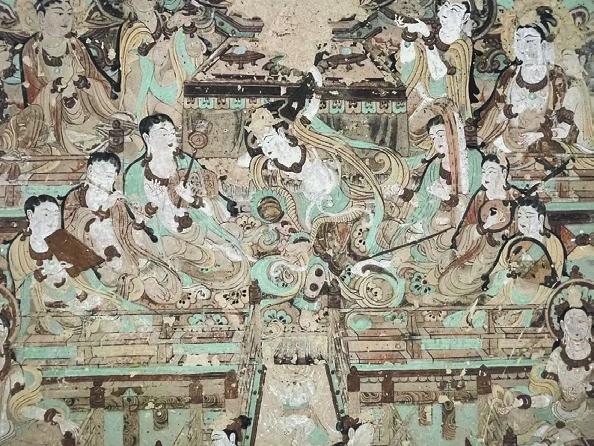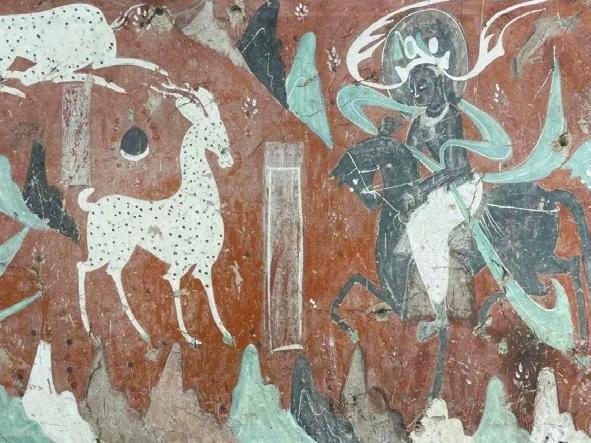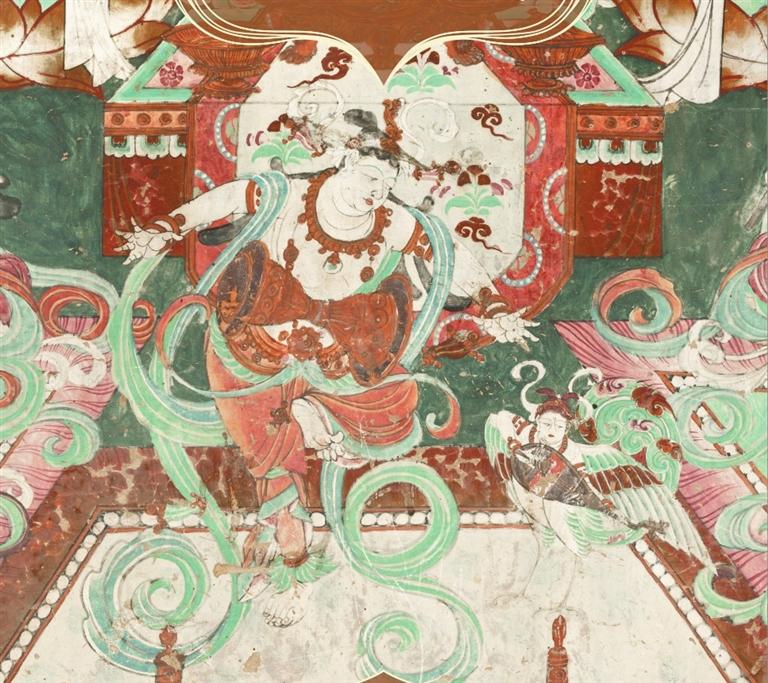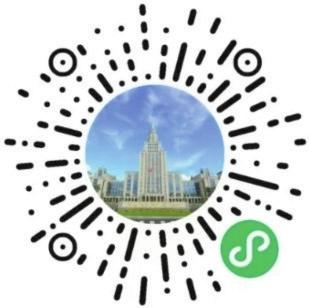 OVER 50 high-definition replicas of the Mogao Grottoes murals are being exhibited at the art museum in the main building of Shenzhen MSU-BIT University (SMBU) in Longgang District.
It allows visitors to learn more about the history of the Silk Road, and the construction of the Mogao Grottoes in Dunhuang, as well as murals and clay sculpture art. The exhibition also showcases Dunhuang Research Academy's conservation and research achievements on the caves.
One exhibit item that should not be missed is a replica of the reclining Nirvana Buddha statue from Cave 158 of the Mogao Grottoes. The replica is 13.76 meters long, while the original one is 15.8 meters long.
The reclining Buddha statue is not only a representative work of large-scale sculptures from the middle Tang Dynasty (618-907), but also an outstanding piece among similar sculptures. It is one of the most famous colored clay Buddha statues in the Mogao Grottoes and holds significant academic and artistic value.
Cave 158 was carved during the Tubo rule (633-842), with the reclining Buddha statue as the cave's main feature, prominently displayed in front of viewers.
From the mural replicas, visitors can view classical images such as a depiction of Zhang Qian's mission to the Western Regions, an image about self-sacrifice to feed tigers, an image portraying Deer King Bensheng and more images from different eras.
According to Dr. Zhang Yuanlin, deputy director of the Dunhuang Research Academy, the Mogao Grottoes were first carved in the fourth century and had been continuously constructed and expanded for more than a millennium. Currently, 735 caves remain, with a total of 45,000 square meters of murals and 2,415 colored clay sculptures. They are the largest, longest lasting and best-preserved caves with the richest content in the world.
"The Mogao Grottoes integrate architecture, colored clay sculptures and murals, with content related to art, history, economics, culture, religion, ethnicity, science and technology of ancient society. They have precious historical, artistic and scientific value, and are a brilliant pearl on the Silk Road, a treasure of ancient Chinese culture and art, and an outstanding cultural heritage of humanity," Zhang said during a lecture at the university Sept. 10.
He added that with the help of digital technologies, the immovable world cultural heritage is now brought to the Shenzhen exhibition. Some precious murals at the Dunhuang Grottoes are not open for the public to view; however, at this exhibition, visitors can admire their exquisite details through the replicas.
"Whether you are a scholar, a cultural enthusiast, or an art creator, this exhibition offers a wealth of information to deepen your understanding of the Mogao Grottoes and immerse yourself in the creativity and aesthetic beauty of Chinese civilization," he said.
Dates: Until Oct. 20
Venue: Art museum in the main building of Shenzhen MSU-BIT University, Longgang District (深圳北理莫斯科大学主楼美术馆)
Metro: Line 14 to Aobei Station (坳背站), Exit D and then take a taxi
(Cao Zhen)