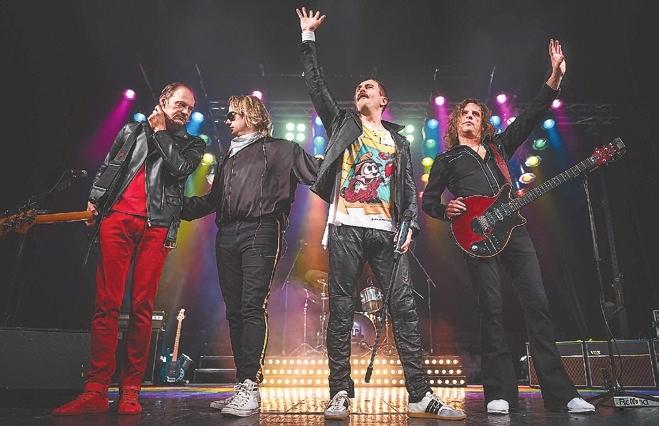 Queen Real Tribute
Experience the charming music of Queen with the Queen Real Tribute band. This extraordinary group of musicians from Europe pays homage to the iconic sound and electrifying stage presence of Freddie Mercury and his bandmates. Get ready to rock out to all of Queen's greatest hits, from "Bohemian Rhapsody" to "We Will Rock You."
Time: 8 p.m., Sept. 28
Booking: WeChat account "juchengwangluo"
Venue: Nanshan Culture and Sports Center, Nanshan District (南山文体中心)
Metro: Line 1 or 12 to Taoyuan Station (桃园站), Exit B
Dance festival
The 2023 Greater Bay Area Dance Festival will feature performances by Round House Dance Co. (Shenzhen), HKDance/FLSH (Hong Kong), Stella & Artists (Macao), Tian Tian Dance Co. (Shanghai), G-Theater (Chongqing), Dua Space Dance Theater (Malaysia), James Pett and Travis Clausen-Knight (U.K.), and Yossi Berg and Oded Graf Dance Theater (Israel).
Time: 7:30 p.m., Sept. 29-Oct. 3
Booking: WeChat account "gdszlgcc"
Venue: Longgang Cultural Center, Longgang District (龙岗文化中心)
Metro: Line 3 to Longcheng Square Station (龙城广场站), Exit D
Cello recital
Russian cellist Tatjana Vassiljeva will play Bach's "Cello Suite No. 3 in C Major, BWV 1009," Dutilleux's "Three Strophes or Stanzas on the Name Sacher," Cassadó's "Suite for Cello Solo" and Kodály's "Sonata for Solo Cello, Op. 8." Vassiljeva has won prizes at many prestigious competitions, including the ARD competition (1994) and the Grand Prix at the 2001 Rostropovitch competition.
Time: 8 p.m., Sept. 28
Ticketing: WeChat account "cmskpac"
Venue: Mountain View Theater, inside Sea World Culture and Arts Center, Nanshan District (海上世界文化艺术中心内境山剧场)
Metro: Line 2 or 12 to Sea World Station (海上世界站), Exit A
Piano recital
Russian pianist Anna Geniushene who won the silver medal at the 2022 Van Cliburn International Piano Competition will play a night of pieces by Weinberg, Chopin, Schumann, Prokofiev and Rachmaninoff.
Time: 3 p.m., Sept. 30
Booking: WeChat account "深圳滨海艺术中心"
Venue: Bay Opera of Shenzhen, Bao'an District (深圳滨海艺术中心)
Metro: Line 5 to Baohua Station (宝华站), Exit A
Philharmonix
Philharmonix, an ensemble featuring members of the Vienna Philharmonic and the Berlin Philharmonic, will give a concert. The group is synonymous with "entertainment" and breathes fresh life into great musical works by blending jazz, rock, pop and other elements into classical music.
Time: 8 p.m., Sept. 30
Booking: WeChat account "szyyt_piao"
Venue: Shenzhen Concert Hall, Futian District (深圳音乐厅)
Metro: Line 3 or 4 to Children's Palace Station (少年宫站), Exit D
'Stenographer'
The Chinese musical "Stenographer" follows the story of a 23-year-old stenographer named Shen Anna, an undercover agent in Chongqing in the 1930s-1940s. The musical was written and composed by Zhang Ran, who is known for the compositions he created for Meng Jinghui's "The Murder of Hanging Garden."
Time: 7:30 p.m., Sept. 28-29
Booking: WeChat account "PingShanTheatre"
Venue: Pingshan Theater, Pingshan District (坪山大剧院)
Metro: Line 14 to Pingshan Square Station (坪山广场站), Exit D1