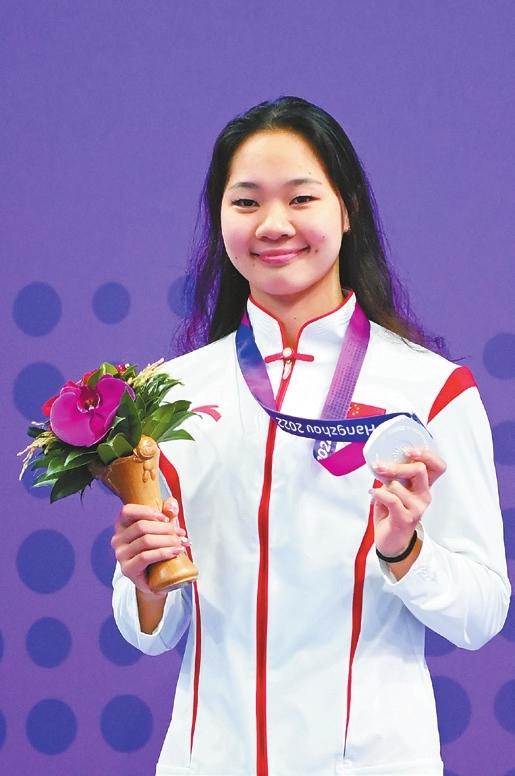 YU LIYAN, a swimmer from Shenzhen, clinched the silver medal in the women's 200m butterfly event with a time of 2:08.31 at the 19th Asian Games in Hangzhou on Sunday, Shenzhen Special Zone Daily reported.
Chinese Olympic champion Zhang Yufei secured gold for the women's 200m butterfly event.
Yu comes from a family deeply rooted in the world of swimming. Her father Yu Jingang, also her coach, shared some insights, saying, "Yu may not have been born with innate swimming talent, but her unwavering passion for the sport, her diligent work ethic, and her strong mental fortitude have set her apart."
Yu Jingang, who has been involved in swimming for most of his life, initially had reservations about his daughter pursuing a career as a professional athlete. However, Yu Liyan's love for swimming was evident from a young age, as she enthusiastically embraced the water and showed no desire to leave it. Over time, Yu's talent shone through, eventually leading her to the grand stage of the Olympics.
Yu had previously secured a sixth-place finish in the women's 200m butterfly at the 18th Asian Games in Jakarta in 2018 and achieved the same ranking in the women's 200m butterfly event during the Tokyo Olympics.
On behalf of the Chinese team competing at the Asian Games, Yu said before the games that she wasn't nervous.
"Every tournament is an opportunity for me to improve, and I cherish every competition. Whether it's the Asian Games, the World Championships, or the Olympics, it's a valuable opportunity for me," Yu said.
Yu possesses exceptional psychological resilience and seldom succumbs to the pressure of competition, the Daily report said. "If you play hard, there is nothing to be nervous about," Yu was quoted as saying.
Reflecting on her silver medal performance, Yu expressed her desire for better results after the competition. "Actually, I'm not very happy with this result. I think I can do better. Nevertheless, I'm pleased to have contributed a silver medal to the Chinese team," Yu said, adding that her next biggest goal is the Paris Olympics. (Wang Jingli)