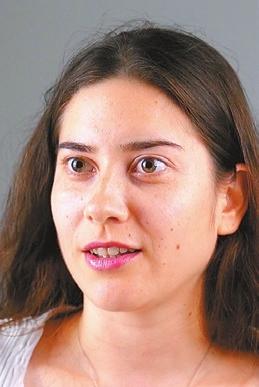 Wang Haolan
Holly_cn@163.com
UPON our first encounter on a Children's Day event at Shenzhen Hengsheng Hospital in Bao'an District, Serbian Stefana Stevanovic struck me as the embodiment of a typical young European woman, who has brown hair, fair skin and a well-maintained physique.
However, what triggered my curiosity was her deliberate introduction using her Chinese name, "Ruikexin (瑞可心)." Interestingly, several people in her social circle also refer to her by this Chinese name, rather than her Serbian name, Stefana.
It is a delightful name indeed. In Chinese, "瑞" conveys auspiciousness, while "可心" suggests adorableness. Yet it wasn't a meticulously crafted name.
"On my first Chinese class, I was the only student who didn't have a Chinese name and my teacher advised me to find one," Stevanovic recalled. "She presented me some Chinese characters to choose from, but I couldn't read any Chinese characters at that time. So, I just randomly picked three characters to make my Chinese name and my teacher explained their meanings to me."
This marked one of the initial instances when Stevanovic, now a student at Shenzhen University, distinctly perceived the contrast between Chinese and Western languages and cultures.
"I have been in China for five years now, and I have discovered a huge amount of logic of Chinese characters through my studies," she explained. "For example, my name Stefana is just a name, whereas each character in my Chinese name has a specific meaning. As I gained a basic grasp of Chinese characters, I found that I could understand the meaning of words as soon as I read them, such as '大学' (university) and '海边' (seaside)."
Stevanovic observed that the more she actively immersed herself in Chinese culture, the better she could comprehend and embrace the differences between the East and the West. Like many other foreigners, Stevanovic's first encounter with cultural differences upon her arrival in China was the custom of drinking hot water.
"My culture discourages people to drink hot water, since it is believed to be bad for the stomach," she explained. "Chinese people are encouraged to drink hot water for various reasons. For instance, when you have a fever, drinking more hot water can help induce sweating, and during the summer, having lukewarm water after doing outdoor physical activities can reduce your cardio burden."
Drinking hot water, donning sun protection, playing badminton, maintaining consistent meal schedules for lunch and dinner, taking traditional Chinese medicine (TCM) therapies and so on ... Stevanovic found that her life in China has facilitated her personal growth, and those habits also helped her keep fit during the pandemic.
"We should focus on the good things that we can adopt from any culture. And I am trying to promote my takeaways from Chinese culture to my families and friends," she said.
Stevanovic's open-mindedness makes her an active participant of community events. During the COVID-19 pandemic, she worked as a volunteer at her residence in Bao'an District. Currently, as an intern with the International Healthcare Unit of Shenzhen Hengsheng Hospital, she provides English translation and consultation services to foreign patients while also assisting the hospital in organizing events, including first aid training and free TCM clinics tailored for expatriates in Shenzhen.
Despite leading a fulfilling life in Shenzhen for over four years, surrounded by friends and a lovely dog, this city wasn't Stevanovic's originally intended destination in China. She had initially come to China as an exchange student in Shanghai, with the original plan of staying for just one semester. Taken aback by how much she had learned during such a short period of time, Stevanovic wished to stay in China to study Chinese until she reached HSK 6 and applied for a degree program at Shenzhen University.
"I have begun to picture my future here. So, no matter what, I was going to stay," she recalled. "I love my life in Shenzhen. It is a good city for young people to come and build their future. You can find many opportunities here if you really want to improve yourself in certain fields."
Stevanovic was pleased to share her own takes on how to embrace local life in a foreign country. "You have to be willing to meet people, to accept the differences and to respect the local culture," she said. "I encourage everyone to be brave enough to take the best from the rich culture that you have the opportunity to come and experience."