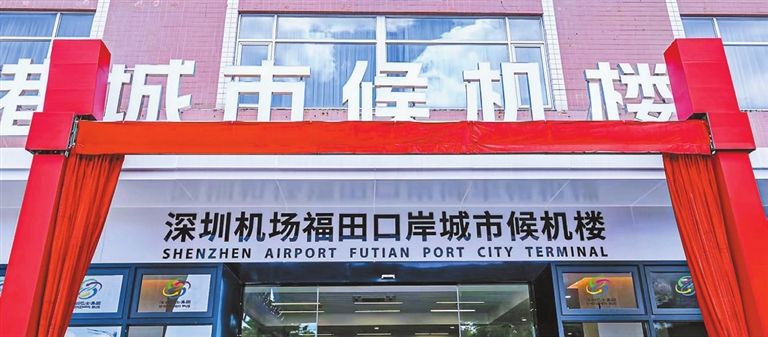 Han Ximin
1824295095@qq.com
THE Shenzhen Airport Futian Port City Terminal, jointly built by Shenzhen Airport Group and Shenzhen Bus Group, was officially inaugurated at the Futian Checkpoint area Monday.
The city terminal's operation has brought the total number of city waiting halls operated by Shenzhen Bao'an International Airport in the Guangdong-Hong Kong-Macao Greater Bay Area (GBA) to 24. Its network covers Shenzhen, Hong Kong, Dongguan, Huizhou, Zhongshan, Jiangmen, and Zhuhai.
The 400-square-meter waiting hall, Shenzhen's first dual-city waiting hall, bridging Shenzhen and Hong Kong, is located at Shenrong Building in Futian District. The waiting hall enjoys a prime location within a 10-minute radius of both Futian and Huanggang checkpoints, as well as the Hetao Shenzhen-Hong Kong Science and Technology Innovation Cooperation Zone. It is also conveniently located within 30 kilometers of Shenzhen and Hong Kong airports.
The waiting hall offers a range of traveler services, including access to flight information, flight check-in, luggage check-in, ticketing services, and buses to Shenzhen and Hong Kong airports.
Airport express bus A10 departs from the waiting hall at intervals of 30 to 60 minutes, ensuring a swift arrival at the Shenzhen airport within 30 minutes. The waiting hall also facilitates cross-border car services for passengers heading to the Hong Kong airport or Hong Kong Disneyland.
So far this year, the Shenzhen airport has been operating domestic routes to 130 cities, with over 900 flights per day. The opening of the waiting hall will further enhance the convenience for Hong Kong-bound travelers and for workers commuting to the Shenzhen airport from the Hetao cooperation zone.
The Shenzhen airport has already opened four waiting halls in Hong Kong, supporting a fleet of 170 cross-border buses that operate daily between the Shenzhen and Hong Kong airports.
Shenzhen Airport Ferry Terminal is also operating two routes, providing 14 ferry services between the terminal and the Hong Kong airport and China Hong Kong City. The service is offering travelers a more convenient cross-border travel experience.