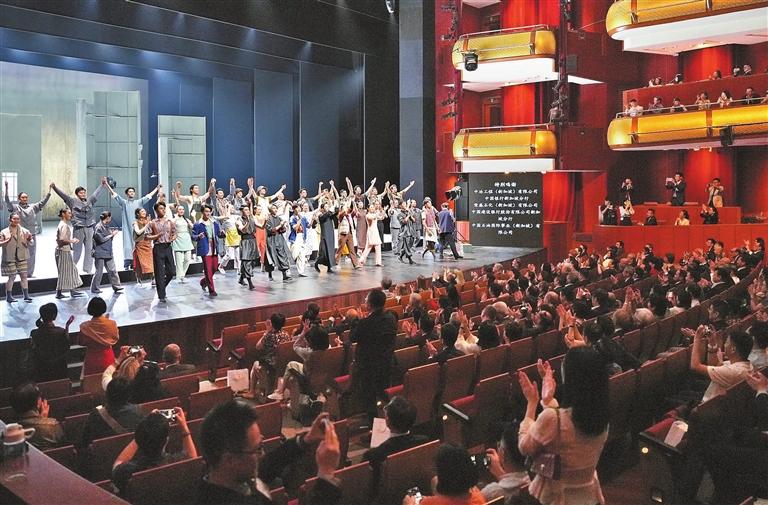 Zhang Yu
JeniZhang13@163.com
SHENZHEN dance drama "Wing Chun" is off to a fantastic start internationally by staging an overseas debut at the Esplanade-Theaters on the Bay in Singapore last night.
Many guests attending the drama's first overseas performance shared their rave reviews with Shenzhen Daily.
"I think it is very well done indeed. I enjoy watching martial arts. I enjoy dances. It is an unexpected combination [of martial arts and dance]. I would recommend it," Errol Levy, deputy head of mission of the European Union delegation to Singapore, said.
"I really like the mix of dance and martial arts. I lived in Beijing for a year actually and I took some basic kung fu lessons. I recognize some of it," Laura-Liisa Laving, deputy head of mission of the Embassy of Estonia in Singapore, said. "It is very entertaining and the story is easy to follow."
Patrick Rooney, deputy head of mission of the Embassy of Ireland in Singapore, said it was a really amazing show.
"There's no dialogue, but they still manage to convey a lot of emotions and really tell the story through the performances. I would recommend it to anybody I know," he said.
"Martial arts are fascinating to watch and the drama as well. And it's very well performed. I will go hunting around on the internet and find a little bit more about it," said Gabby, a lawyer from New Zealand.
"It is actually my first time to see such a performance. I love it. The choreography is really very beautiful and I was hypnotized by the entire play. It was incredible how they included kung fu in the choreography as well, very nicely done. And I'm not an expert, but I really had an amazing time. I watched the movie 'Ip Man' before and that was the first time I heard about Wing Chun," Gonzalo Sánchez-Jara from Spain, founder and CEO at abc Compliance S.L., said.
"Wing Chun" has received widespread attention and high praise from industry experts, media and audiences in China since its domestic debut at the end of 2022.
The dance drama has creatively integrated Chinese intangible cultural heritages and Lingnan culture. The marriage of the martial art Wing Chun and gambiered gauze (Xiangyunsha), infused with Shenzhen elements, is said to have breathed new life into dance drama and promoted the innovative development of intangible cultural heritages.
"Wing Chun" is positioned as a work that spreads Chinese culture to the world and promotes international cultural exchanges as early as its creation and planning stages, according to the drama's creators.
With the drama's overseas debut in Singapore, insiders note more people around the world will know more about selected literary and artistic works from Shenzhen.