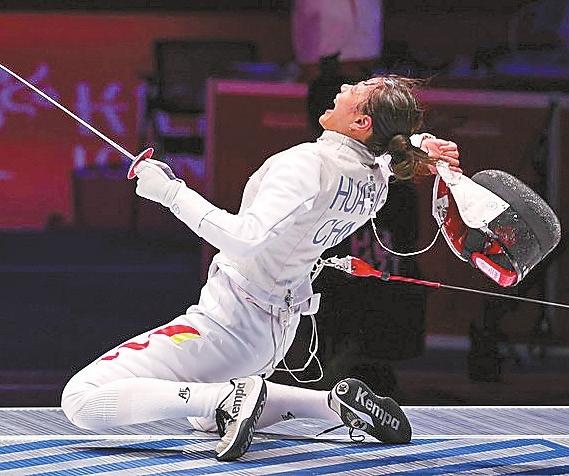 FENCER Huang Qianqian achieved a remarkable feat at the Hangzhou Asian Games in Hangzhou on Monday, becoming China's first woman to win the individual foil gold at the Asiad in 21 years.
The past three months have been a rollercoaster for Huang.
During the group stage, Huang secured five wins out of six matches, defeating Chayada Smithisukul of Thailand. Her next challenge was world No. 6, Sera Azuma, in the quarterfinals.
Huang's last encounter with Azuma occurred during the 2023 Asian Championships in Wuxi, China, this June. In that match, Huang suffered a 10-2 defeat.
This period was arguably the most challenging in Huang's fencing career, as she had less than a month to adapt before heading to Milan for the World Championships.
Despite being the youngest and the only member of the Chinese women's foil team without prior World Championships experience, Huang ultimately emerged as the most impressive.
She qualified for the elimination rounds with six consecutive group victories and faced seeded fencer Leonie Ebert of Germany in the round of 32.
Huang trailed for most of the match but rallied to win the game and enter the last 16.
"Ebert was also a left-hander, which made me uncomfortable," said Huang, who finished in 15th place in her World Championships debut, becoming the highest-ranked Chinese woman foil fencer in Milan.
Just days after achieving her career milestone, Huang participated in the Chengdu Universiade. She teamed up with Chen Qingyuan and Fu Yiting to secure a team gold, earning her a spot at the Asian Games.
Facing Azuma once again in Hangzhou, Huang had a much better mindset. Despite falling behind from the very first point, Huang remained disciplined in her tactics, displaying patience and fearlessness.
After mounting a remarkable comeback to force a sudden-death situation, Huang skillfully defended against a powerful lunge from Azuma and then advanced on the piste to score the crucial point, stunning the Japanese opponent with an 11-10 victory.
Following her victory over the highest-ranked woman foil fencer in Asia, Huang's path to gold encountered no particularly challenging moments as she comfortably defeated Hong Se-na of South Korea and Yuka Ueno of Japan to claim her first-ever major title.
"It's a dream come true for me," said Huang.(Xinhua)