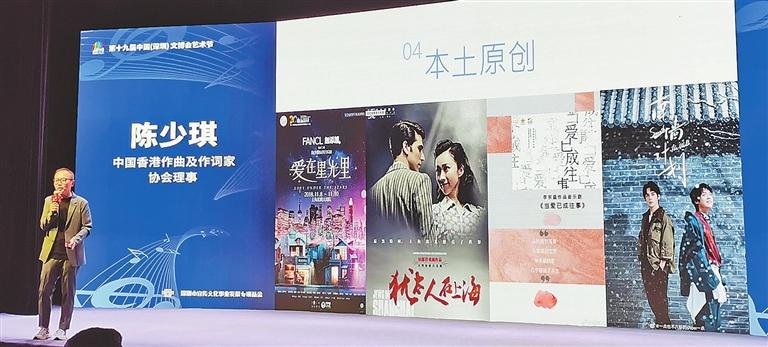 Cao Zhen
caozhen0806@126.com
AMONG the 18 performances in this year's China (Shenzhen) Art Festival of ICIF, running from June through late October, half are musicals. According to the festival organizer, from this year forward, musicals will be spotlighted in the festival, aiming to build a display and exchange platform, gather and nurture homegrown musical talents, and fuel the progress of Chinese musical development.
Last Saturday, six prominent Chinese musical insiders shared their insights on musical development in the Guangdong-Hong Kong-Macao Greater Bay Area (GBA) at the Shenzhen Museum of Contemporary Art and Urban Planning.
Versatile Hong Kong musician and producer Chan Siu-kei, who has been writing lyrics and producing pop songs since the 1980s, said that there are foreign musicals, adapted musicals and homegrown original musicals in China. Creating musicals that tell Chinese stories and incorporate unique Chinese cultural elements has become a widely accepted trend here.
Chan, director of the Composers and Authors Society of Hong Kong, is known for being one of the composers and lyricists of the iconic Hong Kong musical "Snow Wolf Lake" (1997). In recent years, he has played a role in mainland musical productions, such as serving as the translation director for the Chinese version of Andrew Lloyd Webber's "The Phantom of the Opera."
He said that given the similarities and differences among the GBA cities, it has been suggested to musical creators to incorporate local customs and different dialects in their works to highlight the region's unique cultures. Additionally, the GBA offers a favorable environment for musical talents to gather for creation, thanks to the one-hour living circle.
Hong Kong composer Peter Kam, known for writing pop songs, movie scores and numbers for musicals such as "Jews in Shanghai," agreed that to spread Chinese musicals to the world, the creators need to find a way to display our uniqueness while seeking common ground between Chinese and foreign cultures. He also suggested that the GBA musical professionals utilize the region's advantages in technological development to nurture stage technology talents.
Macao music director for musicals, Kaze Patricio Chan, who now teaches at Shenzhen University, stressed the importance of nurturing comprehensive musical talents. He said that in musical productions, the cast typically consists of actors, dancers and singers who are only trained in their respective professions and have not received comprehensive education in all aspects of musical.
He also mentioned that, in the theater industry, there are black box theaters, which are simple indoor performance spaces designed to provide flexibility in stage configuration and audience seating.
He then questioned why similar venues couldn't be established for musicals, as many productions require multiple performances to achieve their best rendition. However, he also noted that one problem to consider is that musical stages and sound production require more than what small black box theaters typically provide.
Lyricist and scriptwriter Tian Chenming stated that the GBA can invite experts from around the world to participate in musical productions since professionals from diverse backgrounds can provide broader perspectives. This can also facilitate international cultural exchange and enable homegrown productions to reach the world.
Focustage founder Han Kun and SMG Live president Ma Chencheng discussed the targeted audience and promotion.
Han said that Focustage targets Generation Z because the consumer experience of this demographic in big cities is partly driven by theater culture. Therefore, he suggested expanding performance stages into office buildings, shopping malls, or creative parks to give a fresh experience, instead of solely relying on traditional theaters.
He emphasized the importance of understanding the needs of young people to make theater culture a part of their lives. Additionally, he asserted that producers should select dramas and musicals tailored to different cities, taking into consideration local culture and lifestyle. He added that Focustage has successfully operated small theaters in various Chinese cities, including Shanghai, Guangzhou and Chengdu.
Ma agreed, saying that Generation Z may seem like a small group of people, but their high spending ability presents a great opportunity for the musical industry. Meanwhile, over the past three years, Chinese musicals have experienced a surge in creation due to the inability of foreign troupes to bring their productions to China.
Ma stressed the importance of promotion, citing examples during the staging of the Chinese version of "The Phantom of the Opera" this year. In Shanghai, they invited British actor Earl Carpenter, who played the Phantom in British versions, to sing in a flashmob in a shopping mall, while in Guangzhou, the Chinese cast and foreign crew visited scenic spots to interact with the locals.
Hosted by the Publicity Department of the Shenzhen Municipal Committee of the CPC and Shenzhen Municipal Culture, Radio, Television, Tourism and Sports Bureau, the China (Shenzhen) Art Festival of ICIF has staged approximately 380 performances over the past 19 years.
The festival serves as a bridge for international cultural exchange and a platform for showcasing original works, and aims to promote Chinese culture globally. It has gained acclaim for displaying the diverse, inclusive, creative and modern image of Shenzhen.