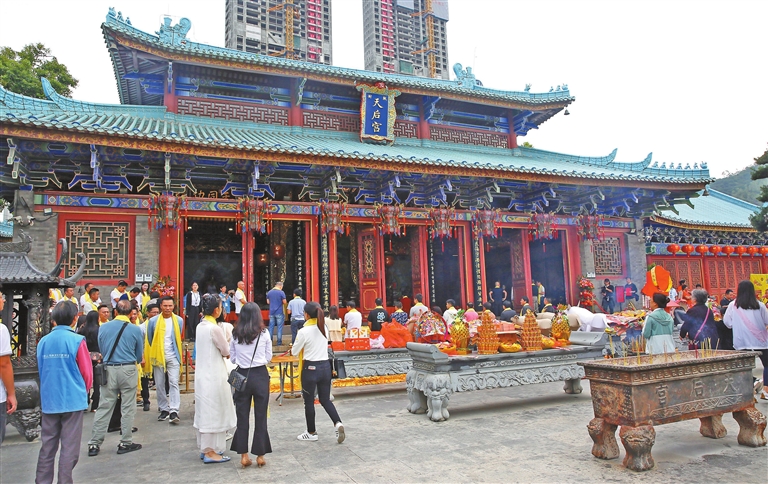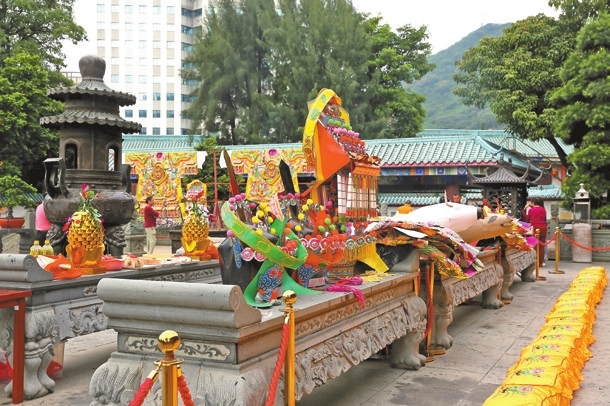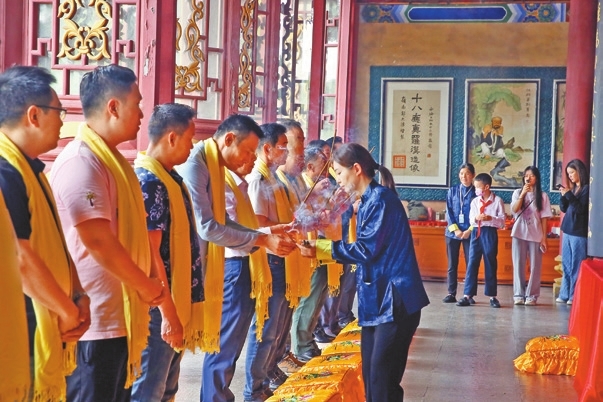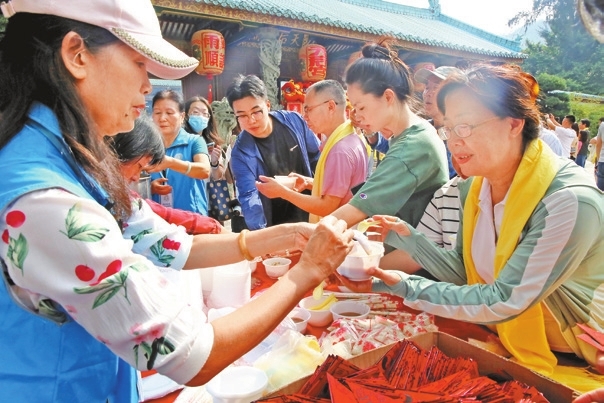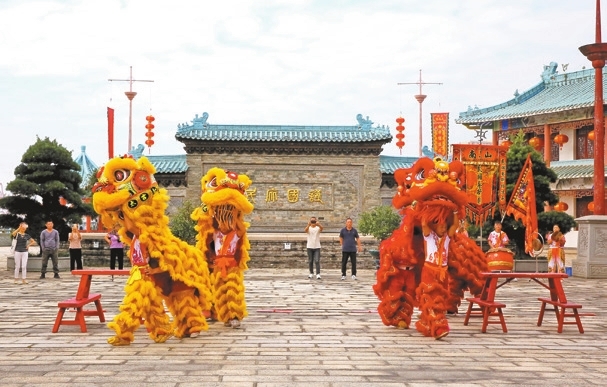 HUNDREDS of people worshiped Mazu, the goddess of the sea, at the Tianhou Museum near the Chiwan Port in Nanshan District on Monday morning, to mark the 1,036th anniversary of Mazu ascending into heaven.
The activity was organized by the Nanshan Museum, which also operates the Tianhou Museum, and co-organized by the Nanshan District Mazu Culture Exchange Association.
The ninth day of the ninth month in the lunar calendar (Oct. 23 this year) is commonly known as Double Ninth Festival in Chinese culture to pay respect to the elderly. It also marks the anniversary of Chinese patron goddess Mazu ascending into heaven, which is celebrated in the coastal regions of southern China.
Mazu, also known as Tianhou or Heavenly Queen, is the patron saint of seafarers and is highly respected in South China.
Legend has it that Mazu, whose original name was Lin Mo, lived in the 10th century on Meizhou Island in Fujian Province, where she dedicated herself to helping her fellow townspeople, and died attempting to rescue shipwreck survivors.
Later, people worshiped Mazu incorporating a host of beliefs and customs. Deeply integrated into the lives of coastal Chinese, Mazu culture is an important bond that promotes family harmony, social peace and the cultural and ethnic identity of these communities, as well as an emotional bond to unite overseas Chinese. In 2009, the Mazu beliefs and customs were included on UNESCO's intangible cultural heritage list.
The original Tianhou Temple inside the Tianhou Museum in Shenzhen was built by imperial order in the late Song Dynasty (960-1279) and was said to be as large as 600,000 square meters and have 99 gates.
From 1405 to 1433, Chinese mariner and diplomat Zheng He commanded expeditionary treasure voyages to Southeast Asia, the Indian Subcontinent, Western Asia and East Africa.
He was believed to have been protected by Mazu, so the temple was refurbished at that time. The old temple by the sea used to be an essential stop for ancient envoys traveling to Southeast Asia.
After several reconstructions in the past centuries, the temple now covers 28,000 square meters and the museum, a venue for preserving the temple's relics and conducting Mazu culture research, also enjoys overseas fame.
In February this year, the Tianhou Museum was designated as a national-level cross-Strait exchange base along with eight other places in China.
On April 27-31, the Mazu culture week was held at the Tianhou Museum. The grand Farewell to the Sand ceremony, a 600-year-old folk custom to worship Mazu around her birth on the 23rd day of the third lunar month, attracted the attendance of 1,000 people from the mainland, Taiwan, Hong Kong and Macao to the museum April 29.
Originating in the Ming Dynasty (1368-1644), the Farewell to the Sand custom is also a Guangdong intangible cultural heritage. This grand folk ceremony embodies people's yearning for a better life and plays a vital role in uniting overseas Chinese.
According to the Nanshan Museum, since April, more than 630 Taiwanese people visited the Chiwan Tianhou Museum. In the future, more Mazu cultural exchange activities among the mainland, Taiwan, Hong Kong and Macao people will be organized to improve their kinship and enhance mutual cultural identity. (Cao Zhen)